Pavara Wants To Be A Liaison!!!
Ms. Chooi Sheem and Mr. Lam are active volunteers of the Ladrang and Kechara House. They have two very cute boys – Jutika and Pavara.
Their family is a good example of a Kechara family, where the whole family gets involved together in Dharma activities at the center.
Mr. Lam won the second place in the highest prostration number during the recent Dzambala retreat and his elder son, Jutika won the third place. Ms. Chooi Sheem won the third place for prostration under the women's category.  (Read the news by clicking here: Dzambala Finale)
Today, Mr. Lam's whole family is here in Ladrang helping to prepare a thanksgiving dinner for Tsem Ladrang's sponsors and I received the cute sms below from Liaison Su Ming about Mr. Lam's younger son, Pavara. Read what Pavara told Su Ming!!! hehehe
Dear Rinpoche,
Pavara wants to be a liaison of Rinpoche's apartment when he grows up.
He wants to bring food up to Rinpoche and also
he is very curious how does Rinpoche's apartment look like.
He he he, very cute.
Su Ming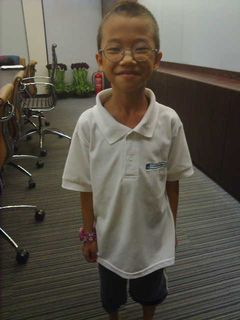 Adorable Pavara!!! The future Liaison of Tsem Ladrang!
Here's Mr. Lam's family volunteering in the Ladrang kitchen tonight: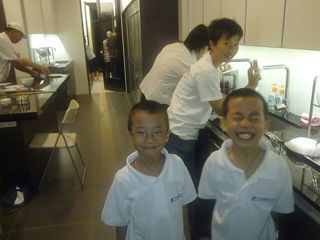 Ms. Chooi Sheem (holding a sponge) helping to wash up dishes,
with Pavara (left) and Jutika (right)
Mr. Lam (left) discussing a recipe or two with Justin Ripley (right) over cooking
---
When you least expected, Pavara will come up with another unexpected entertaining 'act'. See below for a video of Pavara singing Lady Gaga's "Telephone" while hanging out in Ladrang earlier.
Please support us so that we can continue to bring you more Dharma:
If you are in the United States, please note that your offerings and contributions are tax deductible. ~ the tsemrinpoche.com blog team