Friendship Without Barriers
Dear everyone, please share these pictures and captions with everyone. It is such a wonderful lesson for all of us to learn. It touched my heart so deeply. Thanks Paris for sending these.
Tsem Rinpoche
P.S. thank you Shin for preparing these pics/captions up for me to publish on this blog with many other pictures you painstakingly prepare for me to write my captions, commentaries and what not. Much of the speed of my posts are due to your help in the preparations. Much appreciated!!!
Dear Rinpoche,
I just got this email and thought it might be something that Rinpoche would like. Perhaps KNN would also like to add it to the website / newsletter? Very, very cute – even animals have more compassion and sense of friendship than some humans
Love,
Paris
---
After losing his parents, this 3 year old orangutan was so depressed he wouldn't eat and didn't respond to any medical treatments. The veterinarians thought he would surely die from sadness. The zoo keepers found an old sick dog on the grounds in the park at the zoo where the orangutan lived and took the dog to the animal treatment centre. The dog arrived at the same time the orangutan was there being treated. The 2 lost souls met and have been inseparable ever since.
The orangutan found a new reason to live and each always tries his best to be a good companion to his new found friend. They are together 24 hours a day in all their activities.
Long Live Friendship!!!!!!!
I don't know… some say life is too short, others say it is too long, but I know that nothing that we do makes sense if we don't touch the hearts of others…….while it lasts!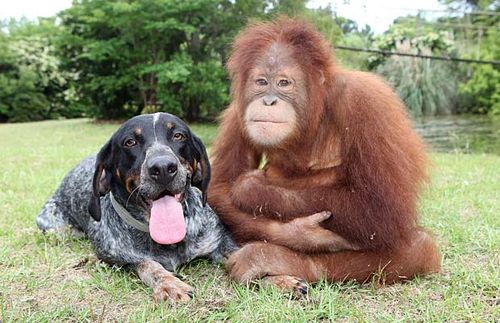 Please support us so that we can continue to bring you more Dharma:
If you are in the United States, please note that your offerings and contributions are tax deductible. ~ the tsemrinpoche.com blog team