Starting On Vajra Yogini NOW! | 今天就开始修习金刚瑜伽母
(译文请往下阅读)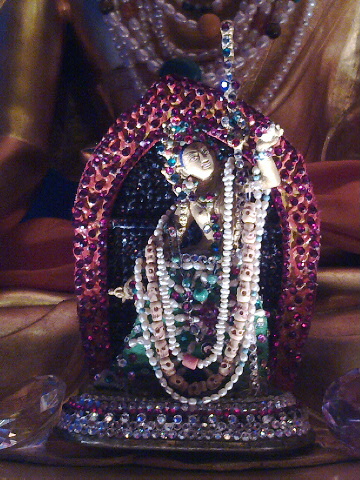 (By Tsem Rinpoche)
Oct 28, 2012
The best anyone can do if not enlightenment for now, is to gain mastery over taking rebirth coupled with developing Three Principle Paths. Where you want to take rebirth can be determined by yourself if you practice the sacred Vajra Yogini Tantra thoroughly.
Start now before you are awarded the Vajra Yogini empowerment by:
Then next step, engage in the preliminary practices slowly but surely and finish:
Don't start practice only when you get Vajra Yogini's empowerment, because you can start now! Prepare for the empowerment immediately by engaging everything I mentioned above. You have Vajra Yogini now. She is everywhere and She is ready for you. If you wish or if your teacher says start, start in this way that I've written. Start now. Don't wait. Nothing happens when we wait. It gets harder the longer we wait.
Obtain a sacred image of Vajra Yogini on your shrine and do all the practices I mentioned 'directed' or focused towards Her. All the practices, readings, contemplations use Her as your Universal Buddha. The Buddha that encompasses all Enlightened Beings as your focus. Hence you create powerful affinity with Her this way. So you should be starting now.
If you do as I have mentioned, then when you finally receive the Empowerment of Vajra Yogini, you will be READY to practice Her sacred Tantra and reap the results much quicker!! Reap the results quicker because you have prepared for it well and thoroughly. Don't receive a sacred empowerment of Vajra Yogini without doing the preparatory practices now when you have the chance.
Good Luck!
Don't waste time and procrastinate due to excuses that arise from empty reasonings.
Tsem Rinpoche
---
Watch a commentary on this blog post below:
Starting On VajraYogini NOW mp3 download.
For more Dharma talks, visit Audio teachings.
Download images of Vajrayogini here.
---
For further information on how to practice any tantric deity without needing initiation please click here to learn more.
---
Transcript for Starting on Vajrayogini Now!
Kechara Care members and volunteers and friends in the Ladrang and there's of course our sincere practitioners that are in KH1 right now who's been doing the blog teachings.
So I want to speak to you guys just for a few moments and it is like this. I am really really really here in Malaysia to bring Dharma to people who are ready and to people who will be ready soon and people who will be ready in the future. I really don't have any other purpose to stay in Malaysia. I don't really have any purpose to hang out anywhere not just in Malaysia. I really have left America to stay in the monastery, and I am very happy in the monastery and I love the monastery, and the monastery has everything that I would want for my life. And when I was sent out of the monastery to go teach, it was very sad for me but at the same time, it was the command of my teachers. Because it was the command of my teachers and the instructions of my teachers, I listened and I followed.
So, in any case, being sad would mean that I am being very selfish. Because if I have true faith and I have true confidence in my spiritual teachers, then I would have a lot, a lot of happiness in whatever instructions they give me. So if my teachers give me instructions and I feel happy, that means I am lessening my selfish mind. Why? Because I trust my teachers' wisdom more than my own. So therefore when I say I am sad, I don't mean it in a negative way. I don't mean it in a negative way but I mean it in a way that I miss the monastery very much. Anyway, I have been blogging a lot of information and the information hits different facets of life. It hits different types of backgrounds and different interests and different likes.
So the latest post that I have put up is on Vajrayogini. The reason I put up on Vajrayogini is because a few of our members and a few of the people connected to our members have passed away, and a few of our members connect to people who will be passing away in the very near future. And the teachings that I gave a few months back, I have already mentioned that this year there will be some close people who will be passing away. So at the time of death, whatever we think is important right now, however righteous we are or however strong or weak or sad or happy we are, it doesn't matter because if we were to die tonight, if we were to pass away tonight, if tonight was the last night we will ever breathe again or ever see or move again, would we act, would we behave, would we move around and would we sad or happy at the things we are experiencing? Of course not. If we were to die today, if we were to die tonight, of course we wouldn't be happy or sad at the things that we are happy or sad about today because it wouldn't matter at the time of death.
So therefore to me, what I figure is this, that in life it goes by very fast. The timing for life goes by very very fast. If you look back at your life and you look at yourself and you examine yourself carefully, you ask, "Where did all the years go by?" When you look at your face and you look at your hair and you look at your body, at the size and the shape, you have to ask yourself, "Where did all the time pass? Where am I now? And then is it going to get better in the next years coming? Am I going to get younger? Am I going to get better? Am I going to get healthier? Am I going to get stronger or is it going to get worse?" So when we look at ourselves clearly in the mirror and we face the truth, things do not get better. Things will deteriorate because that's the nature of existence.
Hence when we meditate on what I am explaining to you, when you think about what I am explaining to you, when you are focusing on what I am explaining to you, those are all points for transformation. Because when you focus and meditate on what I am explaining to you, your mind will transform.
So it is very very important that we do Vajrayogini's practice today. It is very important that we adopt Vajrayogini as our Yidam today. It is very very important for us to do Vajrayogini's practice today. It is very important that we start immediately and we should never make excuses. We should never make fifty excuses why we can't do Dharma today. We should never make fifty excuses. Why? In fact, even when we receive the Dharma, we should be very respectful. We should be very still. We should not be moving or fidgeting around. We should not think this or that. We should not disturb other people. We should not disturb our own mind. We should be very respectful, and very still and very calm to listen to the Dharma. Why? Because Dharma is something we should respect. Why? Because Dharma can change our life, change our son, change our daughter, change our future. Do you know how many mothers I have who come to me now and they say, "I wish I had listened to you to do what I was supposed to do before, so that my children would have been okay now? My having problems with my children now, I am having difficulties with my children now because I wish I had done what I hadn't done before."
So my point is what is? When we had the chance now to do Dharma we should do Dharma. And what kind of Dharma that I would like you guys to do? A few days ago I put up a posting on Vajrayogini. It is short, it is sweet, it is easy and it is especially tailored for our modern, so-called busy, distracted people. So if you look at my blog site where I have the latest post on Vajrayogini, there is something there for mothers, there is something there for fathers, there is something there for single people, older people, younger people. There is something there for people who are busy. There is something there for people who are not busy. There is something there for serious practitioners. There is something there for people who are new in Dharma. So if you look at my latest Vajrayogini post and you read it carefully, I gave a talk on it to the liaisons about four, five days ago. And I have asked Paris and David to write a little commentary on the teachings that I gave and it is on the Vajrayogini post in the comments section. And what I would like all of you to do is to read the Vajrayogini post carefully. At least once a week, read it carefully because it is not long, and read the comments section by Paris and by David because they further explain what I explained in that post.
So if you start doing that practice now, it will benefit you, it will benefit your parents, it will benefit your grandparents, it will benefit your children. Why? Let me explain and you listen very carefully. Because if we have a barrel or we have a bucket and we put water inside and the water overflows, it will make everything around the bucket wet also. That means the water affects everything around it – not just inside the bucket – it will affect everything around the bucket.
So therefore, if we have our family members around us, if we have our children and we have people around us that we really love and we really care, then giving them food and money and a house is great but that will not be enough. Why will that not be enough? It wasn't enough for you. Look at yourself – your parents gave you food and house and education. They gave you your body, they gave you morals but that wasn't enough to be happy in life. It wasn't enough to survive. It wasn't enough to do what you needed to do. Were they at fault? No. They weren't at fault. That is the nature of samsara. So if you look at yourself, was it enough just to get food and love and care and education? No, it wasn't. So if you are doing the same thing for your children or your friends or your partner, it will not be enough for them too. What you need to top off everything – Dharma. You need to give your children Dharma. But you can't give your children Dharma if you don't practise Dharma because when your children have difficulties and problems and sufferings in the future and they will, like you did… when you were children, everything is fine and when you grow up, then all the problems come. How did you solve it? You made a lot of mistakes and a lot of problems for yourself, not because you are bad; you didn't have any other way, you didn't know how.
So therefore if we practise Dharma we will inspire others, people around us, our relatives, our children, our friends, our wives, our husbands, our partners; we will inspire people around us. If we speak Dharma to others, the only way other people will listen is if we do it. For example, if I don't do Dharma practice, if I don't keep my commitments, if I am not sincere, none of you would be here. There would not be thirteen departments in Kechara House. There would not be more and more people coming to Kechara House. Why? If I am not doing what I am supposed to be doing and I am not sincere, how will I influence you? So how will you influence other people if you yourself don't do Dharma? This is not criticism. This is not a scolding. This is food for thought, food for thought.
So therefore I put on the Vajrayogini post…Vajrayogini because our centre's yidam is Vajrayogini and Tsongkhapa, and if you read my post carefully, Tsongkhapa and Vajrayogini are one being, they just manifest differently but their body and the symbols on their body represents the complete path to enlightenment. So if you look at the blog carefully, and you read the blog carefully, and you go over carefully and you study more and more, you will see how intensely profound and how deep that blog post really is and how easy to share.
Everyone should have a Vajrayogini image. Everyone should have a Vajrayogini altar. Everyone should have a Vajrayogini shrine – big, small, bigger the better but big is subjective according to our budgets, and to do it well and to dedicate it to our loved ones and to dedicate to the people that have been kind to us and to start Vajrayogini's practice as I have written on the blog. If you start as I have written on the blog then it is the same as if you have received Her empowerment. Then in the future…
We are now building our 700-capacity prayer hall in SunwayMas. The next project, we'll be building Menara Kechara. The next project…the concurrent project will be KWPC. And when those all come up, especially KWPC, maybe even in Menara Kechara, I will be giving select groups of people Vajrayogini's practice. I will be giving select groups of people her commentary and her meditation, and passing the lineage down to people. And then we will have secret intense retreats on Vajrayogini because I really want to create practitioners. Some people say, "Well, can I start now?" You can't do her mantra, you can't do her meditation, you cannot do her practice because her practice requires a high level of practitioners or people who are highly ready. So how do you get ready? You don't do Vajrayogini's practice when you get it. You have to start doing Vajrayogini's practice now. You need to prepare yourself now, in order that you can get the practice. You see you don't go to the Olympics, then start running. Before you go to the Olympics, you have to train your body for five to ten years to get it in shape, to get it ready and win contests. You have to win local contests, you know, state contests, national contests, international contests before you can get to the Olympics. You don't just start running and practising when you get to the Olympics.
Well, Vajrayogini is like the Olympics. You have to start now. You have to start training now. So everything I have posted on the Vajrayogini blog, do not pick what you like and ignore what you cannot, what you don't like. You have to do one by one by one by one by one. That will be very very beneficial for you. You might think, "But it is so hard, it is so difficult." Yes it is. It is difficult, it is hard. Do you know why? Because our lazy selfish mind tells us it is hard. Because for many people it is not hard. For many practitioners it is not hard. It is just dependent on your priority. So it is very important to take a look. Remember, remember my favourite thing is within sixty years everybody in the room will be dead. Every single person in your room that you are sitting in, within sixty years will be dead. Some ten years, some five years, some fifteen years, some twenty years, some thirty years; everybody sitting in that room that you know, your relatives and loved ones, your children, your friends, most likely within sixty years, or close to it, will be dead.
Meditate on that. Think about that. So all the things you are happy about, all the things you are unhappy about makes no difference anymore when your mind leaves your body and your body starts to decompose. It doesn't matter anymore. Only the Dharma practice you have done will save you, will help you, will lead you, will guide you. Nothing else is left. And if you find this uncomfortable, it is very good. It means your mind can perceive and your mind can think. Your mind can have some logic. If you don't find it uncomfortable you should meditate until you become uncomfortable. So it forces you to do more Dharma practice. That's very important.
So therefore I want all my students who are listening and I want all of you to please share with other people. It is out of my great concern, it is out of my great care and it is out of my great planning for all of our future that I have posted Vajrayogini's teachings, in short, on the blog and if all of you look at it and you practise it, you will be practising Vajrayogini right now. You see you can recite The Wheel of Sharp Weapons. You can recite the 50 Verses of Guru Devotion. You can recite the Three Principle Paths. You can recite and learn the teachings on the Eight Thought Transformations and it can all be directed to Vajrayogini because you don't have to do her mantra and prayers to be praying to her. You can use The Wheel of Sharp Weapons to pray to Vajrayogini. You can use the 50 Verses to pray to Vajrayogini and request her to bless you, request her to give you her wisdom so you may understand and penetrate. So when you are doing that, you are focusing on Vajrayogini.
I would like very much in KH1, the Administrators there, the Education department there to explain the blog on Vajrayogini and the explanations that I have given to everyone in the Ipoh Study Group, and Malacca Study Group and JB Study Group, and Singapore Study Group. I would like very much for it to be given in KH1, in KH2, in all the classes that we have to more and more people in the future, this particular blog. And I would like in KH1, the Education people to also, at least twice a month, to have teachings from the blog which means you open up one of my blogs, and have a talk and explanation and have everybody post a comment. If there's older people there, post the comment for them, read it to them and make sure they confirmed that's what they said, and then you can put their names there, and you can post it so that their input is there.
It is very wonderful and exciting to read everybody's input because it's…everybody should share what they feel. And don't just write simple inputs and comments like, "Oh it's beautiful, it's so nice, it's so wonderful". Write how it affects you. Write what you are going to do. Write specifically how you are going to go about this practice. Why? Because whatever you write can touch someone else's life. Whatever you say can affect someone else's life. So that's why it is important whatever we write and say, we have to think about it carefully. We have to focus on it carefully. We don't simply do and say and act because everything we say and do can affect someone adversely or positively.
For now, besides what I have posted on the blog, make it a point to get along with everyone. Make it a point to be kind to everyone. Do not fight, do not show a black face, do not show impatience, do not do that to anyone even if they have harmed you, do not. Do you know why? Because if you do that to them, then you become just like them and you are not any better and that is not spiritualism at all. Of course people have hurt you and damaged you. You should not let them hurt you and damage you, and you may be careful with them but it doesn't mean you hold anger towards them. You need to forgive. Remember, ultimately all harm that comes to us, ultimately, originally came from the harm we gave to other people. So whatever harm we have received is harm we have given to other people that is coming 'one sharp wheel of weapon' around, back to us. So what is very important is whatever harm that we receive, we must be patient, we must be forgiving, we must tolerate because no harm came to us from no causes. And the cause of the harm that we have received, the cause came from our self. The cause came from what we did. The cause came from what we had done to others. So therefore it must come back. Otherwise where else does the harm come from? Where else will it come from? It cannot just come from nowhere. And some harm we receive from people, these people that give us harm, sometimes they give a lot of help to other people. How come the same people who give us harm, can give help to other people? That means that even these people that harm us are not permanent, are not fixtures that actually give harm. It is from our own karma.
So what is important right now is to do our work conscientiously, well, to do our work completely. To never ever do our work 'half past six' or not completely, not well and to leave it to others. Or to be lazy or to be slow or to do our work in such a way that we burden others. Why? If we believe in Buddha and we believe in karma and we trust our teachers and we believe in the teachings of the Buddha, then we will not do our work in such a way that we don't do it well, that other people have to make it up for us. Do you know why? Because if you don't do your work well, you leave it for someone else to do for you. How can you eat, sleep late, enjoy, do what you like? Everybody else would like to do what you are doing. Everybody else would like to have good things. Everybody would like to sleep late. Everybody likes to relax. Everybody likes to have freedom of time, everybody. How come you can do it and then someone else must cover for you, and you yourself can relax and enjoy, and then you pray and do mantras and then you read Dharma, and you go to Dharma centers, then you go meet your guru…that's not correct. Why? Because behind everyone's back, you are putting your work on other people and you are using them to enjoy yourself, or you are using them not to do your responsibility. If you do like that, I am not saying you are like that, I am saying if you do like that, then that's not spiritual practice.
People think spiritual practice is recite 'Om Mani Padme Hum', meditate, make offerings to the Buddha. Those are supportive spiritual practices. Those are not the actual spiritual practice. The actual spiritual practice is to take the burden onto yourself. The more difficult road you take, the more easy a road you give to other people. If you are selfish, you are not spiritual. If you are selfish, you will create more negative karma to harm yourself and others. If you are selfish, you will have to suffer a lot in the future. Selfishness is your enemy. People are not your enemy. Selfishness is the thing that brings harm to you. No one bring harm on you except your own selfishness. So if we find doing more for others is difficult, it is not that doing more is difficult for others. Why? Because we are selfish and we are not used to it. Solution? We must fight it. Solution? We must do it. Solution? We must do it until it becomes easy. We have to do it…when it becomes easier to do and we don't have…we don't see it as a burden, we don't see it as a problem, it becomes easier. And it does become easier. I promise you. Helping people, being kind, taking on their burdens and doing more for others definitely, one hundred percent becomes easier. Why? It is just a matter of habituation. Once we habituate ourselves to take more responsibility, to be more kind and to be more considerate to others and not to put our burdens on other people, once we get used to it, it becomes beautiful and easy. Do you know why? Because when people like you, when people have tears in their eyes, and they say "thank you" to you, and when people want to be near you and when people want to be your friend and when people appreciate you, you will know that that is the right path.
Never mind Buddha, karma and next life. When people appreciate you and like you and want to be around you and you don't need to avoid them, you don't need to run away from them, you don't need to be insecure, that when they like you, it means you are doing a good job. It means that people can feel your kindness and your love. And when people feel that and they are happy to be around you, that is Dharma.
So everybody wants to wake up late, everybody wants to have easy life, eat good food, relax and have their own timing and control of their timing. Everybody wants that. But everybody cannot have that so we must share the burden. We should not put our responsibility onto other people. Do you know why? Because one day that karma will come back to us. It will come back to us, one way or another. That's for sure. The Buddha cannot be wrong. Secondly if we put our burden on others, we don't do our work well, it means that we are still a very selfish person. If we are still a very selfish person, how do we become spiritual? A spiritual person is a person who is not selfish. A person on the spiritual path is a person who lessens their selfishness. Please let me repeat. A person who is lessening their selfishness is on the spiritual path. The spiritual path is equated to lessening your selfishness. How many mantras you do, how big your altar, how many Dharma pendants you wear, how beautiful your mala is, is not spirituality. Those are only different methods to help you get to spirituality. So if your selfishness lessens, if your selfishness becomes less, then you are on the spiritual path and you are becoming spiritual. And when you become spiritual, you will like yourself and other people will like you. When you become spiritual, you will like yourself and other people will like you, and your children will respect you, and your partners and your family will observe the change in you and will respect you, and you can even bring them to the Dharma. Why? Because of how much you have changed and that's very important.
Do your work well. Never burden others. Don't force other people to remind you over and over and over what your responsibility is. When you make other people remind you, it means you are selfish. When you are selfish you have to expect more sufferings and difficulties to come. You have to expect problems to come. Don't push your work onto others. Take your work and do it well, and take some of other people's work and their burdens quietly and gently and do it for them, and with a smile. Make people happy. Take people's burden away. Take people's problems away. Give them good advice. Give them good character. Give them good personality and give them good energy. Whenever you walk into the room, you should be like a shining light. When people see you, they respect, they like you, they love you and they say you are a good person, you are a good person. And when you become that person, then you are spiritual and when you are spiritual, you can bring spirituality to so many people who need it, so many people who have no direction, no purpose, sad, depressed. Even I meet so many people who want to kill themselves. The only way to help them is if we can show them a different path and a different way.
So therefore today I just wanted to…I am very happy to see many people in the Ladrang department volunteering and working. I am very happy to see people in KH1 having classes, and I would like the KH1 Administrators to give Dharma from the blogs and invite Paris and David to give an explanation because they attend most of my talks. They will be able to remember and explain, and to talk about it to the class and explain. And I would like all the departments to look through Vajrayogini blog, and explain and talk and tell them what it is all about, especially read the comment section. Because why? It will help everyone to bring Dharma to other people. The more knowledge, you have the more powerful become.
So a summary:
I would like everybody to do the Vajrayogini practice and how you should you do it, I have written on my blog very clearly
A short summary of that, again is to take your work and do it all the way and never let your work burden other people. Never let your work spill onto other people. Do your work and do extra. Why? Because you are kind, because you are caring, because you are spiritual, because you don't want other people to suffer
Develop yourself to become someone that people like, people respect, people follow, people listen to and people find happiness to see you. Develop into that person no matter how you were in the past
And the last thing is, if you follow my blog post and you look at the Vajrayogini post and you read it carefully in the comment section, you can start your Vajrayogini practice today. Remember everything we have will be gone, everything we are going to get will be gone, everything we are keeping now will be gone. The only thing we can take with us is our mind. So that's very very very very important okay?
I wish everybody well. I wish everybody a good night and I wish everybody a good rest. I am going to do a quick dedication and then I am going to say goodbye.
Practise Vajrayogini, practise Tsongkhapa who are one. Take the burdens of others onto yourself. Do your work well, conscientiously, and make your presence and who you are a pleasure for other people to see and think about. Even when people think about you, they feel happy to think about you. When you make other people happy, that is Dharma. Never make people remind you of what you need to do. Be responsible because you care. Spirituality is being a person whose selfishness is lessening and lessening and lessening. A truly spiritual person is a person who has no selfishness or very little. That's spirituality okay?
Thank you very much and good night to everybody. Bye bye.
---
克切拉亲善部成员、志工、身处于拉章的朋友们,当然还有正在克切拉 1 忙着做部落格教学的真诚修行者们。是这样的, 我想用一小段时间跟你们分享。我来到马来西亚真的真的是为了把佛法带给那些已准备好或即将准备好又或者在不远的将来能准备好的朋友。除此之外,我没有其他的目的而留在马来西亚。不但是马来西亚,我真的没有别的目的而在任何地方逗留。我离开美国是为了参与寺院生活,而且我非常享受寺院生活,在寺里拥有我全生命最想要的所有。对我而言,当我被谴派离寺到外传法时,我倍感悲伤;不过,与此同时这是上师的吩咐。也就因这是上师对我的吩咐,我服从。
因为在任何情况下,表现出伤感就意味着自我自私的表现。如果我对我的精神导师有着完全的信任与信心,在我从他们身上得到任何指示时,都应感雀跃万分。因此当我从上师手上得到任何指示时而感开心,就代表了我在减化本身的自私心。此话怎讲?因为此举完全表现了我相信上师的大智远胜于我。这也代表之前我所说的伤感并不负面,而是我本身十分想念寺院生活。不管怎样,我在部落格里为了不同生活层面添加了很多资讯。它们是为了满足来自不同种类,背景及兴趣的人而特别设计的。
在我最新的文章里谈及了金刚瑜伽母。之所以会把金刚瑜伽母编排出来是因为我们当中有几位会员和几位跟我们的会员有着直接或间接关系的人将会在不久的将来永远的离开我们。在几个月前的其中一个课程里,我讲过今年将会有些我们十分亲近的朋友将会离我们远去。在临终前后,任何我们现在觉得重要的,符合道理的、强的、弱的、开心的、悲伤的 一切将变的不再重要。试想想如果我们今晚将会去世,如果今晚将成为我们最后一次的呼吸,走动或观看,我们是否还会因经历过什么而表现出快乐或伤感?当然不会。如果我们今天将面对死亡,如果我们今晚即将离世,我们将不会因快乐而感快乐,因悲伤而感悲伤,因为在死亡边缘一切以变得不再重要。
因此我领悟到:生命流失的很快。如果你回头看看你的一生,再看看自己,仔细观察,问问自己:"这些年都到哪儿去了?"当你观察你的面容、发型及体型,再问问自己:"时间都到哪儿去了?我又身处何方?"然后想像是否会在来年变得更好?是否会变得越来越年轻?是否会越来越好?身体是否会变得更加健康?我是否会越来越强壮或是越来越遭?照镜反观并面对事实的真相,所有的事情并不会变得更好。所有的人、事、物只会不断的退化,这是自然界的定律。
因此当我们在凝思我之前跟你们所解释的,当你想像我所跟你解释的,当你专注我刚所解释的,这一切都是心识转换的点。因为当你专注冥思我所解释的,你的内在意识将得以转换。
所以由今天开始我们应该学习金刚瑜伽母的法门。很重要的,我们应该由今天起封金刚瑜伽母为我们的本尊。从今天起我们就开始练习金刚瑜伽母的法门。我们不为自己找借口,马上开始是很重要的。我们不应找五十个介口来塘塞为什么我们不能修持佛法。为什么?实际上,当我们接触到佛法,我们应心生十分的尊敬心,应保持坚定,不应摇摆不定,更不该因自身而影响他人。我们也不该影响自身的思绪。我们应该抱着一颗尊敬、沉着与稳定的心来聆听佛法。为什么?因为佛法值得我们尊敬。为什么?因为佛法能够改变我们的生活,改变我们的儿女,改变我们的将来。你们知道曾经有多少母亲来到我面前对我说:"我多希望我能一早听取你的建议,做一些我该做的事,那可能我的孩子现在就没事了。我和我孩子之间存在着很多问题,因为我希望做一些我从没做过的事。"
我的重点是什么呢?当我们遇到佛法,并有幸为佛法做出贡献时,我们就应该去做。而我又想你们为佛法做些什么呢?几天前,我上载了一篇有关金刚瑜伽母的文章,它精简、易解,它是为了自称忙碌,没有时间的现代人而特别量身定制的。所以当你从我的博客上阅读关于金刚瑜伽母的文章时,你会发现当中有些教法是特别为了母亲所写的,有些是为了父亲所写的,也有一些是为了单身人士、年长者、青少年所写的。当中也少不了为忙碌者、空闲人士、认真的修行者又或是刚接触佛法的朋友们所撰写的。所以,请你仔细阅读我最新有关于金刚瑜伽母的文章。四、五天前,当我为协调助理们开示时,我吩咐 Paris 与 David 将其内容列为载要,并在留言处与大家分享。我想你们仔细阅读此文章。一星期一次仔细的阅读因它并不太长。当然不要错过 Paris 与 David 在留言处更详细的解释。
如果你现在就开始练习,它不单会利益你,还会为你的双亲、祖父母和孩子带来利益。为什么?让我来解释,请你仔细聆听。如果我们手上有一个桶,我们把水往里面灌,而当水满出桶外时,因连带关系水桶周围自然也会变的湿漉漉的。那代表水不单只是影响了桶内,桶外也一并被水影响了。
因此,如果我们有家庭成员、孩子、身边的朋友,那些我们爱及关心的人围绕着我们,给予他们食物、金钱或房子是很好,但那并不足够。为什么那会不足够呢?因为这些连你自己都不足够。看看自己,你的父母供给你食物、房子、安定教育,他们还给了你身体与道德观念,不过这还是不足够让我们在生活上得到快乐。这不够让我们生存,也不够让我们去做我们该做的事。错误在他们身上吗?不,他们一点错都没有。这就是轮回的特性。如果你反观自看,当你只拥有食物、爱、关怀与教育,那就够了吗?不,那肯定不够。同样的,如果你对孩子、朋友与伙伴也有着同样的想法,相对的他们也会不足够。那你能做些什么让其变的更完整--佛法。你必须灌输你的孩子佛法,但如果你不修持佛法,你将不能把佛法带给孩子们。将来,你的孩子们将会在生活上遇见难题、困难与苦处,就像你一样。当你童年时,一切都很完美,但长大后,问题便接踵而来。回想你又是如何解决的呢?你不断地犯错,为自己制造了很多问题,那并不代表你很坏,而是你也没有别的办法,又或者不知该从何下手。
如果我们修持佛法,我们将能引响他人--那些我们身边的人、亲戚、朋友们;我们的孩子们、妻子、丈夫、伴侣,我们将能感染身边的人。当我们与别人分享佛法时,如能触碰到他们的内心只因为我们本身将佛法运用在身上。举例:如果我不修行佛法、不守诺言、不真诚,你们没有一人会在这里。那将不会有十三个克切拉部门。那也不会越来越多人来到克切拉佛教中心。为什么?如果我没做我应该做的事,或我不真诚,那我如何感染你?而你又怎能感染其他人,如果你本人不修持佛法?这不是在批评或辱骂,这是精神粮食。
因而我上载了金刚瑜伽母的文章。选择金刚瑜伽母是因金刚瑜伽母和宗喀巴大师是本中心的本尊。如果你仔细阅读我的文章,你会发现宗喀巴大师与金刚瑜伽母原是一体成形的,他们只是显现出不同样貌,不过他们背后深层意义是无二的,他们都代表着一切证悟之道。如果当你仔细阅读那篇文章,仔细的阅读部落格,当你重复又重复的阅读,你就会发现此文章既极奥妙又容易分享。
每个人都应该有至少一幅金刚瑜伽母的图像。每个人都应该拥有金刚瑜伽母的佛坛--大、小,越大越好,但"大"是依照个人的能力为准。把佛坛做好并回向给我们所爱的人,回向给那些善待我们的朋友,与此同时开始练习我之前在部落格上所分享的金刚瑜伽母修持法。如果依照我在部落格上所分享的金刚瑜伽母修持法那样做,就好像我们已接受了她的灌顶。那在以后的将来……
我们已在金双威建立了可同时容纳多达七百人的新佛殿。下一个计划将会是克切拉大厦。再接下来,就是已着手进行的克切拉世界和平中心。而当人们来到克切拉和平中心或者克切拉大厦时,我将选择性的把金刚瑜伽母法门传授给不同人们。我也会把金刚瑜伽母的注释与观想法门传给特定的小组,并将此传承带给大众。我们将会秘密的进行密集式的金刚瑜伽母闭关,因为我想成就更多修行者。有的人会问:"我可以现在开始吗?"不,你不能够持祂的心咒,你不能做祂的观想,你不能修的法因为祂的法门只公开与高层次的修行者或已完全做好准备的人。那该如何准备呢?你不该等到得到祂的时候才开始练习。你现在就该开始练习金刚瑜伽母。为了要得到她的法门,现在就该准备自己。我们不会到了奥林比克运动会才开始跑步。在还没到奥林比克运动会之前,你们必需先训练五至十年,以让我们的身体处于最佳状态,并以准备好得奖。在参加奥林比克之前,你们必须先赢到县赛、洲赛、国赛国际赛事等等。你们不会因为到了奥林比克才开始跑步与练习。
金刚瑜伽母就好比奥林比克,现在就该开始练习。你现在就该开始训练。所以针对我在部落格上所写有关金刚瑜伽母的所有,你不能选择做些不做些,你必需完完全全的跟着所有指示一步一步的做。那将会为你带来很多益处。你可能会想说,"那好难,太难完成了!"是的,那真的很难。但你是否知道为什么吗?因为我们自私懒惰的心识误导我们这很难;因为有很多人说一点都不难。对于很多修行者而言那一点都不难。这一切取决于你自身对事的优先定论。所以我们必须检查我们的内心。记得我最喜欢说的,在六十年内,这房里的每一个人将会离世。这房里所有的人将陆续在六十年内去世,有的十年,有的五年,有的十五年,有的二十年,也有的三十年。这房里大家所认识的人,包括你的亲戚、爱人、孩子、朋友及等等,将在六十年后离世。
把它作为观想,去思考它。当你们的意识离开你们的身体或当我们的身体开始腐烂时,其实一切你们觉得开心的或不开心的将变得不再重要。那时候,唯有你所练习的佛法能帮助到你、拯救你、带领你、引导你。如果你觉得以上谈话使你不舒服,那很好。那代表着你的意识还能感觉,还能思考,还有一些逻辑性。如果你不觉得不舒服,你应进行观想直至你觉得不舒服为止。因为那会使你修持更多佛法。这很重要。
因此我要求正在聆听的学生们把这教法与他人分享。我之所以上载此金刚瑜伽母的文章是出自于我的关心、我的关爱,这也是我为了大家将来准备的大计划。简短来说,如果你们细读此文章后并加以练习,你已经是在练习金刚瑜伽母的法门了。你可以开始念诵《利器之轮》;你可以念诵《事师五十颂》;你可以念诵《三主要道》;你也可以念诵《修心八颂》,这一切都可以针对金刚瑜伽母来做。你不需要以持祂的心咒或仪轨来向祂祈祷。你可用《利器之轮》来向金刚瑜伽母祈祷。你可用《事师五十颂》祈求祂的加持,祈求祂赐予智慧,好让我们更容易明白和参透其中意义。当我们在做这些动作时,我们就是在专注金刚瑜伽母了。
我希望克切拉 1 的行政部及教育部把我在部落格上的金刚瑜伽母修持法与每一位在怡保小组、马六甲小组、柔佛小组和新加坡小组的组员分享。我非常希望在将来能够特别针对此文章在克切拉 1 和克切拉 2 与更多的人分享。我也希望克切拉 1 的教育小组成员能够每月举办至少两次部落格分享会,大家可以在我的部落格选一篇文章做分享,解释后请大家在文章的留言区内留言。如果当中有年长者,请你们帮他们上载他们的想法,为他们朗读并确认他们想说的准确无误,寄上署名,让他们也与大家分享。
是不是很迫不及待想看看大家的想法?大家应该分享自己的想法。请不要只淡淡写上:"喔,这很好!这很美!太棒了!"请写文章的内容对你的影响,写出你想做些什么,你会怎样去修习此法门及背后的原因。因为任何你所写的、所说的,都有可能深深的影响他人。这也就是为什么我们在分享之前都必须深思熟滤后再写。我们不胡说乱言,因为我们所说的、所做的,都可能为他人带来极正面或极负面的影响。
从现在开始练习我较早前所分享的种种,也开始善待他人吧!对人人好,不争斗,不发脾气,不展示你的不耐烦,就连曾伤害过我们的人我们都不应该恶待他们。你知道为什么吗?因为如果我们不善待他人,那我们就跟他们没两样,这一点也不像学过灵修的样子。当然你我都曾被人伤害过。我们应该提防小心以防再被伤害,但那并不代表你我应该对他们把持着一股怒气。你必须学会原谅。请记得这一点,所有我们所经历的伤害,追根究底都来自我们曾带给别人的伤害。所以我们所得到的伤害,都是我们曾经施与他人的伤害,它是经过《利器之轮》回转到我们的身边。所以重点是我们必需有耐性地去面对我们所接触的伤害,我们必需原谅及忍耐,因为没有任何伤害会无缘无故的降临到我们身上。我们之所以得到被伤害的果,是因为那都来自我们种下的恶因,而此恶因来自我们曾做过的种种。那到底这些伤害从何而来呢?它不可能无缘无故冒出来。我们都曾被人伤害过,不过那些伤害我们的人,可能很多时候帮助很多其他人。为什么同样的一个人为我们带来伤害,却能够帮助别人?那其实代表着那些伤害我们的人其实并不是定律,他们并不是一律的带来伤害。这些我们受到伤害只不过是一种因果的显现。
所以重要的是现在开始就应该切切实实地把工作做好,不应该马马虎虎的完成它或交出不完整、不好的工作,或者把工作推给别人,或是因为自己偷懒而导致我们连累到他人。为什么呢?如果我们相信佛陀、因果、我们的上师,当然还有佛陀的教法,那我们就不该不把工作做好,而需别人来弥补我们。你知道为什么吗?因为如果你不把你的工作做好,别人就得为你完成你原先该完成的工作。所有的人都喜欢拥有美好的事情。大家都喜欢迟起床,大家都喜欢放松身心。大家也很喜欢有自由的时间。你怎么可以拥有以上所提的种种,却要其他人顶替你的工作?你怎么可以这样去放松、享受、课诵、持咒、阅读佛法书籍、去佛法中心或觐见你的上师?那是很不正确的。为什么?因为你在所有人的背后把自己的工作加附加在别人身上,你在利用他人来让自己享受,你也在利用他人来推卸自身的责任。如果你选择这么做,我并不是说你就是这样,我是说如果你这样做,那根本不算是灵修。
很多人都觉得灵修不过是持诵六字大明咒,进行冥想或对佛做供养,这些只不过是帮助我们学习的副修持法,它并不是真正的灵修。真正的灵修应该是把难题都往身上摆。你把难走的路留给自己,康庄大道都留给他人。如果你选择自私,你不学习灵修,你只会为自己带来更多的恶因来伤害自己与他人。如果你自私,在不远的将来你将会很痛苦。你真正的敌人不是别人而是自私心。自私就是能为我们带来伤害的因。没有任何事情能够伤害我们,除了自私。如果我们觉得为他人付出很难,那其实并不是因为付出多很困难,而是因为我们习惯自私,不习惯为他人付出。解决方案又是什么呢?我们必须与它对抗,我们必须努力去做,我们必须一直练习直至它变得容易为止。我们必须去做,当它变得越来越容易,当我们不再把它视为一种负担,当我们不在把它当成一种问题,它就会变得容易,它会变得越来越容易,这我可以向你保证。帮助他人,做好事,为其他人做的更多或为他人减轻负担,一百巴仙肯定会越来越容易。是因为这是一种惯性动作。一旦我们习惯承受更多的责任,做更多好事,多为别人着想并不再把负担搁于他人,它将会变得很美好简单。你知道为什么吗?因为当别人喜欢你,当别人眼里含着泪向你说谢谢,当别人想要接近你,当别人想要与你做朋友,以及当别人欣赏你时,你就知道你做对了。
先不理佛陀、因果或来世。当人们开始欣赏你、喜欢你、想一直围绕在你身旁,你不需要回避他们,你不需要逃离他们,你不需要没有安全感,当他人喜欢你,那代表你做对了。那代表人们可以感觉到你的善良与关爱。当别人开始感受到并喜欢围绕在你身边,这就是佛法。
全部人都想要迟起床,想要过容易的生活,吃好的、放松,拥有自己的时间并完全控制它,不过并不是人人都能拥有,所以我们必须分担。我们不应该把我们的责任推向他人,因为迟早我们所造之恶因会回到我们的身边。无论如何,它将会回到我们的身边,那是肯定的。佛陀不可能错。其二,如果我们把我们的包袱搁置在别人身上,我们不把工作做好,那表示我们还是一位自私的人。如果我们还是自私的人,我们如何成为拥有心灵修养的人。一名灵修者会是一位不自私的人,一名在灵修道路上的人将会变的越来越不自私。灵修的道路相等于减少自私心。无论你持了多少的心咒,你的佛龛有多大,戴了多少的佛坠,你的念珠有多美,这一切都不算是灵修。这只不过是一些不同的方法来领导我们去接近真正的灵修。所以如果你减低了自身的自私心,或你的自私心减低了,那你就算是在灵修的道路上并变的越来越有灵性修养。当你的灵性修养越来越高时,你会开始喜欢上自己,别人也会开始喜欢你,你的孩子会尊敬你,你的伴侣和家庭会发现你的改变而尊敬你,而你也可以把佛法带给他们。因为你改变了多少很重要。
把你的工作做好,不拖累他人,不须别人一直不断重复提醒你的责任。当你让别人提醒你时,那代表着你很自私。当你选择自私,你就必须期待着更多难题与痛苦的来临。你必须等待难题的到来。别把自身的工作推向其他人,请把你的工作做好。如果可以,请你也静静的替别人分享他们的工作与负担,并附加一个笑容,让他人开心。分担别人的负担,分担别人的问题,给于他人好的建议,给于他们好的性格,给以他们好的品行,好的能量。当你走入一间房间时,你就像一束耀眼的光芒。当别人见到你时,他们尊敬你】、喜欢你、爱上你,他们会称赞你是一个好人。当你成为那样的一个人时,你就是一名灵修者,而当你是灵修者,你就可以把灵性修养带给很多需要的人。我遇到很多想自杀的人,很多没有方向、目标,伤心、犹豫的人,唯一能够帮助他们的就是指引一条不同的道路,不同的方向给他们。
因此,今天我很开心见到很多人在拉章内做志工与工作。我很开心见到人们在克切拉 1 内上课。我希望克切拉 1 的执行人员从我的部落格内分享佛法并请David 和 Paris 给于更深一层的解释,因为他们俩参与了我大部分的开示。他们有能力记得与解释也有能力在课堂上分享。我也希望所有部门的志工们都会仔细阅读此金刚瑜伽母的文章,也有人解释并让各部门的志工们知道其中的内容,特别要记得留言在文章的留言区。因为那将会帮助大家把佛法带给大家。当你拥有越深的知识,你将会变得更有力量。
今天重点的摘要:
我想大家都进行金刚瑜伽母的入门修习法,而因应该如何开始,我已在部落格上写得很清楚。
简短来说,把自己的工作做足100巴仙,别增加他人的负担。别让你的工作影响他人。不但要把自己工作做好,也要做超出自己工作范围得工作。因为你很善良,因为你很关心,因为你有灵性修养,也因为你不想他人受苦。
把你自己建立成为人人喜欢、跟随、聆听的那个人。当人们见到你时,你将会为他们带来快乐。把你自己建立成为那个人,无论你之前是个怎样的人。
最后的是,如果你跟随我的部落格,并仔细阅读有关金刚瑜伽母的文章以及其中留言区的留言,你现在就可以开始练习金刚瑜伽母入门修习法。请记得无论我们所拥有的一切将消失,我们将得到的也会消失,我们现在所保留的也会消失。我们唯一可以带走的是我们的意识。那是非常,非常,非常重要的。
我祝福大家好。大家晚安。希望大家好好休息!我会简短的做一段回向,然后我就会跟大家说掰掰。
修持金刚瑜伽母,修持宗喀巴大师原为一体。为别人的减轻负担。仔细的把工作做好,把你的出现为大家带入更深一层思维。当别人想起你时,你会让他们快乐。当你为大家带来快了,这就是佛法。不让人提醒你该做的事情,负责任因为你在乎。灵修是个人的自私心越来越少,越来越少,越来越少。一个真正的修行者是一个没有自私心的人或就算有也非常微薄。
那就是灵修。谢谢大家!晚安,掰掰!
---
Notes:
His Holiness Pabongka Rinpoche was asked by Heruka and Vajrayogini to combine the Sakya Vajrayogini teachings with the techniques that Tsongkhapa had given for the Heruka practice. These came from Tsongkhapa's writing on the Secret precepts of Heruka, the Elucidation of all Hidden Meanings [Tib. Be dön kun säl]. That's why he said that if he got a piece of cloth from a Sakya lama and one from a Gelugpa lama and stitched them together, it would be good. By combining the Sakya techniques with those of Tsongkhapa, the great Pabongka contributed a lot on this practice. He wrote the long Vajrayogini sadhana called Dechen Nyur Lam, Short Path to Great Bliss. That has everything in it. You really don't need detailed teachings; read that slowly, it has everything in it. So His Holiness Pabongka Rinpoche said that from him on it is not only the short lineage from Vajrayogini to His Holiness Pabongka Rinpoche, but also the long lineage and the combined teaching techniques.
Je Tsongkhapa and Vajrayogini. There is also a big question on Tsongkhapa's relationship to Vajrayogini. A number of people have said that in Tsongkhapa's eighteen volumes of work not a single word is devoted to Vajrayogini. The lineage masters continuously told us that Tsongkhapa kept this practice as his hidden heart treasure. So Tsongkhapa had been practicing that, and he had a lot of techniques for the Vajrayogini practice, many of which you will find in Elucidation of all Hidden Meanings, though they are quite irrelevant to the Heruka practice. It was His Holiness Pabongka Rinpoche who made it very clear that Tsongkhapa had so many techniques and who combined all together and that is how the lineage has come through.
Kyabje Trijang Rinpoche. Then, of course, you know that the ownership of the general teachings and particularly of the mother tantra has fallen on to the late Kyabje Trijang Dorje Chang. I don't have to talk much about Trijang Rinpoche. Most people know him. He is the teacher of H. H. the present Dalai Lama. He was a great living Buddha who passed away in 1981 at the age of 81. His reincarnation has already been found.
(Extracted from Vajra Yogini Teachings by Kyabje Gelek Rinpoche, page 40, published by A Jewel Heart Transcript)
June 14, 2010

Click here to read The Life and Teaching of Naropa, a biography of the Indian Mahasiddha Naropa by Herbert Guenther. Naropa's lineage of Vajrayogini practice was transmitted to Tibet and has become the most widespread within Tibetan Buddhism.

For more interesting information:
Please support us so that we can continue to bring you more Dharma:
If you are in the United States, please note that your offerings and contributions are tax deductible. ~ the tsemrinpoche.com blog team