My Father's gift of Vajra Yogini
(By Tsem Rinpoche)
When I visited my father many years back, we were sitting around just talking. Suddenly he asked me do I like Vajra Yogini out of the blue. We have never talked about Her before. I said yes I do. He said wait.
He came back and said that this statue is originally from Panchen Rinpoche's Tashilunpo Monastery. It was gifted to my father's guru. My father's guru in turn gave it to my father. And now my dad wants TO GIVE IT TO ME!!!
I was like wow! How lucky and meritorious I am. It is an old statue, blessed by high lamas and being given to me by my father.
I sincerely thanked my dad profusely and was very moved. I did prayers to Her that night for my dad. She has been with me ever since.
All the ornaments can be fully removed and She is around 12 inches in height. Her whole body has been offered gold, otherwise She is dark in color as She is made from copper.
Her flame aureole behind Her can be removed also. See below: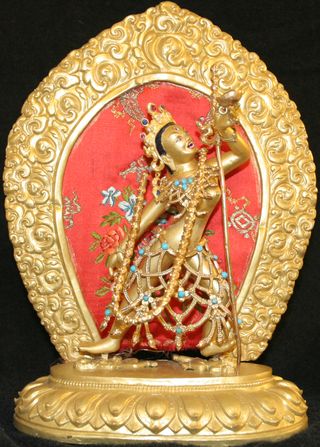 I have many other Vajra Yoginis. For some good strange reasons, I am always given gifts of statues/thangkas of Her always year after year. I am not complaining but surprised and rejoice.
Tsem Rinpoche
Please support us so that we can continue to bring you more Dharma:
If you are in the United States, please note that your offerings and contributions are tax deductible. ~ the tsemrinpoche.com blog team