Beautiful 1000-armed Avalokitesvara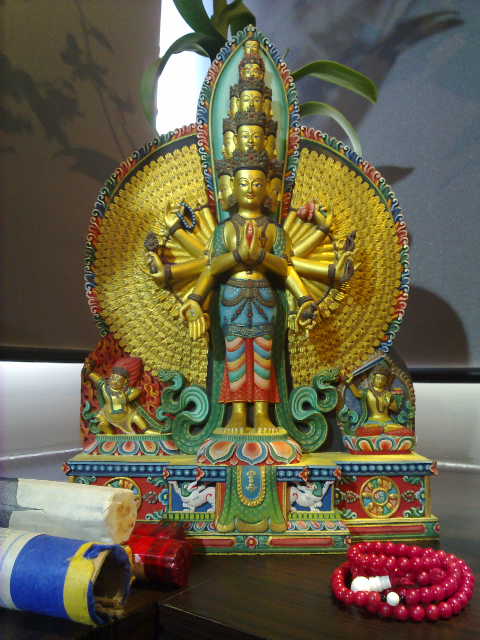 (By Tsem Rinpoche)
When I was very young in New Jersey, my step parents wouldn't let me study dharma, do sadhanas, mantras or go to the Buddhist Church much that was nearby with a erudite Teacher in residence.
So when my parents went out, or not around, or busy, I would be in my bedroom reading my dharma books quietly or doing mantras. Sometimes meditations.
I like Manjushri and Avalokitesvara very much. I would recite their mantras endlessly. Nights my step parents went to parties and wouldn't get home till maybe 3 or 4 am, I would be happily be up in my bedroom doing perhaps 40,000 Om Mani Peme hungs that night I rememer clearly. I looked forward to them going out very much for those reasons.
So I like Avalokitesvara and the ideal He stands for since very young. On Wesak day, Joshua and family from Singapore presented this BEAUTIFUL 1,000 ARMED AVALOKITESVARA TO ME. He is so stunning. I was amazed at the carving. It is carved from wood and 16.5 inches in height so relatively light but has very solid feeling. They purchased this sacred image from Kechara Paradise.
Thank you Joshua and family for such a meaningful and beautiful gift. I dedicate the merits to you and your family.
Tsem Rinpoche

Please support us so that we can continue to bring you more Dharma:
If you are in the United States, please note that your offerings and contributions are tax deductible. ~ the tsemrinpoche.com blog team