Shin's Very Thoughtful….
You know, Shin's been with me a few years. She was in education before she joined us. Now she is with us full time. Within the 12 depts of Kechara House, she works in the Ladrang. She assists Liasion Bengkooi very much and also work in the E-div which handles everything related to internet in our KH organization with another 6 wonderful people.
They work on the floor below mine. I often send drinks, pizza, videos, chocolates, movie tickets, aquarium tanks, Buddha pictures, nasty sms,vitamins,or even Maggi noodle in the cup to them to make sure they are ok and that I am thinking of them.. I appreciate their work. I need their work and they do a good job with human errors from time to time. but they are a great team.
Shin is straight-forward,not much mind games…and she had this habit of saluting me/everyone whenever we would say something she agreed with. Well I took care of that by saluting her back when she said some interesting things..heheheh. She doesn't salute anymore, she nods or smiles now…and that's neat..ehehee.
She's hard working and had a frail body that gets sick very easily two or three times a month prior. Now that she's joined the ladrang dept, that has become much less sick and I am happy for her. I don't want her sick.
She's quick, can be witty, and can be touched by kindness easily because she has a soft heart. She's not demanding or greedy and never disturbs other ppl. She can be a great friend if you cultivate that with her. She don't have much money, but plenty of care, consideration, loyalty and appreciation which is so much better. People who think they can earn respect or friendship with money always get disappointed and lonely in the end. I generally find working with Shin nice and she is very very very very loyal and really loves the Dharma. My point, she is sincere in her spiritual pursuits. I am happy she is with us and I wish to work with her for the rest of my life.
Well, she does this from time to time, where she sends some very simple gifts, BUT FROM HER HEART AND IT TOUCHES ME. That's why I am blogging this. I am not eliciting more gifts but sharing with you that sincerity really moves my being. She even marked some of the pages in the magazine for my special interest. It isn't that she just buys the magazines, she als looks through them and marks them for me…wow…how considerate and thoughtful. What a great gift. The gifts came with a note I've posted here just to show you her warmth and care.
I usually put my gifts in front of the altar before using them. I ask the Three Jewels to bless the giver. I don't have power to bless anyone so hence the altar it goes.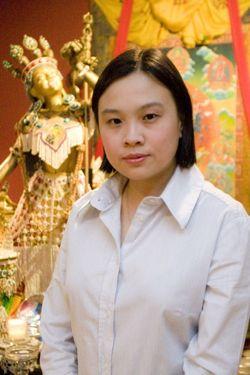 Kind hearted shin with her best 'girlfriend' Vajra Yogini in the background.
If you're Shin's friend, you'll have a loyal, warm heart for life with no hidden agendas. Bless Shin. Some ppl just take and hardly give and I feel sorry for them, but there are many ppl who give and just want you to be ok.
I may have said this many times before but I 'll say it again: I deeply appreciate my friends of the past, present and of course future ones. I deeply care about my students and want them to ascend Kechara Paradise( the real one) and I want them to be ok. I want them to be always ok and will do what I can to make that happen if they are receptive…i pray they are.
Think of your life and minus out all the friends, ppl that helped you and anyone that cared about you..just imagine that for a minute, and your alone…not nice right? Well then love, give, appreciate, connect with your friends always n never take advantage of anyone, and be kind and sincere to them while you have them…I do.
Tsem Rinpoche
Please support us so that we can continue to bring you more Dharma:
If you are in the United States, please note that your offerings and contributions are tax deductible. ~ the tsemrinpoche.com blog team