New News of Ladrang – The Gift Section
New News of Ladrang Gift Section
1. Su Ming and I called many volunteers to come in to help arranging statue and stock in Gift room. We have Allan, Pat, Peter Hoh, Joe Ang, Grace Kua, Louise, Yvonne helping in gift room; Ethan and Bryan in the KIM office, Ethan help checking website and Bryan helps to do special greeting cards for gift section.
2. In gift room we have cleared a shelves to put in all the Tara statues offered by Datuk May to Rinpoche and transferred some items up to the mezzanine floor.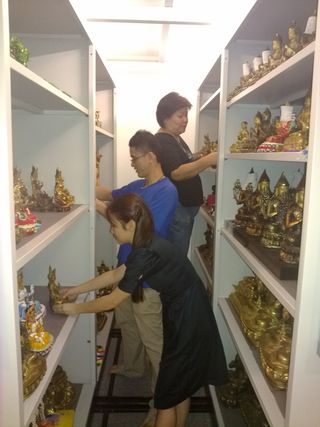 3. After the work we, including Miss Han gather at the kitchen for food and drinks again. Martin bought a lot of pasta and brownies for everyone. Peter and Allan are very happy and chatty. Everyone enjoy themselves in the kitchen, talking about various topics from Dharma to strange lifestyles to being strange themselves…hehehe.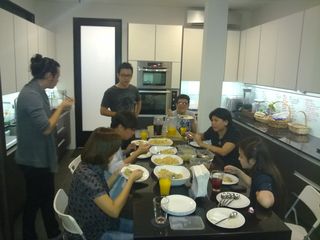 4. It is nice to see staffs from different departments and volunteers gather in Ladrang. Allan and Peter are very fun. We are talking about the 18th July performance. Nicholas, Thierry, Albert, Allan will be in the "Swan Leg" group. Joe Ang, Chia, Peter, Bryan, Eric Choong will be in the Korean group-Wonder Girl, performing the song "Nobody".
They are going to start their practice on Friday.
Regards,
James Long
Gift Section.
TSEM LADRANG
Kuala Lumpur, Malaysia
THE GIFT SECTION
The gift section on the ground floor of Tsem Ladrang was designed to make optimal
use of the available space to store as many gifts possible. It has a mezzanine floor and compact sliding cabinets. It also has railings to hang the various-sized thangkas .
This division is headed by Liaison Su Ming, assisted by James Long.
Here's a video about what the gift section does and how it has benefited many:
Or view the video on the server at:
https://video.tsemtulku.com/videos/TsemLadrangGiftSection.mp4
This was a nice post to see our Gift section of the Ladrang and volunteers getting together to help organize it better.
Tsem Rinpoche
Please support us so that we can continue to bring you more Dharma:
If you are in the United States, please note that your offerings and contributions are tax deductible. ~ the tsemrinpoche.com blog team