Small Plant Growing on Zong Rinpoche's Statue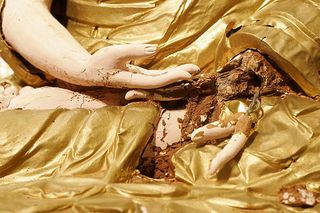 March 13, 2010
Dear everyone,
A few days ago in my audience room in Kechara House 1, there was a leakage on the ceiling, and water fell directly onto Zong Rinpoche's statue on the altar, not anywhere else. So I was quite concerned and worried.
Without asking me, Monlam, who was very concerned and caring and who has a lot of initiative, called up three very senior and old monks in Gaden Monastery to ask if it means anything bad. JP, also on his own, asked Monlam about the significance.
The first senior Gen (Gen means teacher in Tibetan), said that water falling onto the lama' statue like that is nothing bad. In fact it is very, very good, it means that attainments are coming. And he also said, if there is anything like mushrooms or grass or plants growing on the statue afterwards, it is a clear sign that a lot of money for Dharma is coming soon.
In Tibet we believe what the old monk said. And the amazing thing is he mentioned this a few days ago before we noticed that something is actually growing on the statue.
The second senior monk, Geshe Jinpa said, there is nothing to worry about, it is a good sign, it means good things are coming.
And Monlam even contacted one of my gurus, His Eminence Kensur Jampa Yeshe Rinpoche to ask for divination, and Kensur Rinpoche's divination showed that "Don't worry, everything is fine, just do a long life puja of 16 Arhats for Tsem Rinpoche life. It is not a bad sign. Everything will be ok."
All three lamas confirmed that after the statue is repaired and we put up the clothes again, I should offer up a khata, an offering of tensum and mandala, and everything is fine. In fact it is a very good sign. All three lamas confirmed that if I do that after the repairing of the statue, it would be good.
Thank you.
Tsem Rinpoche
The holy image is in my room now.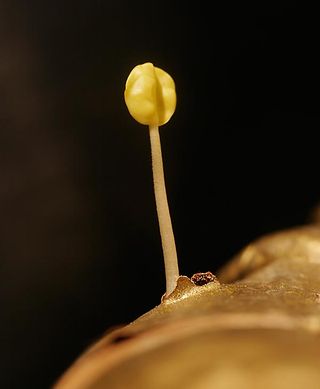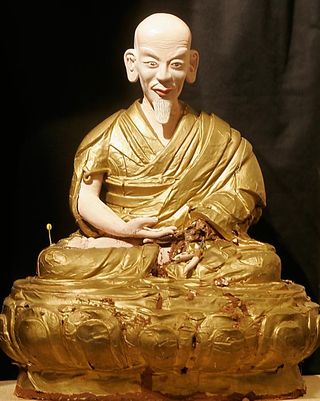 ---
Tibetan 'Ah' syllable found on the inside of the skull of the 2nd Zong Rinpoche, Zongtrul Tenpa Chopel (1836-1899 AD) after his cremation ceremony
---
Here's more stories similar that happened to me:
This mushroom appeared last time in my house also: http://www.tsemrinpoche.com/tsem-tulku-rinpoche/kechara-13-depts/setrap-gives-another-sign.html
Then immediately outside of my house a Bodhi tree starte to grow on it's own. We asked around and no one had planted it: http://www.tsemrinpoche.com/tsem-tulku-rinpoche/etc/wherever-i-stay-this-is-what-happens.html
This one appeared very recently: http://www.tsemrinpoche.com/?p=30053&preview=true
Please support us so that we can continue to bring you more Dharma:
If you are in the United States, please note that your offerings and contributions are tax deductible. ~ the tsemrinpoche.com blog team