Setrap Gives Another Sign
Last night while in the car going to Kechara House for a dharma talk, I openly requested Dharmaphala Setrap to give me the blessings so my talk can sink into the minds of the listeners, have people become more committed to KWPC/KH Depts, show more help to the people who are doing pujas to Setrap and to develop trust in him.
I asked Setrap to show more to the people clear signs that would convince more people and hence people would engage in real dharma practice eventually. Whatever the has been requested of Setrap that would benefit others, please grant their requests and indicate clear signs. Monlam and Sengpiow were in the car with me when I vocalized my prayer out loud.
Well I got back from KH at around 2AM to the Ladrang after the Dharma Talk. Was doing some work. Around 2:30AM my assistant Sengpiow noticed something unusual growing in my plant pot on my balcony. It was straight yellow stem and that was it. Then at around 5Am the yellow stem bloomed with a top wide open and round becoming a mushroom!
We have gardens, flowers, many potted plants around the ladrang. Nothing of this sort has ever grown anywhere.
My dharma talk was on death meditation and the benefits of KWPC and our plans. Also how people can particpate in this great project. I also instructed everyone to do two retreats on Setrap and Dzambala.
When I got back to the ladrang, this mushroom shoot literally instantly appears. If you remember a few weeks ago eminent lamas and senior monks of Gaden said that if a mushroom springs forth from a statue or the lama's residence, it is a very good, auspicious omen of growth and success. So just a few weeks ago, a sprout sprang forth from my personal Zong Rinpoche statue and now this mushroom. Read about the Zong Rinpoche statue here.
The proximity in time of the Zong Rinpoche sprout and today's mushroom is a coincidence too much to ignore. I feel this is a definite indication of what will be happening in Kechara House in the near future, which is much more growth, and the success of our KWPC plans. Something good is going to happen very soon. So everyone do their Dzambala and Setrap Retreats as a group well together as I requested last night. Pray for the manifestation of Kechara World Peace Centre (KWPC) in the near future.
Please see here for what I talked about last nite.
Kechara House will definitely benefit many more to come in the future. KH will continue to grow, attract many and fulfill huge projects. My hard work, the hard work of our members, Liaisons' dedication, Blessings of Tsonkgapa/Setrap all combined will make this happen.
Early this morning I had a powerful dream that was very vivid regarding Kyabje Lati Rinpoche. I had Pukhang Khangtsen in Gaden Shartse do Heruka self initiation and tsok. They will be doing that today. I asked them to pray to Heruka that Lati Rinpoche's wishes / prayers come true and he continues to live very long.
Lately, more and more positive signs are arising. I feel these are very encouraging. My students, friends and members should feel inspired upon reading all this as it is my purpose of blogging all this.
Keep your chin up, be harmonious, forgive each other, hold your vows of refuge, do your practice and focus on our goals. It will be achieved.
Much Care,
Tsem Rinpoche
We just took these pictures just an hour ago… so it is hot off the press literally. See the pictures and feel inspired. It is a sign from Setrap.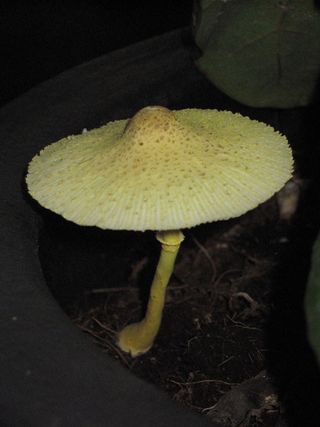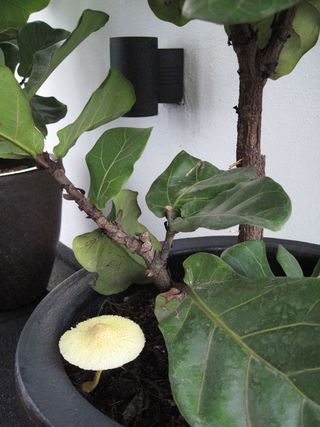 ---
Update: April 2, 2010
Yesterday early morning a mushroom spontaneously sprung up (see above). Then by evening it had died and dried up. Then this morning early again another mushroom sprung up as if to replace the previous one.
You can see in the photo (below) I just snapped 10 mins ago that on the left is yesterday's mushroom already dried. But on the right is the new mushroom that just sprung up this morning.
Tsem Rinpoche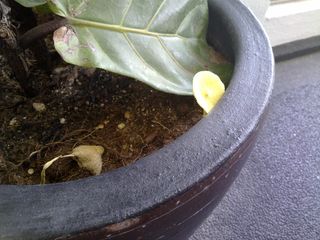 For more interesting information:
Please support us so that we can continue to bring you more Dharma:
If you are in the United States, please note that your offerings and contributions are tax deductible. ~ the tsemrinpoche.com blog team