Thierry Does Nori Rolls & Andrew joins in…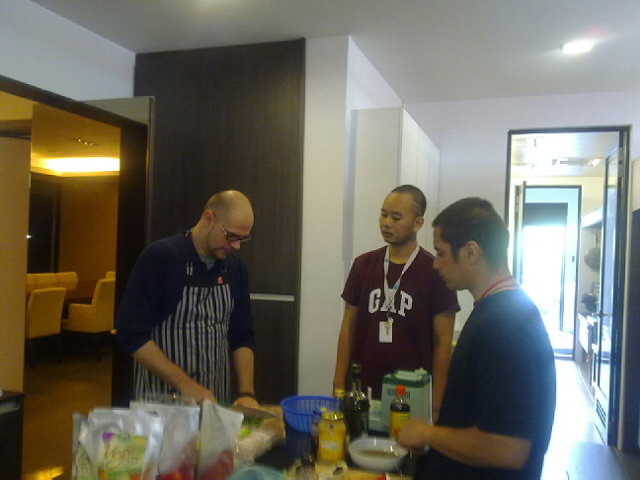 Around two weeks ago in the Tsem Ladrang kitchen….
I have really kind friends and students who really help, participate and contribute everything to what Kechara House is today.
Thierry (Left) showing JJ (centre) and Justin (right) how to make delicious Nori Rolls for me here in the Ladrang Dept's kitchen.
Thierry is from Belgium and he resides here. He is a very talented cook among many things that he does very well..He has been volunteering more and more in the Ladrang Dept of Kechara House I am happy to see and we welcome him very much. Thierry is intelligent and can think very deeply. During my dharma talks, he focuses very intensely and has genuine interest in the dharma. I like spiritual seekers like him.
Thierry joined our KH last year and enjoys learning Lam Rim tremendously..he loves Tsongkapa now….
JJ is a young Malaysian who is in the ladrang also a very good cook of Chinese food and loves dharma… Justin Ripley is from New Zealand and married to a lovely Malaysian girl. Justin does wonderful Western food and is a great Web developer & a good friend to have….Justin and JJ getting lessons on making food in the ladrang from Thierry…
By the way, the Nori Rolls were DELICIOUS…I EVEN LICKED THE PLATE WHEN I FINISHED!! Thierry PLEASE COME BACK TO TEACH MORE GREAT DELICIOUS MEALS FOR ME!!!!!!!!!!!! SORRY TO BE SO GREEDY…HEHEHEHE
Thierry, I from my heart, want you to be a part of KWPC and all Kh activities. Intelligent and creative people like you can contribute to the benefit of others so much. I sincerely wish you will do that with your wonderful partner for the rest of your life. It is a privilege to serve others through the dharma and it is the best thing both of you can do. I wish you both the VERY BEST AND THE MANIFESTATION OF THAT IS MY WISH FOR YOU BOTH TO BE IN DHARMA AND THE DHARMA BE IN YOU. You have my care, concern and prayers….always….get involved and be firm and steady…go all the way WITH US!!!!
I need you!!!
Much care,
Tsem Rinpoche
---
Update: Today itself!!
Today there's a liaison's meeting. All 21 liaisons will be meeting to discuss important issues and KH's growth.. When Thierry and Andrew heard, they rushed over to help cook up some surprises for today's meeting participants…thank you both!! They are very talented in cooking and how nice of them to contribute to the dharma this way!! Food is love. Thank you Thierry and Andrew so much!!! Remember… go all the way with dharma!!!
How nice!!! Welcome to Andrew and Thierry to the Ladrang Dept… you both can definitely do so much to benefit others through KH… you trust my feelings on this!!!
Please support us so that we can continue to bring you more Dharma:
If you are in the United States, please note that your offerings and contributions are tax deductible. ~ the tsemrinpoche.com blog team