Historic Day IN KECHARA!!! Gompa Reno Begins!
As our Kechara is growing, we cannot accommodate everyone in the current *gompa. So we are enlarging the gompa. The Liaisons Council has unanimously agreed to this expansion and has assigned Liaisons to oversee this exciting project.
Where previously our gompa is divided into one and a half separate shoplots, now it will be four shoplots joined as one!! It will provide space for 600-700 people easily. That is the 1st floor. On the ground floor below the gompa will be more space for offices, admin, Kechara Care Gift Store, Kechara Discovery, etc etc. I will update the progress as time goes on this post. So you may return to this post for updates.
June 12, 2010
Today was a historic moment for Kechara House as we handed the keys from the architect, Mr Ng, to the contractor.
At 9.00am, construction work on the internal finishing began. The workers will be removing tiles, carpeting, partitions and other preparatory work on the interior of four lots to start renovations for the new gompa.
Things are moving fast in the world of Kechara as we move to the next level to accommodate more people who wish to find peace and happiness in their lives.

These four shoplots will soon be transformed into the new Kechara gompa!These four shoplots will house large holy images of Lord Tsongkapa, Vajra Yogini and Setrap. Very exciting.
Signing the contract
The first step is to inspect the location as a group, to determine the condition of the building
Open sesame!

Liaison JP Thong of Tsem Ladrang exchanges notes with Mr Ng. In the background is also Mr Ng, the main architect for this project.
Enter the workers!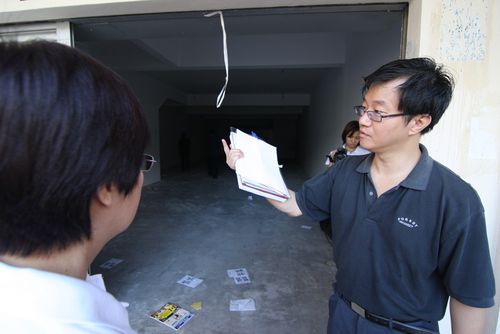 Mr Ng (the architect)

Mr Ng unlocks Lot 9…

… and the group proceed to enter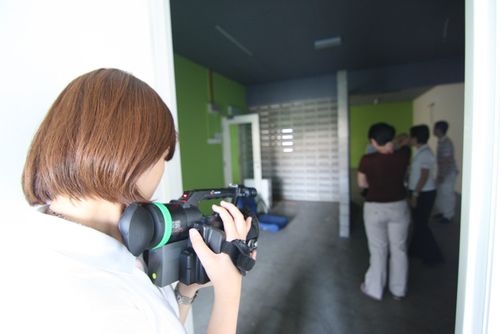 The inside of Lot 9 is inspected while Jace Chong of Kechara In Motion (KIM) films today's proceedings, which will go down in Kechara history!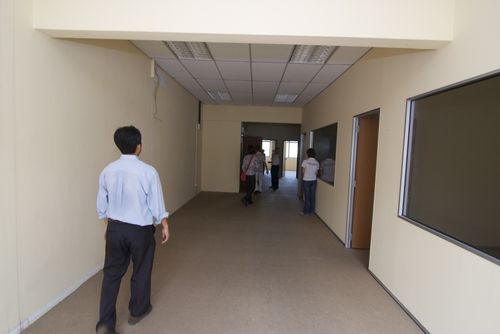 Inspecting Lot No 3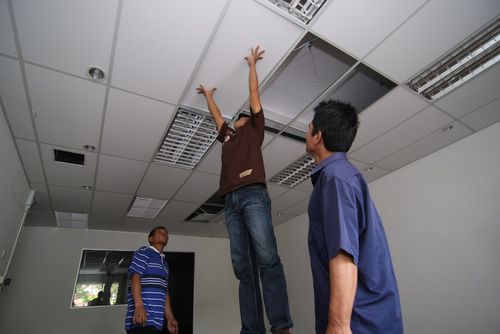 The work begins! First to come down is the fake ceiling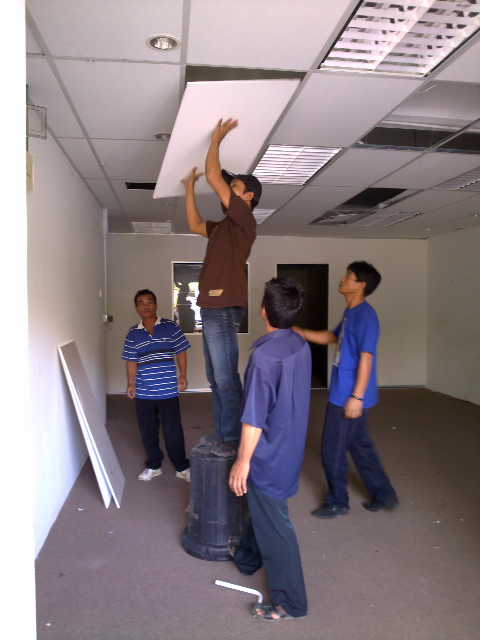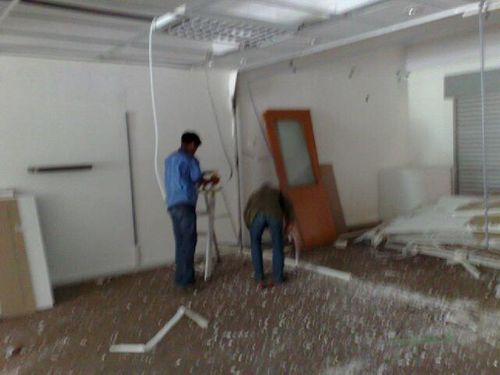 Tsem Rinpoche
Please note: *Gompa is Tibetan for Hall for Meditations/contemplations/rituals
---
Update: 14 June 2010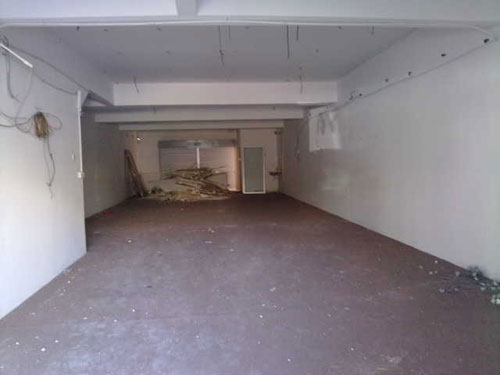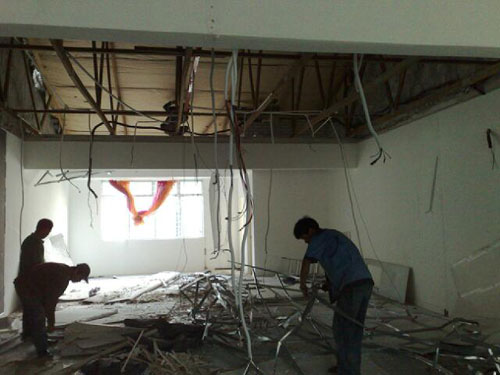 ---
Update: 18 June 2010
Outside

Inside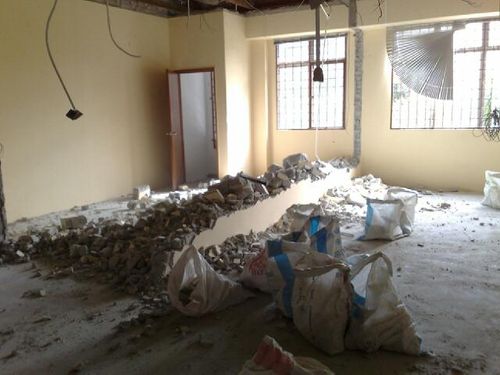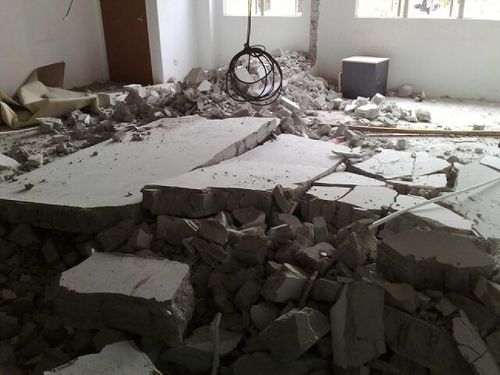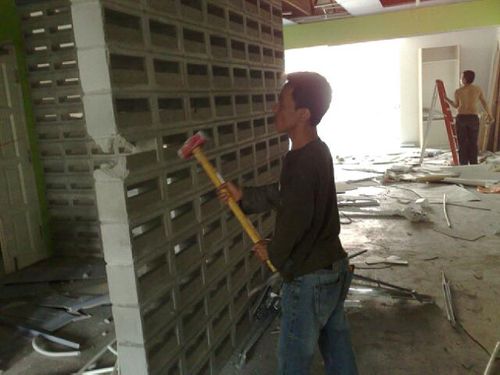 ---
Update: 21 June 2010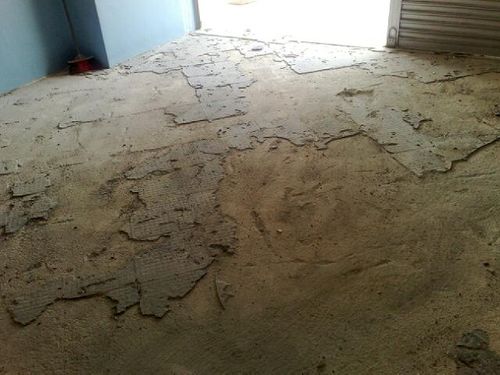 ---
Update: 25 June 2010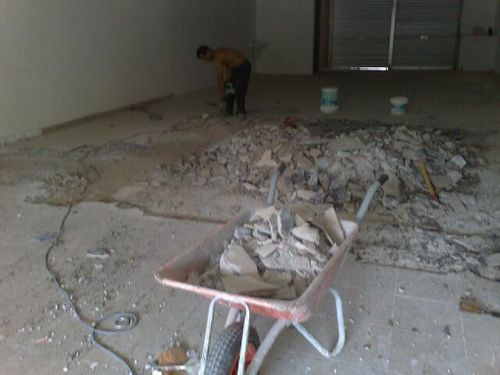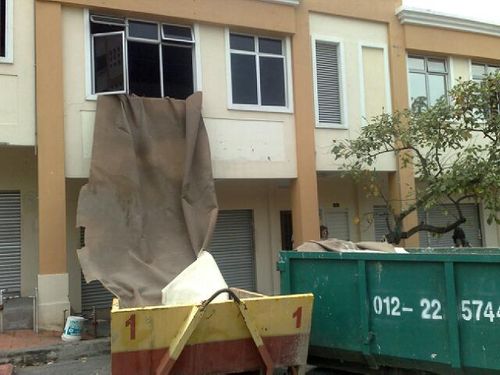 ---
Update: 6 July 2010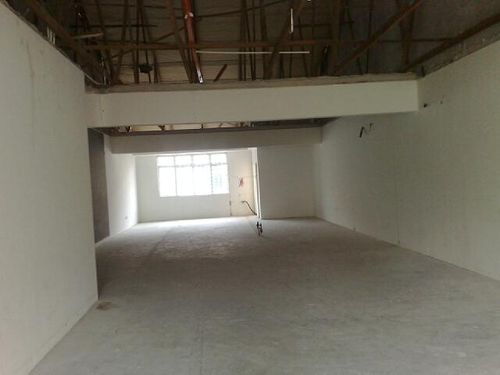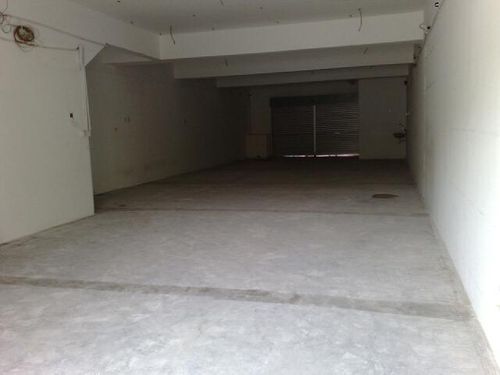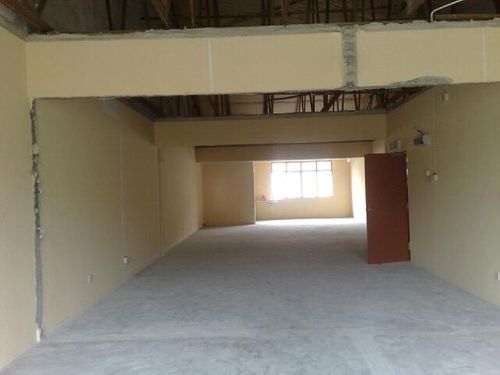 ---
New Gompa Updates: 15/8/10
1. This morning at 11am, a site meeting was convened at KH2 attended
by main contractor Ng, Veritas Architect project manager Helius
Liew, and Wee Liang.
The following were discussed:
– Setting up temporary site office in the new gompa building to
coordinate and resolve day to day construction problems.
Instructions given to contractor to :
a) provide 6 sets of safety helmets and shoes for visitors.
b) put up master work program, one set of drawings, white
board, site diary,worker attendance record book and detailed
progress chart for all trades.
c) produce contractor-all risk cover note for whole project by next week
after finalising main contract documentation.
d) provide cabinets for storage of samples for the works and materials
delivery records.
e) to ensure all wet works( concreting and masonry ) and roofing works
to be completed asap as any delay in these trades will make it
diffiicult for other works to come in.
– Meeting ended at 1pm.
Photos attached:
Pic NewG (a & b) Taken at 3.30am by WL
-Bare structures remaining after brickwalls demolised.
16 workers recorded on site.
Pic G ( c & d) Taken at 11 am
– Excavator mobilised on site this morning to speed up clearing and carting away of debris.
---
New Gompa Update: 17/8/10
1. Pic (a) & (b)
Frontal view of all 4 units no. 3-9 with partition walls,facade,cornices and roof beams 90 % removed.
14 workmen recorded on site, and one excavator busy removing and clearing debris.All demolition work and clearing of debris will be completed as scheduled by Thursday 19th Aug.
2. Pic (b)
Internal staircase airwell walls at Unit 5 , demolished and cleared of debris.
---
New Gompa Update: 18/8/10
Pic (a) Grd fl partition walls all removed. Staircases will be last to remove when all works on 1st fl are completed by tomorrow.Only one staircase will be maintained for normal access.
Black  PVC water tanks seen in pic will be used by contractor to store temporary water for the works.
Pic (b) 1st fl – Cutting and removal of concrete roof beams  was delayed due to rain yesterday but will be all removed by tonight.
Pic (c) &(d) Front view of all 4 units. Workers removing concrete cornices and roof beams.
Fore ground – excavator removing debris and depositing into steel bins.
---
New Gompa Update: 23/8/10
Pic  NG4 : Steel cage reinforcement ready to be placed into footing foundation.
Pic  NG5 : Excavated pits of footing foundation
Pic  NG6 : Lorry load of cement sand bricks for new partition walls
---
New Gompa Update: 24/8/10
Pic NG7 & 8: Ready mix concrete truck arrived at 1.30 pm . Concrete being carted to footings and placed.
Pic NG9   : Workers fixing steel support brackets on gable end walls to receive roof trusses.
Pic NG 11: Steel hollow sections ( for new roof trusses  ) delivered at 1pm today.
More will be arriving over next few days to be hoisted up and fixed onto the steel brackets currently being installed.
---
New Gompa Update: 25/8/10
NG12: Hoisting steel sections for roof support beams.
NG13: Lorry delivering cement sand bricks for partition walls

NG16: Workman hacking away staircases to be replaced by new one, double the width.
---
New Gompa Update: 26/8/10
NG17: Bricklayers erecting new walls
NG20,21,22: Roof trusses being made at fabrication yard at Kampar
---
New Gompa Update: 27/8/10
Pic 27/8/1   Cement and sand bricks lifted up at 1st fl
Pic 27/8/2   Brickwalls coming up on ground floor
Pic 27/8/5   Steel door jambs delivered
Pic 27/8/6   Contractor ng knows how to use a leveling instrument
---
New Gompa Update: 28/8/10
Pic 28/8/1 & 2  Erection of steel support columns for roof trusses in progress
Pic 28/8/3    A completed room awaiting plastering
Pic 28/8/5    Columns for new staircase ready to receive concrete.
---
New Gompa Update: 29/8/10 & 30/8/10

Pic1: lightweight concrete blocks hoisted on 2st fl
Pic2: timber door frames
Pic 3&4: erecting structural steel frame to support roof
Roof trusses will be delivered and installed tomorrow.
---
New Gompa Update: 31/8/10
Mr Ngeow had another short meeting with roof contractor, Veritas Project Manager Helius and Contractor Ng on safety procedures during lifting and installation and other technical points.
It's a public holiday today, so that makes the operation safer and faster. Also checked specs of steel trusses.
Pic 1 & 2: Roof trusses delivered this morning and laid out on road about to be lifted up.
Pic 3: Installation of first end truss.
Pic 4: Roof trusses being lifted on to top of Gompa
---
New Gompa Update: 01/09/10
Pic 1: Walked up multi-storey carpark to take this bird eyeview of roof structure work in progress.
Pic 2: Welders preparing steel structure to concrete over old stair well opening.
Pic 3 & 4: All 5 roof trusses installed last night. Now fixing the horizontal ties or purlins to stabilize the trusses and for supporting roof deck.
---
New Gompa Update: 02/09/10
NG020910(1) : Concreting of main staircase in progress
NG020910(3) : Purlins installation almost completed.
---
New Gompa Update: 03/09/10
Front walls coming up
Rear concrete block walls nearing completion
Frontal view of work in progress. Ready mix concrete truck in foreground.
Front view of roofing works
Workmen finishing off newly concreted floor (old stair well)
---
New Gompa Update: 06/09/10
Roof covering 90% completed
Pic 2 & 3: A/C ducting and wiring conduit work in progress
Internal view of roof insulation and covering
---
New Gompa Update: 13/09/10
1. External view
2. Roof – More metal reinforcement are being installed to put in air-con duct
3. View of ground floor – continue to build more walls inside the building
4&5. M&E works in full swing after Raya break
6. Aircon and fire protection works proceeding at roof level
7: Plastering work started at ground floor with 12 men and another gang working round the block
8. Front elevation of new Gompa. Site is getting crowded with around 80 workmen on site
9. View of the front section of the 1st floor
10. View of the whole 1st floor from staircase
11. Susan and David working hard helping to transfer bricks on 1st floor
12. Back walls (facing back of E-div/KMP) are being built
13. Partitioning walls at the left side of 1st floor
14. View after coming up from staircase
---
New Gompa Update: 15/09/10
1. Air con ducts running everywhere.
2. Bricklayers and plasteres working night shifts (11pm)
3. Completed plastered walls at ground floor.
4. Front elevation of Gompa
---
New Gompa Update: 18/09/10
1. Front View
2. Plastering at 1st Floor
3. Wire man pulling wires through the conduits and casings
4. Concealed cold water piping in toilets at ground floor
5. Electrical works at gr fl admin offices

6. Scaffolding erected to start plastering at main Gompa entrance walls.

7. Plastering completed at rear wall of main gompa

---
New Gompa Update: 19/09/10
1. Front view

2. Plastering at gable end wall nearing completion

3. Electrical works at Multi-purpose hall

---
New Gompa Update: 20/09/10
1. Truckload of floor tiles being unloaded.

2. Plastering now moved to front wall 1st fl

3. A/Con installation in progress

---
New Gompa Update: 21/09/10
1. Ceiling support being installed at ground floor


2 & 3. Blower unit & insulated ducts installed at ground floor

---
New Gompa Update: 25/09/10
1. External plastering to facade walls in progress. Beautiful morning today.
2. Floor tiling about to commence at ground floor multi-function area. All floor levels were OK after I cross-checked with contractor and with the architect.
3. Screeding at 1st floor main Gompa nearing completion. Nice to see area cleared of materials for once.
4. Main Gompa entrance high walls plastering completed.
---
New Gompa Update: 28/09/10
1. External plastering to front facade walls
2. Glass panels just arrived
3. Tiling at ground floor nearing completion
4. Checking with contractor to make sure levels are correct
Dry wall partition frames being installed at ground floor. Ceiling boards installed on ceiling grid.
5. Internal main gompa plastering completed
6. Partitioning the frames & ceiling grids at ground floor level in progress
---
New Gompa Update: 29/09/10
1. Skylight windows installed at jack roof

2. Air con ducting at rear of ground floor

3. Partition frames erected at admin/office area
---
New Gompa Update: 30/09/10
1. Workers having a break
2. Built-in furniture being installed at ground floor kitchen area
3. & 4. External plastering on right half of facade walls
5. Gypsum board panels installed on partition frames
---
New Gompa Update: 01/10/10
1. Plastering at shopfronts of retail room.
2. Wiring/conduit being laid at the 1st floor of the main gompa hall.
---
New Gompa Update: 02/10/10
1. Panoramic view
2. External facade wall plastering completed
3. Cementing joints of ceiling boards and partition panels
4. Built-ins at pre-function waiting area
---
New Gompa Update: 03/10/10
1. Wall tiling at toilets at 1st floor
2. Main Gompa floor tiling in progress
---
New Gompa Update: 05/10/10
1. Front view of façade wall with scaffoldings removed

2. Painting in progress at ground floor admin/office rooms

3. 1st floor main gompa tiling 90% completed and covered with plywood for protection.

4. Wall tiling to toilets at ground and 1st floor nearing completion

5. More samples (Mechanical & Engineering works) submitted to ensure compliance to specifications
---
New Gompa Update: 06/10/10
1. Painting to façade walls in progress

2. High ceiling work at main gompa in progress
3. Painting at ground floor admin area in progress

4. Night work at main gompa
---
New Gompa Update: 07/10/10
1. Rear wall of building with lots of work going on as many services terminate here.
2. Fire hose reel drums ready for installation
---
New Gompa Update: 08/10/10
1. Air con units kindly donated by Khind Industries delivered

2. High ceiling work and air con ducting in progress at main gompa hallway
---
New Gompa Update: 09/10/10
1. & 2. Kechara White House !
3. Main gompa high ceiling at 1st floor in progress

4. & 5. Toilet basin top and wall tiling in progress at ground and 1st floor

6. An almost completed built cupboard/shelves at typical admin/office room
---
New Gompa Update: 11/10/10
1. Rear view of building – A/C compressors being installed
2. & 3. Plaster ceiling in progress over main staircase 1st floor
4. Speakers installed at 1st floor main gompa
5.  Glass panels installed at ground floor shopfronts
---
New Gompa Update: 12/10/10
1. & 2. Datuk May chairing site meeting at Kechara Care
3. Final coat painting to façade wall
4. Electrical wizard !
5. Project team solving some issues relating to high aluminium ceiling installation
---
New Gompa Update: 13/10/10
1. Scaffoldings coming down after painting completed
2. Sanitary fittings delivered ready for installation
3. & 4. High plaster ceiling and partitions in progress  at main gompa
---
New Gompa Update: 14/10/10
1. Firehose reels installed
2. ELCBs at main gompa hall

3. Makeover time for Lama Tsongkapa statue
4. & 5. Evening shot of new Gompa
---
New Gompa Update: 15/10/10
1. Night work for ceiling plasterers and electricians
2. Scaffoldings erected for high aluminium ceiling work at main prayer hall
3. WCs in a row
4. Glass panellings to main prayer hall entrance covered with plastic sheets
5. Plumbers at work
6. Lucky girl Yen Pin shaking hands with Lama Tsongkapa.
---
New Gompa Update: 17/10/10
1. Mini cherry picker for gompa maintainence work in future
2. Aluminium ceiling modules ready for installation
3. Plaster Ceiling work at outdoor veranda
4. Workmen checking wall for verticality and alignment with a plumb during installation of aluminium fins to facade wall.
5. Datuk dwarfed by Lama Tsongkapa in size and attainments. (Background) painters at work on main gompa walls.
---
New Gompa Update: 18/10/10
1. Water pumps for fire protection & cold water supply installed
2. Metal frames for highwall partition in place
3. Fire alarm control panel at ground floor
---
New Gompa Update: 19/10/10
1. Washbasins in toilets
2. Corridor and main entrance ceiling raised by 6 inches to give more headroom.
3. Installing gypsum boards at 1st floor AV room
4. Fixing of toilet cubicles in progress
5. Checking room by room /area by area to ensure premise is ready for handing over.
---
New Gompa Update: 20/10/10
1. No prizes for guessing what precious object is inside!!
2. High aluminium ceiling at main prayer hall finally in progress after facing some technical hitches.
---
New Gompa Update: 21/10/10
1. Platforms for statues being assembled.
2. Air Con compressors all installed at rear of building
3. Fixing of tempered glass aluminium swing doors in progress
---
New Gompa Update: 22/10/10
1. Workers fixing aluminium fins to façade wall
2. Tiled access ramp to main entrance at road level.
3. Kechara Signage box just arrived.
4. High aluminium ceiling nearing completion at prayer hall.
5. Water heater donated by Khind Industries at shower cubicle.
---
Dear All,
1.The New Gompa  achieved practical completion by the dateline of 2nd Nov. set by Datuk May. This meant there will be no penalties imposed on contractors even though there are still some minor works to be completed due to design changes.
2.The defects liability period commences from this date.  Contractually it allows us to start moving in articles/items from KH1 & 2,  or to fix additional things which are not within the scope of the main contract.
3.The keys to the building will be handed over to KH Com once the Architect and consultants have certified that the building had been completed, tested and commissioned satisfactorily in accordance to the contract specs and design whereupon the Certificate of Practical Completion will be issued.
New Gompa Update: 2/11/10
1. Cleaners at work at foyer
2. Placing granite tops on statue platforms
3. Multi purpose room with panelling installed
4. & 5.Office /admin room furniture fully assembled.
6. BAM logo with purple color background.
7. Meditation cushions delivered.
8. Datuk accepting practical completion of project  at 11.55pm on 2nd Nov to the elation of contractors and consultants.
9. The beautiful fabric panelling at rear of main prayer hall
10. Sofa at pre function area.
---
New Gompa Update: 3/11/10
1. Retail room at ground floor
2. Washroom at audience room.
---
New Gompa Update: 4/11/10
1. Lily Ng adding color and life to Setrap
2. Full complement of fire protection equipments (fire hosereel, dry powder extinguisher, alarm)
3. Glass encased lights being fixed onto platforms
4. Golden fabric panels for Lama Tsongkapa main statue.
5. Shelves for library books.
---
Renovation Completed Gompa Update: Feb 26, 2011
Here's what our gompa looks like today, modern and beautiful for prayer, contemplation and learning.
————||————
GROUND FLOOR
1. The reception
2. The 6-foot Lama Tsongkhapa, previously the central image on Kechara House 1's altar
3. Pre-function waiting area
4. Shoe room
5. The multi-function hall, a popular venue for classes, pujas, activities and meetings.
6. Rinpoche's audience room in Kechara House
7. The pantry for both staff and volunteers
8. An admin office and the discussion room
————||————
FIRST FLOOR
1. The Sunshine Room on the first floor
2. The library cum kids room
3. Kechara House's spectacular main prayer hall, with H.H. the Dalai Lama's throne on the left and H.E. Tsem Rinpoche's throne in the centre
4. The main altar in the prayer hall
5. 8ft Lord Setrap
6. 12ft Lama Tsongkhapa
7. 8ft Vajrayogini
8. Puja in progess
9. The AV Room
10. View from the AV room
11. View from the translation room
12. Kechara House during the day
————||————
THE OFFICIAL OPENING OF THE NEW GOMPA
Below are a small selection of photos from the official opening of Kechara's new gompa. For more pictures and a video of the Grand Gompa Opening, click here.
1. View from the outside of the gompa
2. Arrival at the new gompa
3. Cutting the ribbons to enter
4. The guests wait patiently
5. Entering the gompa
6. Offering a khata to Lama Tsongkhapa
7. My first official Dharma talk in the new gompa, with the grand Tsongkhapa behind blessing the audience
8. Dharma talk
9. Signing the plaque to officiate the opening
10. Group dedication before leaving
11. Saying goodbye
————||————
Please support us so that we can continue to bring you more Dharma:
If you are in the United States, please note that your offerings and contributions are tax deductible. ~ the tsemrinpoche.com blog team