Tsem Ladrang E-Division Grows!!!
The E-division is in the Tsem Ladrang Department (Ladrang in Tibetan refers to a Rinpoche's/Lama's private residence). They take care of all of our websites, online news, online information, video uploads, YouTube, twitter, facebook, and online updates. But the work has grown tremendously so E-division is soon moving to a much larger space with their team of 7 hardworking people to become even more efficient. In other words they are growing.
Liaison Beng Kooi or BK is in charge of this division. The new signboard has just gone up yesterday and it looks great!! Renovations is finishing within a week already.
Nearby is Kechara House 1 & 2, KWPC office, KD, KMP and KC depts. So all the dharma staff is within a very short walking distance of each other and they can visit or go pujas easily… fun!!! Five Kechara depts are physically located very nearby, so everyone is looking forward to that!!
Very exciting!!
Tsem Rinpoche
---
Wednesday June 6, 2010 -9:35 PM
As I am typing this, the latest update I received from James is:
Su Ming, James, Beng Kooi, Jean Ai, Shin, Margaret, Matthieu, Joe Ang, Lew, Wah Ying & son Jing, Fang, Susan, Kien, Cynthia, Wai Meng, Peter, Sean, David, Paul, Louise, Becky, Yvonne, Bryan and Ethan are all inside now working hard and assembling the furniture for E-division. How exciting. See the picture below just sent within the hour:
---
Monday June 21, 2010 -11:30PM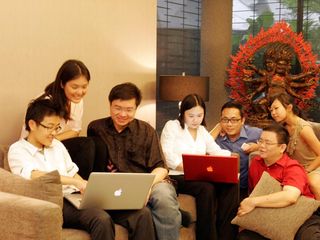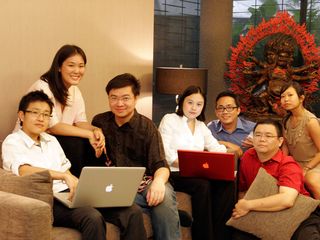 The E-division has been working round the clock over the past few days to get the new revamped version of the kechara.com website up. Over this same period, they have just moved into their new office and are settling down into the new premises at Sunwaymas, very close to our Dharma centre, Kechara House.
In case you don't know who they are, here is a short introduction below:
Ooi Beng Kooi
Liaison of Tsem Ladrang
Personal Assistant to H.E. Tsem Rinpoche
Director, e-Division
An engineer with a Bachelors Degree in Electronic Engineering from Imperial College, London, Beng Kooi first heard H.E. speak at a book club at Kechara House in 2007. It was an illuminating experience and a radical change of perspective, inspiring her to leave her job in the UK to join H.E. and serve the Dharma.
Beng Kooi serves as H.E.'s Correspondence and Divination Secretary, and oversees the Ladrang's multimedia & Internet projects.
Shin Tan
Personal Assistant to Director of e-Division
Shin graduated with a Bachelor of Education (Hons) from Universiti Malaya. Shin's prior experience includes working in various start-ups providing content and solutions for e-learning and education management needs, where she spearheaded product development and assisted in business development. Prior to joining the Ladrang team, Shin was marketing for Kechara Media & Publications and managing the daily operations of the Kechara e-store.
Shin's responsibilities include online marketing and awareness campaigns, mass communications for the e-Division, research and assisting Liaison Beng Kooi in daily operations.
Elena Khong Jean Ai
Writer and Webmaster of Kechara.com
Upon graduating from Warwick University, England with a Bachelors (Hons) in Psychology, Jean Ai worked in London before quitting in 2009 to join Tsem Ladrang full-time. As the daughter of Liaison Ruby Khong, Jean Ai grew up under the Dharma umbrella and is proud to follow in her mother's footsteps of dedicating her life to benefiting others.
Jean Ai's main portfolio focuses on developing and maintaining Rinpoche and Kechara's online presence via the Kechara website. She also writes and edits content for the Kechara weekly e-newsletter.
Wan Wai Meng
Correspondence Head and Webmaster of Tsemtulku.com
Wan Wai Meng's first encounter with H.E. Tsem Rinpoche was in the year 1992. Then a college student, Wai Meng was utterly fascinated by the way His Eminence delivered his messages, touching the hearts and minds of those who were listening. Though he graduated as a Civil Engineer from Imperial College, London, Wai Meng eventually found his way into the SAP world. He has now left the corporate existence to pursue a career in Dharma.
Wai Meng is embedded in the e-Division team where he manages the Tsem Tulku website content, maintains Kechara's online social presence and leads all online correspondence on behalf of H.E. Tsem Rinpoche and the Kechara organisation. He is also a member of the Kechara House Education Committee.
Lew Kwan Leng
Software Developer and Programmer
A graduate of Monash University, Melbourne with the Bachelor of Computing, Lew has an impressively diverse knowledge of developing business solutions ranging from command line data-processing tools to multi-user, multi-environment mission critical enterprise applications. Lew's introduction to Kechara was in 2009, when he was contracted to develop tsemtulku.com, the personal website of H.E. Tsem Rinpoche.
Sharing the Ladrang's vision to utilise IT to better manage its operations, Lew has joined the e-Division to help manage, architect, development and deploy various IT systems and solutions.
Lionel Chew Vun Liung
Web Designer and Multimedia Developer
Lionel is a Multimedia University graduate with a BMm (Hons) in Media Innovation. His career has centred on Multimedia and web development, leading to a knowledge base that spans from online games development to Desktop multimedia applications. He first encountered Kechara in 2009 whilst working on tsemtulku.com, the personal website of H.E. Tsem Rinpoche.
A staunch Catholic, Lionel joined the Tsem Ladrang e-Division team after he was impressed with the numerous charitable works that Kechara is involved with. Lionel now maintains and develops Kechara's websites, games and aspects to help expand H.E. Tsem Rinpoche and Kechara's presence online.
Cynthia Lee
Graphic Designer
Even the quickest of glances at her CV leaves no doubt as to where Cynthia Lee's talents lie. A designer by training and trade, over the years, Cynthia has built up an impressive range of work experience, from animation all the way to advertising.
Cynthia's flair has led her to design for highly visible international brands including L'Oreal, British American Tobacco, Honeywell, Mini Cooper and Nestle. It is this strong design background which Cynthia brings with her to Tsem Ladrang where she produces all visuals for material published by the ladrang. From brochures to websites, Cynthia's versatility plays to her advantage in reflecting visually the essence and spirit that underlies everything that His Eminence Tsem Rinpoche and Kechara does.
Kok Wah Ying
Chinese Translator
A Mass Communication graduate from Universiti Sains Malaysia, Kok Wah Ying's love of language has helped her to develop extensive English-to-Chinese translating experience. Her introduction to Kechara was in 2009, when she worked on a part-time basis for Kechara Media & Publications and Tsem Ladrang's e-Division.
Translating H.E. Tsem Rinpoche's works, Wah Ying took the teachings as a personal lesson. They inspired her to join the Ladrang full-time, where Wah Ying now takes great pride in bringing the Dharma to His Eminence's Chinese-speaking students.
Please support us so that we can continue to bring you more Dharma:
If you are in the United States, please note that your offerings and contributions are tax deductible. ~ the tsemrinpoche.com blog team