Kechara Care Department's Renovation
Kechara Care is our newest Dept headed by Liasion Suming. We are towards the tail end of renovations for this departments facilities near Kechara Gompa in Sunway Mas. Below is sms updates with pictures I thought I would share with you. Yes, we have a few departments under renovations now. They are:
Kh Gompa(Renovations headed by KH President Datuk May)

Kechara Soup Kitchen (Renovations headed by KSK President Ruby)

Kechara Care (Renovations headed by Margaret)

Kechara Paradise SS2 Branch (renovations headed by Margaret)
Yes we have four simultaneous renovations!!! Kechara is growing.
Please see the sms update below:
Dear S.M,
KC reno: Air conds are all installed today. The pic below show the wall area in the main gallery hall. The next one shows the 'rainbow bar'.
Thank u. Margaret (cc Rinpoche)
---
update: 19 June 2010
Dear S.M.
Updates on kc gallery/lounge:
1) Have chosen wall paints n tomorrow painting of wall will start.
2) Air cond units all arrive n installation of air conds will start tomorow.
3) Sanitory wares for toilets all arrives today. Installation will also start tomorrow.
4) Plaster ceiling for your room n entrance n walkway completed n painted.
5) This fri, sound n cctv workers will come n do their installations of equipments respectively.
6) Will handover site to you around middle of next week(next wed or thurs).
Thank u, Margaret (cc Rinpoche)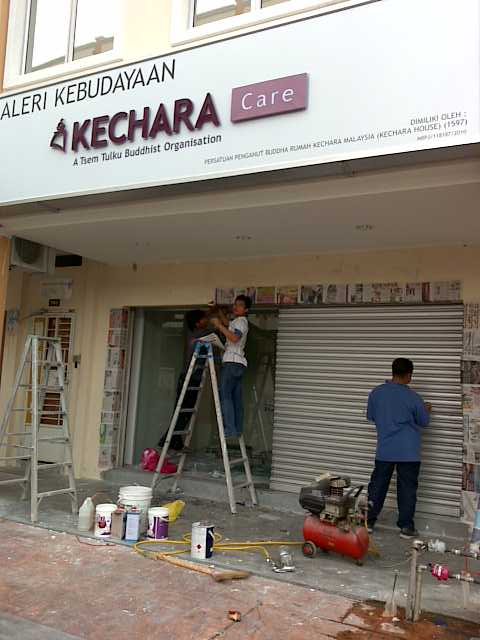 We are quite excited for this new dept to open late next week!!
Thank you Margaret for your wonderful updates with pictures.
Tsem Rinpoche
Please support us so that we can continue to bring you more Dharma:
If you are in the United States, please note that your offerings and contributions are tax deductible. ~ the tsemrinpoche.com blog team