Kuantan/Kelantan Group toured Kechara
Dear Rinpoche,
Kuantan group headed by Benedict is here. We're starting the tour in KH 1, offering khata in Rinpoche's audience room. There are 20 plus people here. I've prepared door gifts for each family. Nicholas will be heading this tour. And i'll be with him. May Ong is here to help out too. We'll be heading to KH 2, KMP, KD, KC, new Gompa site, E-div, KSA and KPSS 2.
Thank you, S.M.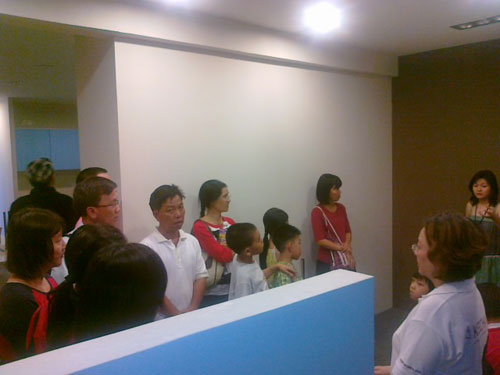 I and Kechara House warmly welcome Benedict, our new friends from Kuantan and Kelantan. We are very happy all of you wish to further your spiritual growth and studies. I heard nice things from Sm (Suming) regarding all of you. How sincere all of you are. I am so happy that you have made such an effort to visit Kechara House, your mother Centre.
I wish you all long life, good studies, spiritual awakening, peace, harmony and happiness.
Thank you SM and Shin for the wonderful sms updates and pictures which I post here to share with everyone. Sm always updates me on what she is doing. She enjoyed very much having Benedict, Wife and friends visit. She had nice things to mention regarding their visit. I wanted to share the warm sms/pics of their visit here with everyone. Rejoice!
Again I am very happy to see these pictures of our new friends from Kuantan and Kelantan!!! Welcome!!
Tsem Rinpoche
Please support us so that we can continue to bring you more Dharma:
If you are in the United States, please note that your offerings and contributions are tax deductible. ~ the tsemrinpoche.com blog team