KSJC Studying Vajra Yogini Via Rinpoche's Blog
Happenings at KECHARA SOUTHERN JEWEL CHAPEL OR KSJC in Johor Bahru State in Southern Part of Malaysia. We have a Kechara study group there with a beautiful Chapel.

About 31 attendees listening to Vajrayogini explanation and logging into Rinpoche Blog.
 KSJC committee members did good job to prepare PC, projector and set up 4 laptops for group.

Rgds ngeow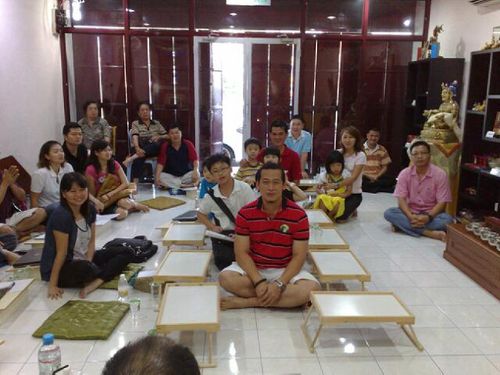 Liasion Ngeow works very hard to travel down south to nurture, give dharma talks to our study chapter there. Ngeow genuinely wishes them to understand the dharma. So the group has grown and has a beautiful rented chapel there dedicated to Setrap. They do pujas weekly.
Ngeow opened up the talk by referring to my blog post on Vajra Yogini and proceeded to share with them how to prepare for Vajra Yogini's sacred practice in the future. Great learning for them.
Thank you Liaison Ngeow for caring so much about all of them. They respect-love you so much and rightly so!!
I care about KSJC and I want them to grow and be successful. It will benefit many.
Tsem Rinpoche

For more interesting information:
Please support us so that we can continue to bring you more Dharma:
If you are in the United States, please note that your offerings and contributions are tax deductible. ~ the tsemrinpoche.com blog team