Cynthia Sponsors Cushions for E-Division!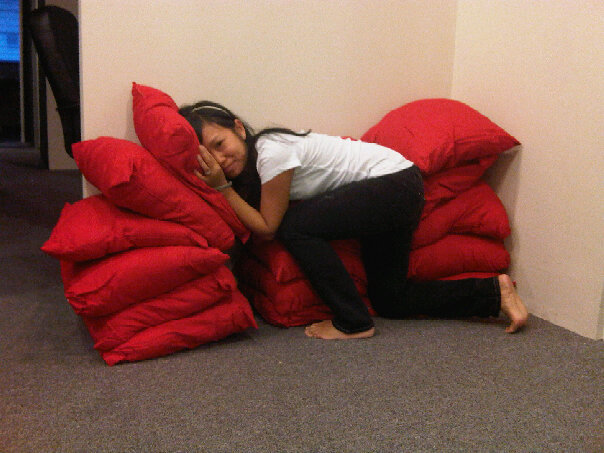 Cynthia is an important member of our E-division headed by Liaison Beng Kooi. Cynthia is quiet, hardworking, dedicated and sticks to schedules. She sleeps very little, eats little and produces alot. She is very petite and soft spoken. You wouldn't even know she is in the room, but that does not mean she is overlooked. She makes herself shine through her work. She is important just like everyone else.
She is intelligent and creative. She does alot of our E-division graphic designs. She can work non-stop when a project needs to meet a deadline. Very professional. She never complains or makes 'funny' faces, but just gets the work done!! I am amazed about that. She fits the E-team very well.
Recently she has donated these pillows to the chill-out room in E-division. I am happy for her because it is always nice to give to what you are doing. To share with the people you work with everyday. It's important to share with others at work. You spend so much time with them, so why not make better relations with everyone at work.
I am happy for Cynthia to be generous and share with the fellow people she works together with every single day.
Tsem Rinpoche
Please support us so that we can continue to bring you more Dharma:
If you are in the United States, please note that your offerings and contributions are tax deductible. ~ the tsemrinpoche.com blog team