Kechara Charity Dinner & Auction!
Last night July 18, 2010 was a night to remember as Kechara hosted a charity dinner and auction in aid of Kechara House and Kechara Soup Kitchen. Held at the Sunway Lagoon Hotel, the event featured a variety of performances throughout the evening, as well as the silent and open auctions to raise funds for our new gompa and the Kechara Soup Kitchen building.
It was a night of fun for everyone, thanks to all the members and friends who worked very hard to make the event a huge success. Many of my students have been working round the clock for days to prepare for last night, and I thank them for their hard work, effort and dedication.
Please see the photo-story below, giving you blow-by-blow account of the evening's events or watch the video of the spectacular night below!
click below to watch the video
Or view the video on the server at:
https://video.tsemtulku.com/videos/DinnerAuctionInAidToKitchen.mp4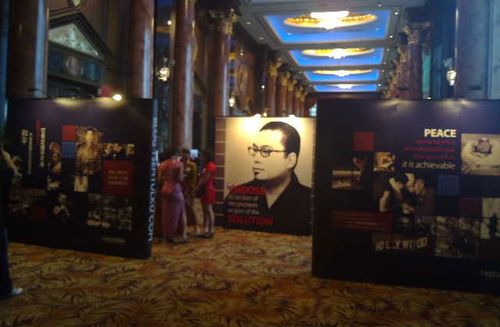 The foyer area of the Sunway Hotel ballroom was set up in grand style, with large display panels promoting the theme of the evening, WORLD PEACE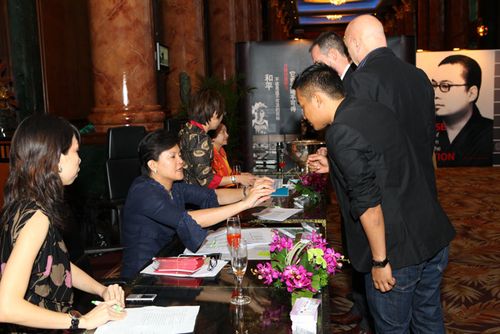 Many guests arrived early to take in the various offerings from the many departments of Kechara, as well as to view the auction items which were on display
The auction items, beautifully displayed and presented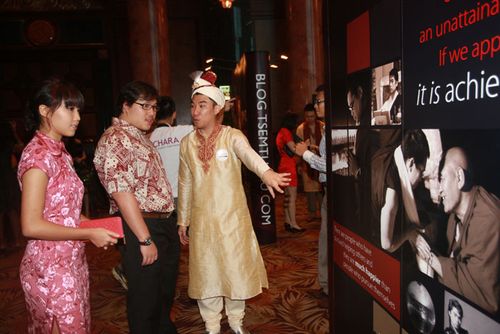 Representatives from Kechara Care were on-hand to tell the guests more about Kechara. Here's Ethan looking resplendent in an Indian outfit Ethan is such an intelligent and bright young man. It is a pleasure to have him with us.
James from Kechara Care speaks to Celebrity Liz from Astro's Jia Yu channel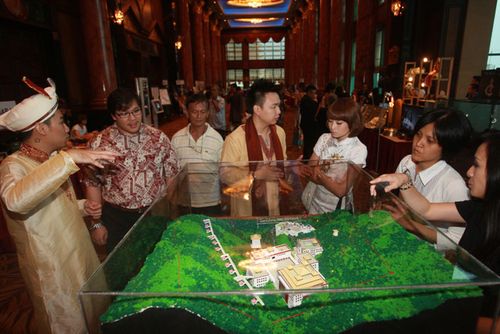 The Kechara World Peace Centre scale model was extremely popular among the guests…
…who were keen to learn more about what would be available at KWPC!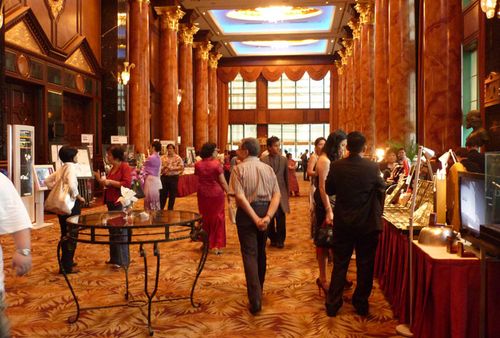 The displays from Kechara's many departments stretched the length of the foyer
As the main beneficiary of the event, Kechara House's booth attracted a lot of attention with guests asking questions about pujas and kids education classes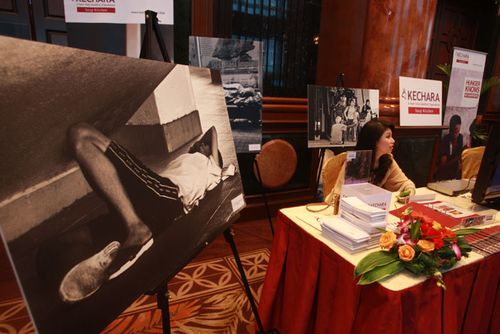 Kechara Soup Kitchen was the other beneficiary and their booth educated the public about the plight of the homeless and underprivileged in Kuala Lumpur
Kechara Discovery wow-ed the public with stunning pendants and jewelery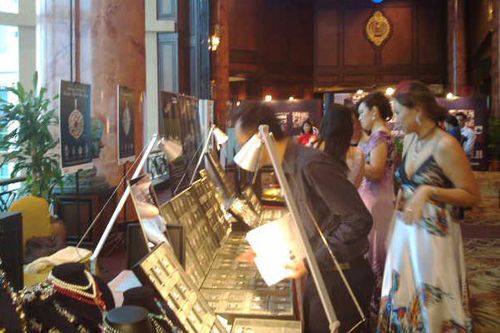 In fact, their booth was so popular that it stayed open throughout the duration of the dinner, with customers dropping by non-stop to view their latest collection of pendants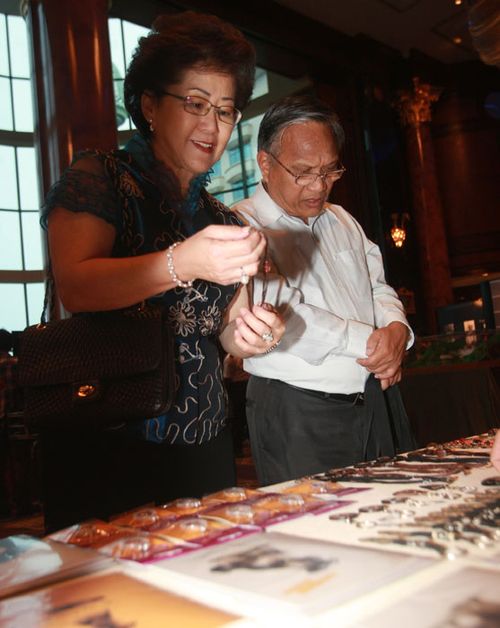 Kechara Paradise's booth was also extremely busy throughout the night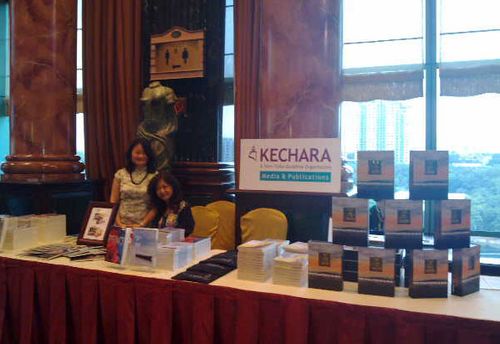 Kechara Media & Publications displayed a wide range their products including many books of Rinpoche's teachings…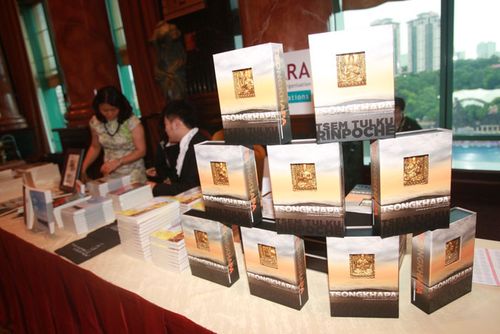 … and their most recent book – the Tsongkhapa box set!
Close by was Kechara In Motion, with Ms Han manning the booth…Ms Han is tv show producer. She is such a nice grounded lady.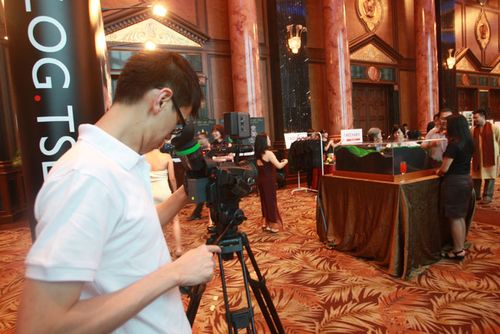 … while Chris from Kechara In Motion was filming the entire event!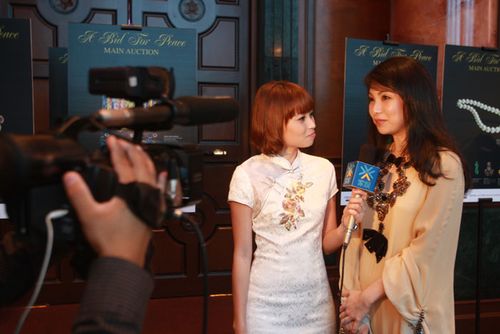 Liz from Jia Yu channel was one of the many media representatives at the charity dinner auction, interviewing Julia Tan, the vice-president of Kechara Soup Kitchen…
… and Datuk May Phng, the President of Kechara House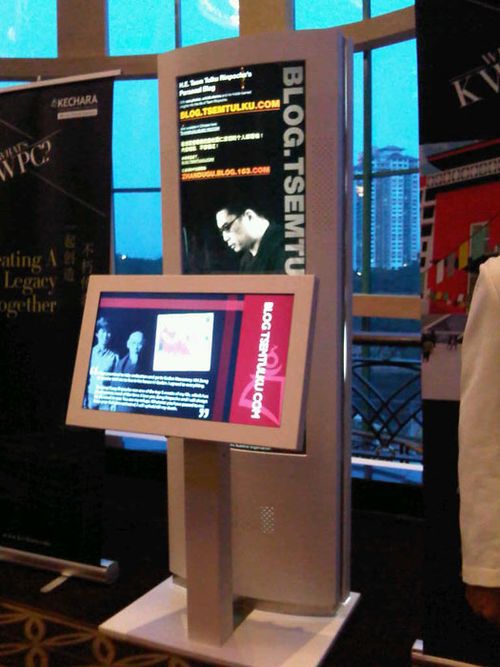 Special kiosks displaying excerpts from my blog were set up along the entire hall way…E-division crew worked super hard on this kiosk and it's designs. Fantastic!!
…and these kiosks were extremely popular with the public!
*******
(Click here to watch the blog video or watch below:)
Or view the video on the server at:
https://video.tsemtulku.com/videos/H.ETsemRinpochePersonalBlog.mp4
Just before the dinner commenced, guests shout WORLD PEACE!
The celebrity hosts of the evening were Owen Yap and Hoong Jia Hui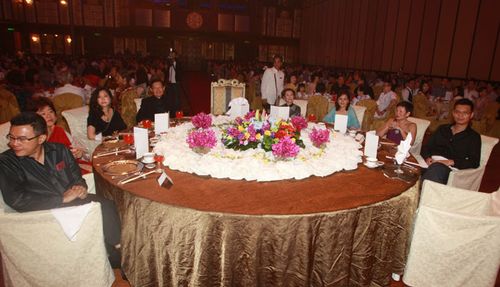 Seated at the main table (from left to right):
Henry Ooi – Director of Kechara Paradise
Sharon Saw of Kechara Media & Publications
Ruby Khong – President of Kechara Soup Kitchen
Datuk Dr. Victor Wee – the Patron of Kechara Soup Kitchen
Datuk May Phng – President of Kechara House
Datin Ng – Executive Committee Member for Kechara World Peace Centre
Phng Li Kim – CEO of Kechara Media & Publications
Paul Yap – Head of Kechara Discovery and Kechara Saraswati Arts
President of Kechara House, our esteemed Datuk May Phng gives the opening speech. Datuk is an elegant, successful, and highly intelligent lady who is very passionate to help others. She has a heart of gold in all sense of the word!! Great Speech!! I am honoured to work with such a grand lady. My prayers for you, your husband Siang, family and all your loved ones always.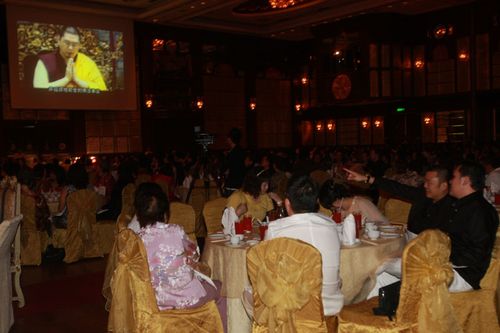 … which was followed by a moving video about Kechara
*******
(click here to view the video on Youtube or watch below)
Or view the video on the server at:
https://video.tsemtulku.com/videos/WorldPeacebyH.ETsemRinpoche.mp4
First up was a lucky draw for a 29in LCD television, with the winning ticket drawn by KMP CEO Phng Li Kim.
And the winner is….David Lai of KMP! Yes, David won the first lucky draw!!!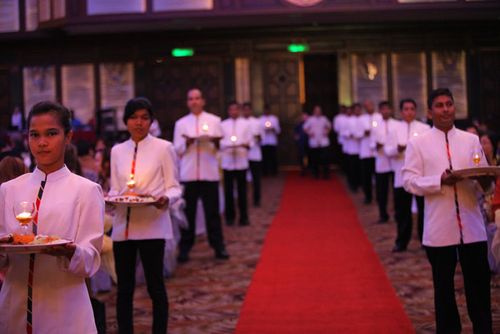 Dinner is served – vegetarian of course! Wow!!!! Kechara does everything with style, prestige and class. Fantastic!!!!!!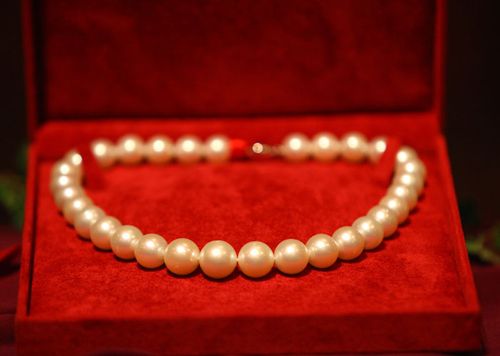 Part 1 of the open auction – a South Sea pearl necklace, sponsored by Julia Tan, vice-president of Kechara Soup Kitchen
… and a jade and diamond necklace, also sponsored by Julia
The next performance was by the Kechara Talents – first was the Wannabe Girls performing to the smash hit "Nobody" by the Korean group Wondergirls… all the people who did the show are Kechara House members and students. Amazing talents within Kechara House and its 13 Departments. So much talent within our organization..I am so proud of our people. I encourage everyone to show their talents. Modern day dharma doesn't have to be stuffy or boring. Have fun on the way to Enlightenment!!!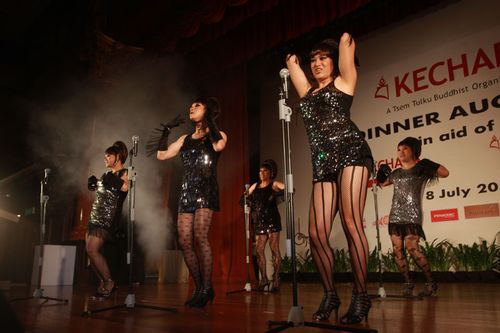 The Wannabe Girls!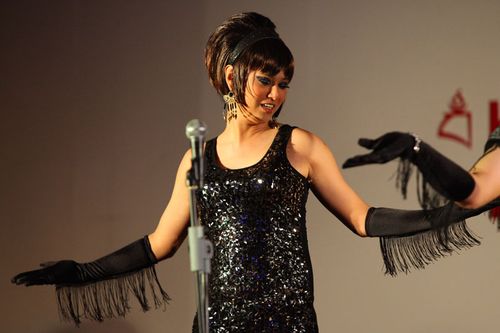 Bryan of Kechara Care! Everyone thought it was Linda Evangelista walking on stage, but it was just our good ol' hardworking Bryan!! Bryan is young, talented and hardworking.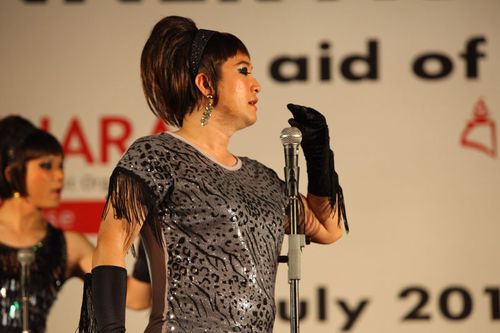 Chia of Kechara Paradise! Chia finally became who he wants to be…a SUPERSTAR!!! Chia is my long time student and has gone with me thru thick/thin. He is amazingly loyal and faithful. He is my student, friend, family and confidant for more than a decade now.. I love my wonderful Chia and wish him all happiness and spiritual attainments. You did a great show!
Joe Ang, regular Kechara volunteer! His wife was watching in the audience..hehe..I'm sure Joe will be doing more and more dharma work and dedicate the merits to his beloved wife and daughter.
Eric Choong, celebrity fashion designer! Yes, Eric is a well known designer with a wonderful book out. Eric does what he says and keeps his promises. Very entertaining person. I enjoy Eric so much.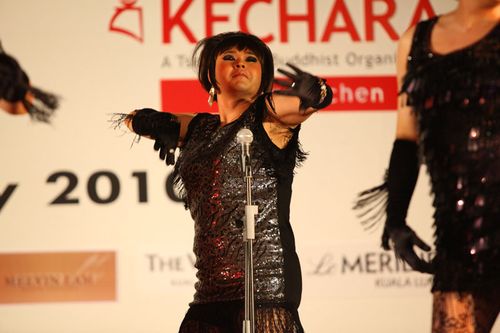 Peter Hoh, regular e-Division volunteer!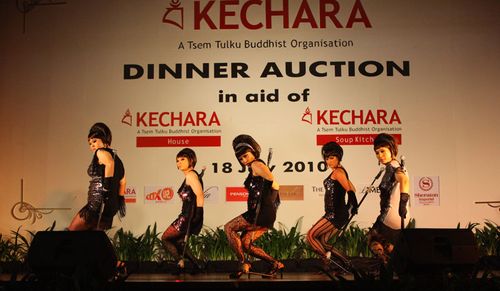 Strike a pose! Yes, these are my dharma students…heheh…I love them!!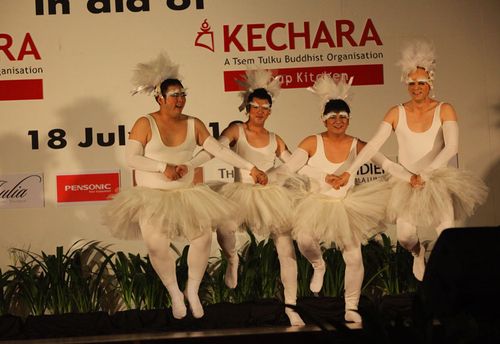 Kecharian talent doesn't end there – next up were the Swank Legs..and they brought the house down. They were so funny and hysterical. It was really a wonderful show. You must watch the video.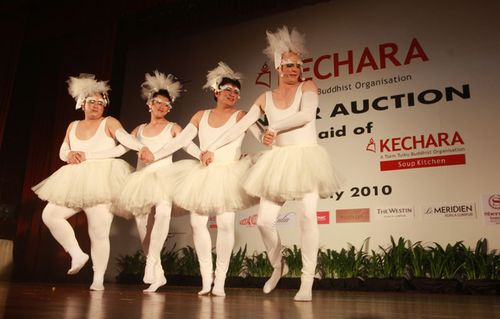 From left to right: Allan Lee of KMP, Nicholas Yu of Kechara Care, Albert Ratchaga of Kechara Paradise and Thierry Janssens of Kechara Education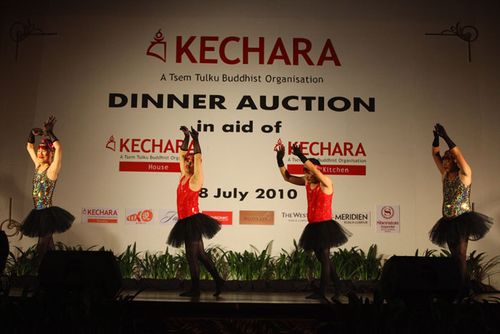 The black swans followed the white!
From left to right: Lim Tat Ming – KH administrator, Ngeow Voon Chin of Kechara Education, Wan Wai Meng of e-Division and Wong Kok Thai of Tsem Ladrang!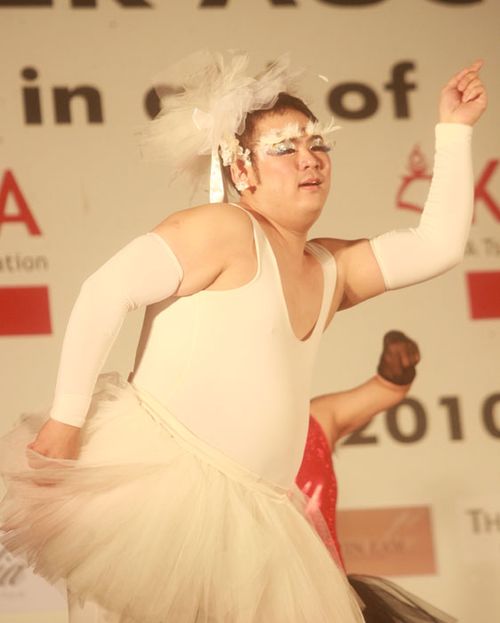 Allan Lee of KMP is super funny and super cute…hehehe
Albert Ratchaga of Kechara Paradise who is just a star salesperson in our outlets. He is caring, intelligent and very knowledgeable. He really takes the time to answer questions.
Thierry Janssens of Kechara Education who is such a hard worker and wonderful dharma student. I enjoy working with him.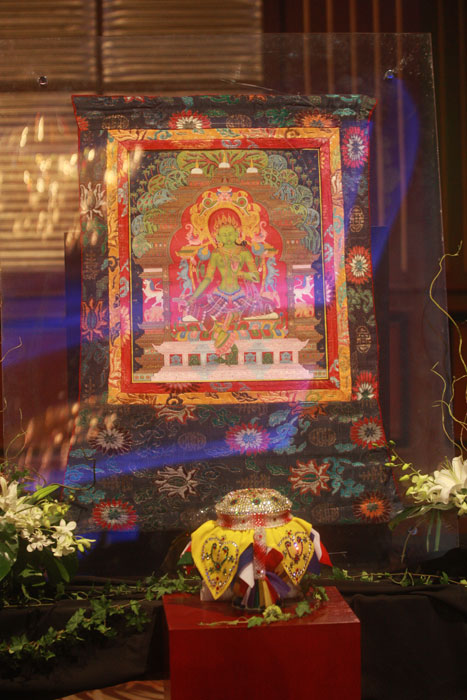 The next auction was for an antique Green Tara thangka, which I kept for a long time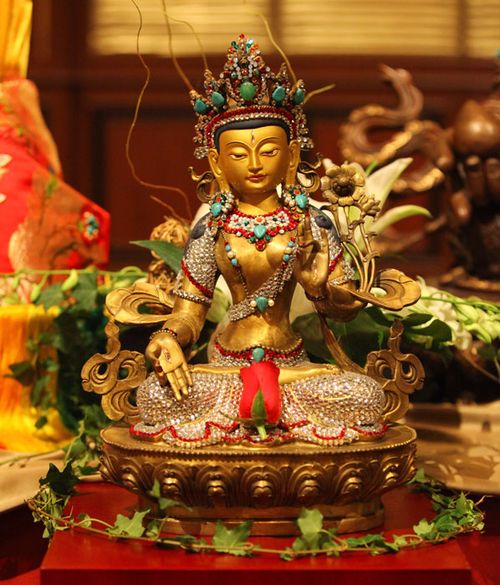 and a White Tara statue with Swarovski crystal offerings
Bidding was fast and furious for these two items – we had many spotters strategically stationed throughout the entire ballroom. Our dinner was packed with so many special guests….
A magic show by Johnson Lau was well-received by the crowd – before the auctions resumed again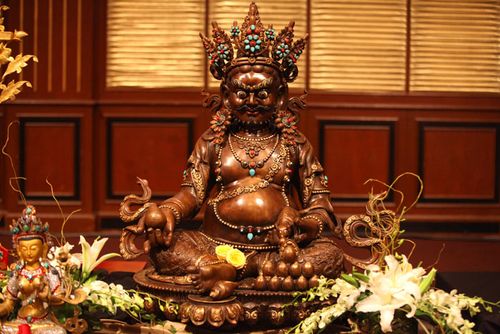 The 3ft Dzambala statue was extremely popular…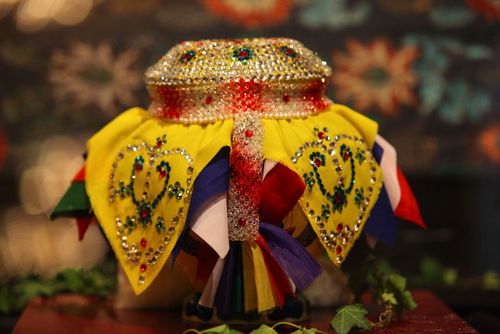 …as well as a Dzambala wealth vase beautifully done up in Kechara Saraswati Arts Dept.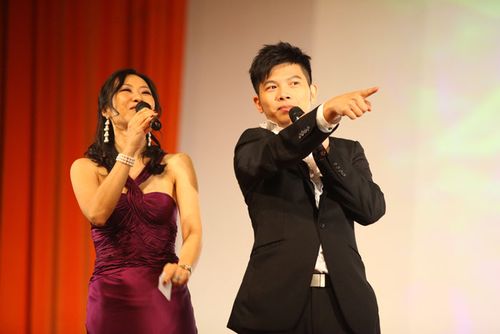 Auctioneers Margaret Lee who choreographed the show and Dino Goh did a fantastic job being the MC's…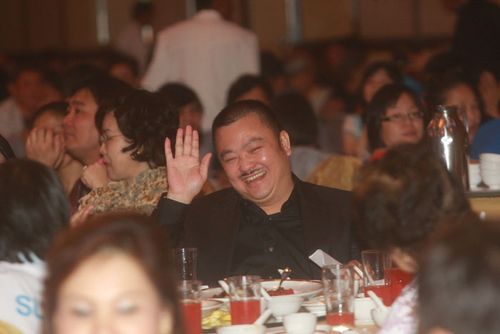 …and the dinner guests were extremely forthcoming and generous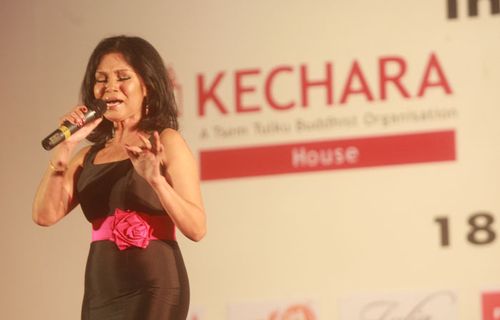 Salamiah Hassan entertained the guests with her rendition of Malay and English songs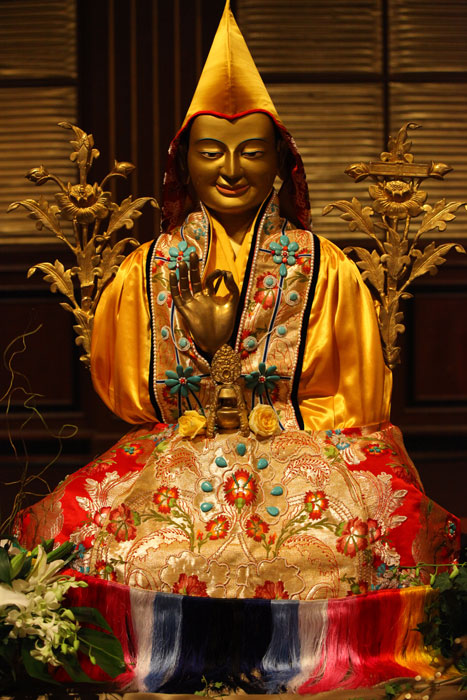 The final lot of items for auction was a 4ft Long Life Tsongkhapa statue…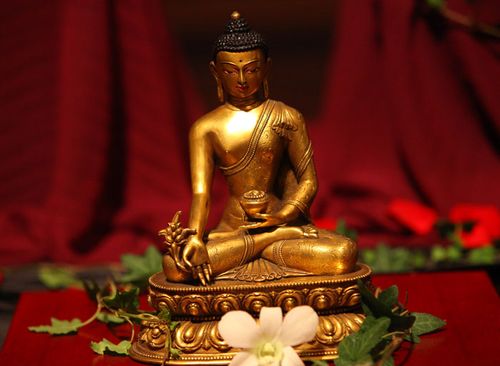 …and an exquisite gold-plated Medicine Buddha statue
Judges had to select the winners for the best-dressed guest according to the 1Malaysia theme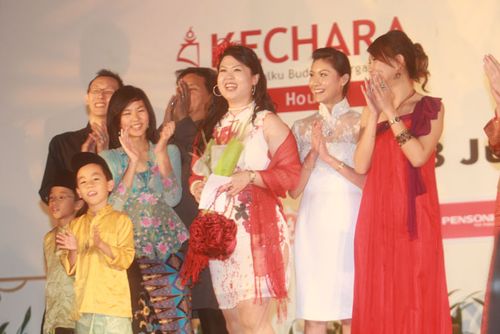 Stella Loh won the Best-Dress female award…
… and  sweet Ethan Chu took the prize for Best-Dressed male!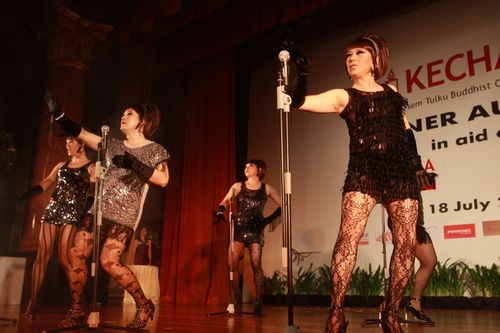 The Wannabe Girls returned on stage for a final encore. Can you imagine, these 'girls' are all my students and they rehearsed a lot for this show. Congratulations to them. They are beautiful in all the ways!!
and the swans came along for the show. They sure know how to have fun!
The grand finale and encore had the guests in stitches, laughing and dancing along
Everyone just loves the show put on by our people. Very talented and entertaining group we have in Kechara!!!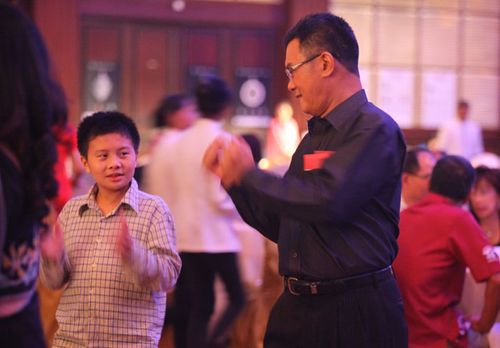 Let's dance! Henry Ooi and his son Edward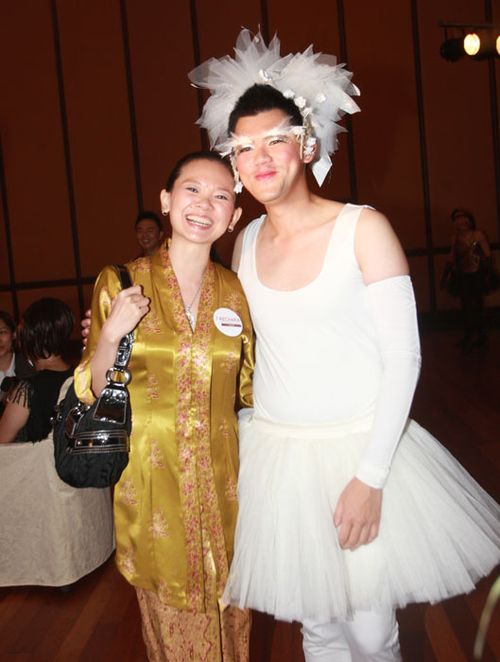 The white swan hardworking Nicholas Yu and his supportive wife, Josephine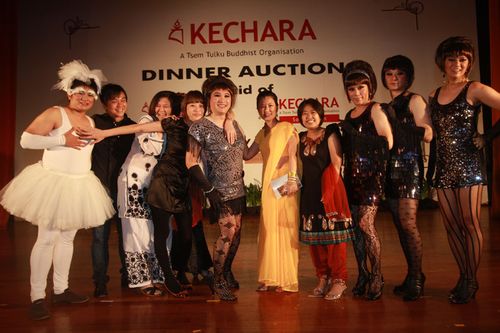 It was a night to remember for everyone involved
Kechara House members come from all walks of life. My students and friends are very hardworking, dedicated and also spiritual. But being spiritual DOES NOT MEAN WE CANNOT HAVE FUN. Kechara Members or Kecharians are spiritual but they can still be who they are. In my centre I make sure we practice dharma, work hard and have a great time doing it all.
This wonderful dinner was planned months ahead. And all 13 depts were involved in the success of this dinner one way or another. The Departmental liaisons/staff/student/volunteers and friends made it into such a successful evening.
The shows put on by our people made people really laugh until their mascaras were smeared. Great!
I congratulate everyone in KECHARA who worked for months to make this happen. I did not attend on purpose, because I want to show Kecharians that they can do it on their own. And they did. I humbly fold my hands to everyone for making such wonderful event come true. I am so proud of everyone and we are getting great self training to make KWPC happen.
My love, prayers, gratitude and deep appreciation to all Kecharians and our special guests that made this dinner event so spectacular!!
Tsem Rinpoche
Please support us so that we can continue to bring you more Dharma:
If you are in the United States, please note that your offerings and contributions are tax deductible. ~ the tsemrinpoche.com blog team