I VISITED GADEN for the first time WITH AN OXYGEN TANK
(By Tsem Rinpoche)
I made a trip to Tibet in end of December 2008 and early January 2009. It was my first time there and I went with a tiny group as it was a last-minute decision to go.
I visited quite a few places in Tibet.
When we left the hotel and took an hour drive to Gaden, the weather and skies were clear. By the time we got there, it was snowing and the place was white! From the bottom of the mountain, due to the snow, it took us 45 mins of slow driving up to the top. The buses that came couldn't go up due to the snow, so they stayed at the bottom and the people actually walked up…wow…such devotion.
We visited the main mausoleum of Tsongkhapa that houses the remains of his holy body and clothes. We made tremendous prayers there and even though we arrived just before it was closing, the monks did not rush us out. We also visited the Setrap Chapel. Then we walked along a narrow 8-inch wide path that led to the cave that Tsongkhapa meditated in and achieved great realizations. They had built a chapel over the cave, and we went to visit and make prayers.
The altitude was very high, so I needed additional oxygen which I carried in a tank. After we arrived in Tibet, it took me around two days to acclimatize to the altitude. I was actually very sick for those first two days but I had great people helping me and good doctors who came to check on me.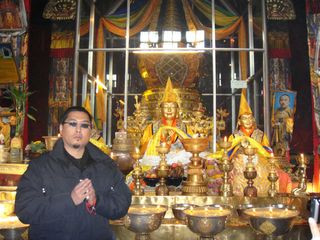 Behind me is the Golden Stupa that encases the holy remains of Lama Tsongkhapa's blessed body/clothes/relics!! Tens of thousands of pilgrims, visitors and tourists from China, Nepal, Mongolia, Russia, India and Japan, as well as Tibetan themselves have visited this incredible holy of holies for the last 600 years.
Great decisions are made after making prayers here and great lamas have been recognized after doing prayers here. Everyone in Tibet for the past 600 years would make it a point to visit this holy stupa. And here I am, having the great fortune to visit. I thank my Gurus, Tara and Setrap for this opportunity.
I have been told that my previous lives are from Gaden. So one of the students with me asked, "Can you remember anything here??" I was like, "Noooooo, I don't" …too bad for me…but I did feel very comfortable and it was very exciting to be there. When I first entered Gaden, I just couldn't stop crying and crying. I was overwhelmed by the energy and vibrations of the place. I realized how much benefit this place created in the last 600 years for the preservation of the pure Buddha Dharma. Gaden's existence has contributed to the Dharma spreading to the world now!!! And it is all because of Lord Tsongkhapa…I prostrate to this supreme Buddha Tsongkhapa for all time.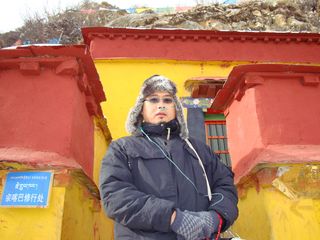 I am standing in front of the cave that Lama Tsongkhapa meditated in for six years with close students!!! He completed ten million prostrations, one million mandala offerings, ten million recitations to the 35 Confessional Buddhas, etc. He had his visions of Manjushri here along with a few disciples who had also developed clairvoyance, and from henceforth he had direct communications with Manjushri as and when it was necessary. It was like he got his spiritual cellphone here and could call Manjushri anytime. Unfortunately when I showed up to get a cell, they were out of stock!!!!!!
They had built a chapel over the cave and painted it maroon and yellow to show its sanctity. It was thrilling and moving to be here.
The Drive Up to Gaden in Tibet
This is a video of our drive away from Gaden and I was narrating. I took this on my handphone.
Gaden in Karnataka, South India
This is Gaden Monastery, reestablished in Karnataka, South India by the monks who left Tibet in 1959. In this video which was filmed in 2006, I was taking 63 Malaysians on a pilgrimage to the monastery I am from. We had the great privilege and honour to make offerings of robes and Manjushri statues to all 3000 monks.
I loved Gaden in Tibet and of course in India too. I advise you strongly to visit and make the causes to visit by dedicating yourselves to your master and Tsongkhapa.
Tsem Rinpoche
For more interesting information:
Please support us so that we can continue to bring you more Dharma:
If you are in the United States, please note that your offerings and contributions are tax deductible. ~ the tsemrinpoche.com blog team