My Beautiful Vajra Yogini Statue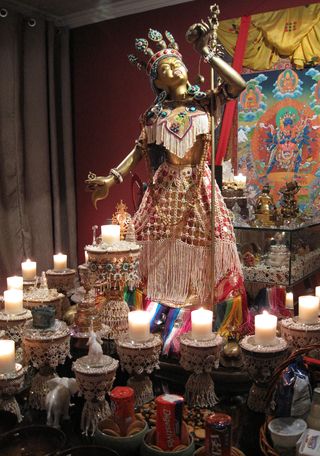 (By Tsem Rinpoche)
This is the beautiful 5 feet statue of Vajra Yogini I had Kechara Discovery (KD) create for others and myself. It took nearly 8 months to do it correctly, but once done to my satisfaction, KD can and has produced for others.
Many people have asked about it, and I told them to contact KD head Liaison Paul Yap.
Paul has a wonderful eye and very artistic so he is able to create the statues according to my descriptions.I really enjoy working with Paul for these years because he's a very sincere and nice person with a heart of gold.
I was very pleased with this sacred Vajra Yogini statue. We make extensive offerings to her daily to gather a great amount of merits to achieve the 11 sacred yogas of Her practice.
We have a butterlamp house in our Kathmandu Ladrang dedicated to Her. So we have already offered one hundred thousand butterlamps last year to Sacred Vajra Yogini. I thought I'd post these pictures up for everyone to receive blessings, inspirations and hopefully set up their own very holy Vajra Yogini shrine of any size in their homes.
We painted the face of the 5ft Vajra Yogini in a traditional manner here in Malaysia in our Kechara Saraswati Arts Dept.
Her Crown, earrings are all removable.
I've had local Malaysians trained by experts in the art of painting the sacred faces with gold. Her jewellery was done by the same dept also.
Vajra Yogini is the perfect Yidam. I am so happy that my students and friends can produce such a nice image/statue of this extremely sacred Yidam.
Vajra Yogini is the most apt Yidam for the current karmic situation in existence according to many attained Masters. May we never be separated from Her until we ascend Her Kechara Paradise in the Westerly Direction.
Tsem Rinpoche
Please support us so that we can continue to bring you more Dharma:
If you are in the United States, please note that your offerings and contributions are tax deductible. ~ the tsemrinpoche.com blog team