Tsem Ladrang-Kuala Lumpur
Tsem Ladrang Kuala Lumpur, Malaysia
Tsem Ladrang in Kuala Lumpur is the heart of the organization, the headquarters of the ladrang operations and my main place of residence.
The KL Ladrang is housed in a large converted bungalow located close to the Dharma center, Kechara House. This building houses my personal living quarters on the 2nd floor, a grand prayer hall dedicated especially towards KECHARA's Dharma work and growth, a throne room for private teachings and audiences, and guest quarters for visiting high Lamas and Sangha. This is my private residence not for the public and not a temple. But I have beautiful shrines throughout. The Ladrang Liaisons did a wonderful job to design, build and make Tsem ladrang -KL manifest. I sincerely appreciate their efforts.
Buddhas decorated in splendour, representing the qualities we want to achieve. I had a few students inclusive of Datin, her daughter, Patsy etc come over and they kindly spent weeks offering beautiful crystals onto the sacred bodies of Tsongkapa, Shakyamuni and Tara. This is a traditional Gelugpa Altar with Tsongkapa centre, Shakyamuni left and Mother Tara on the right. This altar is meant to be bling-bling and modern. Why not? Offerings from the heart to Buddhas of any kind are fine.
Much of the space is allocated to administrative offices for the Ladrang staff and a large conference room for my liaisons to meet, from which major decisions about the organization are made. Without the liaisons present almost nothing can be accomplished. I am very happy to work with them. So we meet very often, once a month (below).
A fully-equipped kitchen enables the Ladrang to prepare full vegetarian meals for me, staff, guests, as well as to cater for all events hosted at the Ladrang. A dining hall was also set up to provide a suitable space to host private functions, appreciation dinners and for mealtimes during extended meetings of the Liaisons Council. Above. We have many important meetings that are the decisions to make the organization grow.
I like giving many gifts, along with my prayers and well-wishes, to inspire many people on to the spiritual path and eventually to practice pure Buddha Dharma. Hence, the gift room was designed to make optimal use of the available space to store as many gifts possible. Innovative solutions include a mezzanine floor and compact sliding cabinets (below).
The Ladrang receives many guests throughout the day and a spacious waiting room was designed to ensure the continuous inflow of guests are properly received. The waiting room also doubles as an extension of the grand hall, during larger teachings and private events (below). A beautiful Hayagriva blesses the waiting area and it was gifted to me from JJ, Joshua and Joshua's family.
The Ladrang also includes a large aviary and tortoise run, to create the causes for our animal sanctuary to manifest in the future.
The Ladrang Aviary is divided into a large section for the cockatoos and conures, and a smaller section for the cockatiels and local parrots. We have a large and beautiful outdoor aviary. I love it. I live animals. The ladrang staff takes good care of the many birds. Thank you!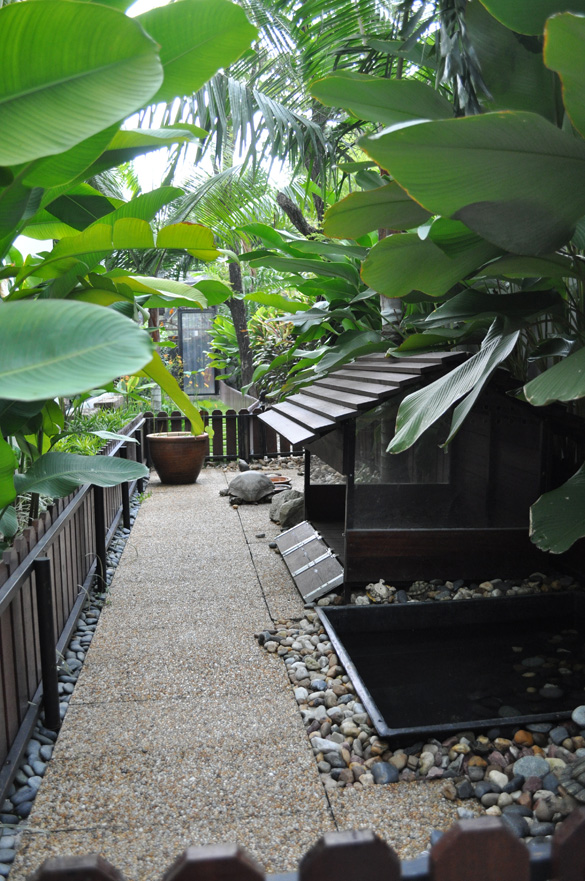 Tortoise sanctuary – We have an area outside the ladrang for our tortoises to run free, with nice shades, pool, an outdoor house. They get fed fresh vegetables and fruits three times a day.
So the above pictures are just to share with you where I live and work from with my hardworking group of people. I hope you enjoyed this 'virtual' tour of my house or Tsem Ladrang.
Good Wishes,
Tsem Rinpoche
Please support us so that we can continue to bring you more Dharma:
If you are in the United States, please note that your offerings and contributions are tax deductible. ~ the tsemrinpoche.com blog team