Donating Dog Food to Various Animal NGOs
Dear Everyone,
I do not have an animal shelter yet. But I purchase foods and needs from Wow Wow Pet shop (read about A Visit to Wow Wow Pets Shop here) and donate the food away to various sanctuaries that are struggling here and in Nepal.

It's not just 'cash and carry', there is a lot of hard work and preparations involved as you can see from the pictures below from my students who arranged the food to the various animal sanctuaries.
Please get involved. Help. Please create awareness to stop animal cruelty in any way, shape or form.
Tsem Rinpoche
1. PREPARATIONS/ PURCHASE/ ORGANISING DISTRIBUTION

left: Arranging the items for purchase
right: Helping to get the items in the shop
left: Mr. Lau adding up the purchases
right: Dr. Hank helps to tally the bill
left: Lily helps Elize
right: All ready to be loaded into the cars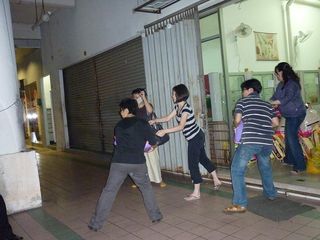 Many hands make light work of the loading and unloading
Unloading dog/ cat food to the Kechara store room
left: Lily organises distribution list & allocation       
right: Marking the bags – "not for resale"
All items are arranged into neat piles
FINALLY ready for distribution !!
2. DONATING TO THE VARIOUS NGOs/ INDEPENDENT PET RESCUERS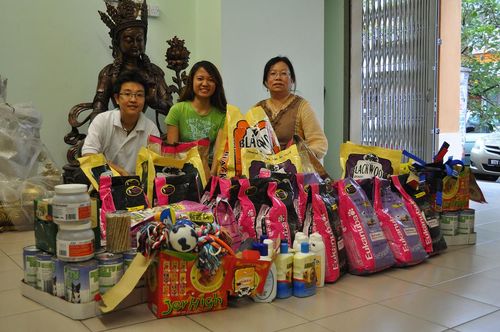 (1) Carnea, an independent dog rescuer who is involved with 60 dogs in various locations.

Dog Food – total of 41 bags and 24 tins
    * 24 tins of Hearty Dish dog food
    * 3 bags x 15kg
    * 18 bags x 3kg
    * 4 bags x 7.5kg
    * 6 bags x 1.5 kg
Miscellaneous
    * 2 containers of supplements
    * 1 packet of rawhide bones (treats)
    * 30 packets of treats
    * 8 collars
    * 10 leashes
    * 14 toys
    * 10 bottles of shampoo

(2) Ella, an independent cat rescuer who has a shelter for 40 cats in Tampin. She also feeds stray dogs.


Food
    * 140 tins of cat food
    * 2 x 200g of IAMS cat food
    * 4 x 50g of cat food
    * 3 x 6.8 kg of dog food
Miscellaneous
    * 1 box of knott bones (treats)
    * 1 large container of cat supplement
    * 7 toys


(3) SPCA, with one of their official buntings


Dog Food – total of 17 bags
    * 6 bags x 15kg
    * 8 bags x 1.5kg
    * 3 bags x 7.5kg
Miscellaneous
    * 45 packets of treats
    * 1 box of power bones
    * 17 milky bones
    * 3 bottles of dog supplements
    * 7 collars
    * 7 toys
    * 10 leashes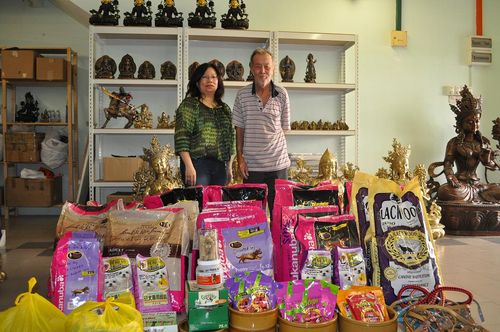 (4) PAWS, represented by Uncle Charles


Dog Food – total of 25 bags
    * 11 bags x 15kg
    * 3 bags x 3kg
    * 7 bags x 7.5kg
    * 4 bags x 1. 5kg
Miscellaneous
    * 1 container of dog supplement
    * 1 Greenies (treats)
    * 30 packets of treats
    * 10 feeding bowls
    * 13 leashes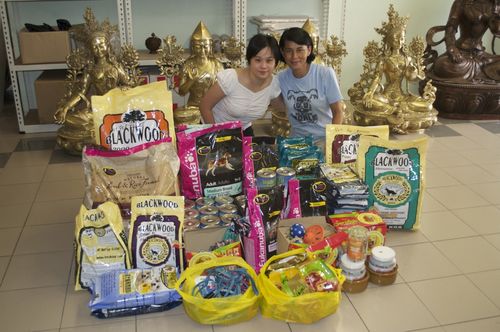 (5) Furry Friends Farm, represented by founder Sabrina Yeap


Dog Food – total of 22 bags and 24 cans
    * 3 bags x 15kg
    * 2 bags x 7.5kg
    * 10 bags x 3kg
    * 7 bags x 1.5kg
    * 24 cans of Hearty Dish dog food
Miscellaneous
    * 6 shampoos
    * 2 small containers of supplements
    * 30 packets of treats
    * 2 bowls
    * 18 leashes
    * 17 toys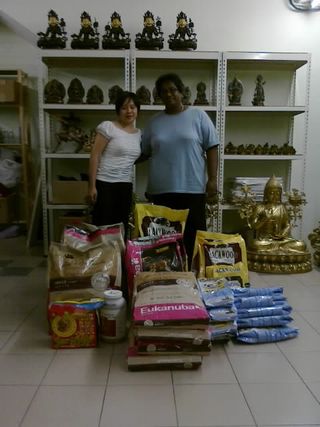 (6) Malaysian Dogs Deserve Better (MDDS), represented by one of the founders, Ms Wani Muthiah

 Dog Food – total of 22 bags
    * 4 bags x 15kg
    * 8 bags x 7.5kg
    * 10 bags x 1.5kg
Miscellaneous
    * 1 large container of supplements
    * 15 packets of treats
    * 1 packet of knott bones (treats)
    * 10 toys

(7) Sherrina, independent pet rescue
Food – total of 9 bags 
* puppy food
Miscellaneous
    * 15 packets of treats
   

(8) Nicole, independent cat rescue
Food
    * 69 tins of cat food
    * 2 dried cat supplements
    * 1 large container of cat supplements
—————————————————————————————————————
Items have also been offered to Kechara members;
   1. Jace Chong – her mother feeds stray cats at the back of their house. She has been offered 48 tins of cat food
   2. Naropa House (for strays / Patches) – 2 x 1.8kg of dog food, 3 packets of loose dog food, 1 small container of supplements, 24 packets of treats, 1 packet of rawhide chews, 2 toys  
Please support us so that we can continue to bring you more Dharma:
If you are in the United States, please note that your offerings and contributions are tax deductible. ~ the tsemrinpoche.com blog team