Kuantan Group
Dear Rinpoche and Liaisons,
Below pictures are update from Kuantan group regarding their first gathering in Mr Leonard Chia's office. This office space has decorated by Mr Leonard Chia recently. Now become a vey cosy and nice place for Kuantan group meet and learn together. Last week, 5 of the main members: Leonard Chia, Mr Yeo, Wei Ling, Suet Moi and Shin Shan have organised Dumpling Festival gathering. They were invited their came to join them and introduced Kechara Organization to them. According to Mr Leonard Chia the response is good. Around 20 people attended. Thank you.
Warm regards,
Yek Yee
Liaison to H.E. Tsem Rinpoche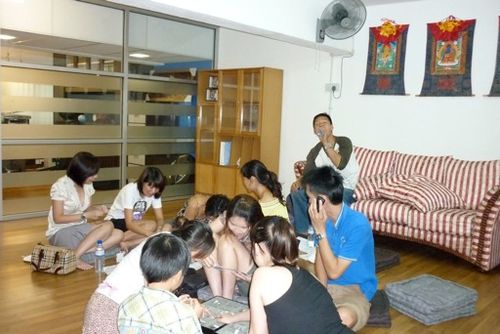 Nice pictures and updates from Liaison Yekyee. Yekyee is making special effort to bring dharma to the kuantan group and they look eager to engage in spiritual disciplines now. We have a Kechara Study Group in Kuantan now due to the sincere efforts of these people.  I am happy for everyone and rejoice.
Tsem Rinpoche
Liaison Yekyee who has come out with a few wonderful dharma books in Chinese language published in Kechara Media & Publications. She has a degree in Psychology and enjoys learning. Please do find out more about her below:
Meet the Liaisons: Kok Yek Yee
Please support us so that we can continue to bring you more Dharma:
If you are in the United States, please note that your offerings and contributions are tax deductible. ~ the tsemrinpoche.com blog team