Goodbye to Sweet little Namse
Very sad news for me to blog.
Namse and Gonpo are the beloved Schauzer's of Wan Wong (Liaison of KSA). She loves these two so much. They sleep with her daily. She treated them as if they were her human sons and in fact they seem to think so too. They were very different in character. Gonpo is quiet, very attached to Wan and highly sensitive. Namse is outgoing, runs around alot and very playful. But they got along well together..
On April 10th, 2010, Saturday, the door was left accidentally open and Namse ran out into the streets and was ran over by a car….It happened so fast, so suddenly and in the blink of an eye…he was brought to the clinic and was dead upon arrival. It was and is such a painful time for Wan and all of us. Very painful. I felt so much pain for Namse, for Wan and for Gonpo. Gonpo loved his friend and that night Gonpo paced the house waiting for Namse to come home. But Namse will never come home now.
We have placed a Lam Rim book on Namse's head while reciting some mantras, put His Holiness the Dalai Lama's precious mani pill in his mouth, Setrap blessed rice grain in his mouth and recited various mantras onto his little body. Candles have been offered to the Three Jewels for Namse also. Wan will do special prayers for him for 7 days to help him crossover… Also some of his hair is cut and saved to do Vajra Yogini's ruchok for him.It will be placed inside a large Tsongkapa statue after Ruchok.. We wish very much for him to achieve a good rebirth to practice dharma in his next life… It was very fortunate some dharma seeds were planted in little Namse's mind thanks to Wan.
We will miss him and we love him. Namse was a very good boy…
Gonpo is alone now. He hasn't been without another dog companion ever… poor thing… We will observe how he is. If too lonely, then we will get another baby Schnauzer to love and be Gonpo's friend.
I send my condolences to Wan very much.
Tsem Rinpoche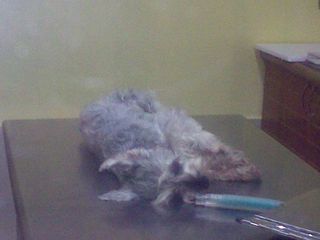 The lifeless body of lil' Namse who died too young…he is so loved. So missed. It is so surreal to know he was happily running around just a few hours ago and now he will never move, wag his tail, play, jump and perk his ears up anymore… Namse good boy…Namse go now, and don't be afraid… your mama Wan loves you so much and prays for you… Namse go and take a good rebirth with freedoms and endowments and come back strong, healthy and alert to practice Dharma… for now… bye bye good boy…
Please support us so that we can continue to bring you more Dharma:
If you are in the United States, please note that your offerings and contributions are tax deductible. ~ the tsemrinpoche.com blog team