Book Reading – Lama Tsongkhapa in KP Penang
Dear Rinpoche,

Book reading session: Sharon is now giving a short explanation of who is Lama Tsongkhapa to about 8 people.

Thank you,
Patsy
Rinpoche,

There ended up being 10 guests at the Penang book club. After an intro, sharon led everyone thru a very nice mini session of guru yoga.

We've invited guests to join the book club session tomorrow too 🙂 many guests stayed back to chat, ask questions and find out more about kechara, dharma and practices.

We'll prepare writeup n pix for website/KNN.

2 pix below, Thank you.

Love, Paris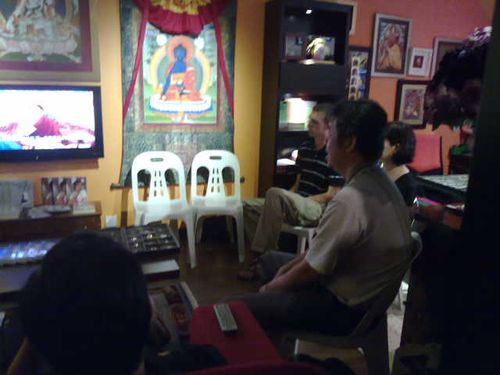 We have a wonderful Kechara Paradise outlet in Pinang Headed by Patsy. Liaisons Paris and Sharon went up with Monlam to hold a book reading session on our new Lama Tsongakpa Box Set.
The group is very new and started to gather momentum. It is wonderful Sharon and Paris went up to Pinang to share with others. I am very happy for this. They are very sincere to share Tsongakapa with others. As they truly believe in what they share.
We have wonderful people. We really do.
Tsem Rinpoche

For more interesting information:
Please support us so that we can continue to bring you more Dharma:
If you are in the United States, please note that your offerings and contributions are tax deductible. ~ the tsemrinpoche.com blog team