Final Tara Puja for KH Renovation work…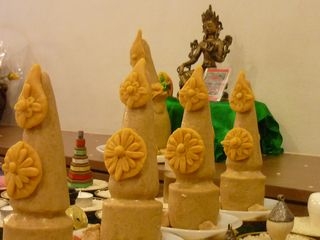 Today Wednesday June 2, 2010 10pm, at KH 2 taken in front of the Setrap shrine.
Kechara House will be expanding our prayer hall to fit 700 hundred people. The current one can seat 250 comfortable and it is way too small.
Before commencing on our expansion work starting very shortly we have a series of pujas to do to make everything smooth. For example we have to read the lam rim 100 times or so, and doing Tara Pujas 10 times, etc etc and many other pujas being done by our members and in Gaden Monastery..
The picture above was sent to me 30 minutes ago and this group has just finished the Tara Puja the 10th and final time. Now they are going to run to KH 1 to do recitation of Lam Rim Texts. How beautiful.
Our renovation work will be nice because of the genuine care and love our members put into it. Keep it up everyone.
Tsem Rinpoche
P.S the group has learned how to make their own tormas to offer to Tara for the pujas too!!!
Please support us so that we can continue to bring you more Dharma:
If you are in the United States, please note that your offerings and contributions are tax deductible. ~ the tsemrinpoche.com blog team