Staged????
I just received this mms/sms message 10 minutes ago. Hehe
"Yes, Rinpoche. We are trying to do what we can to help with the blogging retreat. Keng Nam and I are both sitting in our sunny garden doing this!" -Lily Tan
Lily and Keng Nam may be all the way in a faraway, distant galaxy called UK, but they are with us in spirit. They are writing comments as many of my students and friends are on this blog as to learn more. There is loads of information for you to share and that is the whole purpose of this blogging retreat-to learn more… When your tired, a video to perk you up also. I've uploaded many on my blog.
One thing I find suspicious in this photo making me think it might be staged…hmmmmm…heheheh. Why? Well I see no food and drinks under the hot sun on their table!!! And Lily is like me, where I go snacks follow!!! eheheheh…Relax lily…just playing with you.
Send my regards to the boys and of course to the both of you.
Tsem Rinpoche
---
Ooooops!!! After I posted this above photo/comment, 15 minutes later Lily sent me another picture below of Keng Nam & son eating. It could still be staged though… Hehe. Perhaps, after reading the above she must of ran into the kitchen and grabbed some eats and brought it out…hmmm….
Ok ok ok…your reading the blog and particpating in the blogging retreat also…hehehe. Should we believe them? Leave your comments..LOL. Tsem Rinpoche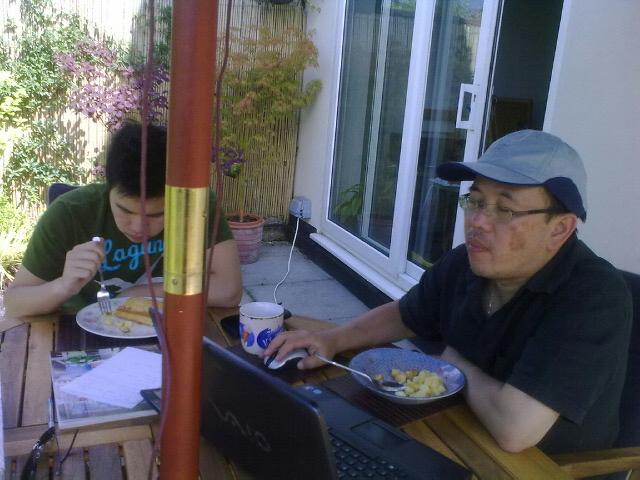 Please support us so that we can continue to bring you more Dharma:
If you are in the United States, please note that your offerings and contributions are tax deductible. ~ the tsemrinpoche.com blog team