Pastor Loh Seng Piow's Grandmother Mdm Chin
Pastor Loh Seng Piow's grandma fold her hand when I am doing prayer for her..she's very coherent.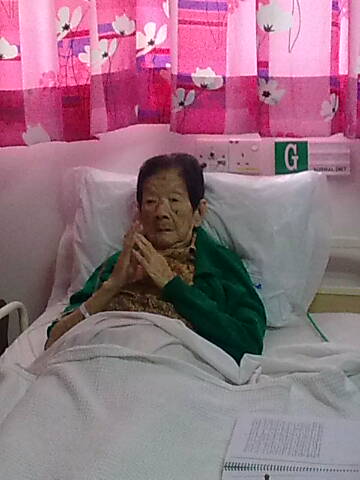 Recently I made a short trip to Pinang to do prayers for 90 year old Mdm Chin who is terminal. She is Liaison Pastor Loh Seng Piow's paternal grandmother. Pastor Loh Seng Piow has been assisting me closely for many years and extremely concerned regarding his grandmother. I thought I would make this trip as time may be short.
I was able to stay in the hospital for around 2 hours to do certain prayers and rituals. While doing my rituals, Mdm Chin was very coherent and awake. She was very respectful and prayed along best she could.
I also met some of her relatives and were able to give a short dharma talk to them. It was a trip that I made to make sure that Mdm Chin is entrusted to the Three Jewels.
Several pujas were done in the Monasteries of India for Mdme Chin also. I am very happy regarding that. JJ, Chia and Monlam assisted me to Pinang for this trip. While there I visited temples and Kechara Paradise Pinang branch.
Tsem Rinpoche
I was very happy to meet these people. I was very relieved they show concern and wished to serve Mdm Chin. That's the way it should be. We should take care of our beloved elderly. They are NEVER A BURDEN.
---
Saturday June 3, 2010 11:58PM
We just recieved news: around two hours ago, Mdm Chin without any pain peacefully passed away in her home with family…..
Please support us so that we can continue to bring you more Dharma:
If you are in the United States, please note that your offerings and contributions are tax deductible. ~ the tsemrinpoche.com blog team