63 Tara statues offered by Datuk May
(By Tsem Rinpoche)
Datuk May, the president of Kechara House invited 63 Taras. One Tara was dedicated for one year in her life. Each Tara will be slowly given away to people to bless their homes and be a jewel in their shrines.
Doing such practices purifies body karma that can hamper you from doing dharma work. Collects great amount of merit to attain the Enlightened qualities of Mother Tara. Also it creates a great affinity to Tara to assist you to accomplish your dharma practice and your goals.
One of the preliminary practices before Tantric practice is to engage in the retreats of creating 100,000 Tsatsa images of your yidam. This is similar to that practice.
We should do our best to create images of Buddhas for our shrines and to gift them to people as much as possible throughout our lives. There's no limit to this practice until we become a Buddha.
When the King of Sri Lanka invited the Buddha Shakyamuni to visit and give dharma to his kingdom, the Buddha did not make it. Instead, Buddha Shakyamuni sent a line drawing of his own form as a gift to the King.
To see the blessed form of the Buddha is tremendous blessings. Buddha said after he passes, worshiping a image of the Buddha collects the same merits as worshiping the Buddha in the flesh. Hence the tradition of Buddha images arose from Lord Buddha Shakyamuni Himself.
We do not worship the statue or painting as that is just metal or canvas, but the symbol it represents. Buddhists do not worship statues. The statues symbolize the essence of the Buddha and our own potential within us. The images hold a powerful symbolism to the qualities of a Buddha we wish to achieve. It us a blessed reminder to the sacred form of the Tathagata Buddha.
Tsem Rinpoche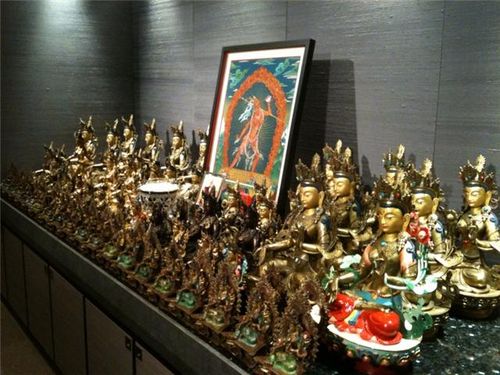 Please support us so that we can continue to bring you more Dharma:
If you are in the United States, please note that your offerings and contributions are tax deductible. ~ the tsemrinpoche.com blog team