Gifts for Margaret's family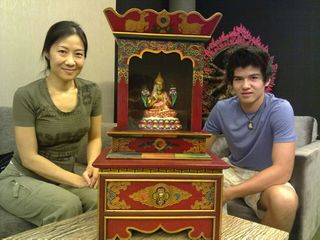 Margaret is one of my long time students who is very devoted and has contributed to much of Kechara's growth with her skills. She is an artist who has painted many beautiful thangkas for Kechara. She is currently busy in her tasks of overseeing renovation of Kechara Care new office and Kechara Paradise's SS2 new outlet (we are moving to a ground floor unit), immediately after handing over the new e-Division office.
Recently, Margaret's son Matthieu volunteered and worked very hard to help e-Division assemble many of their furniture for their new office and I thought I wanted to encourage and thank him for doing so.
What a nice young man Matthieu is for taking time to help E-division because help was needed very badly. Matthieu and his brother is so loved by Margaret, it's nice to observe.
Tsem Rinpoche
Here are some photos of Matthieu and his gifts. The messages are sms sent to me from Margaret.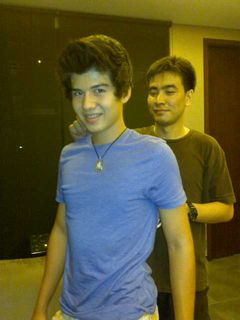 Matthieu is thrilled with all the gifts. He was speechless as I think he did not expect any of these. Monlam helped him with the Setrap pendant. He is already wearing it!Thank you Rinpoche, once again, for planting dharma seed for my son. I will always remember your advice n will follow them diligently.
With love,
Margaret n Matthieu
Dear Rinpoche,
Matthieu has set up the nice altar you just given him in his room. He loves the painted Tsongkhapa very much. And he asked me what does Tsongkhapa represent. He also said the Setrap pendant looks really 'cool' on him n wonder how Rinpoche know that the videos Rinpoche gave him r the ones he would like to watch.
Dave said a big 'thank you' to Rinpoche. Coincidentally, the vitamins that Rinpoche gave him are exactly the ones he is running out n he was planning to get more. He looked at the vitamins n smiled. Julian was sleeping so I would show him his gift tomorrow.
Rinpoche, please rest well. Your love n care for us are immeasurable n deeply felt n appreciated. I pray my boys will get closer n closer to the dharma n be beneficial to others one day.
Love,
Margaret n family
Please support us so that we can continue to bring you more Dharma:
If you are in the United States, please note that your offerings and contributions are tax deductible. ~ the tsemrinpoche.com blog team