Tweety gets a friend?
Lately I have been thinking about the canary in the aviary, and whether or not to get a friend for him. He is a very cute, spunky, lively, adorable canary and I think he deserves a friend.
He lives in the Ladrang aviary which is quite big and has a lot of space, so getting another canary will not be a big problem as he/she will have plenty of space to fly and explore.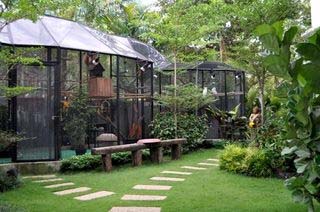 One of my personal attendant, Joy did some research online and found the info below:
IF BOTH ARE MALES
"… I was told by a woman who has all her males together that they will sass each other just when they first go in together. Then this stops. The canaries are fine, except, they do not sing as often. Only the dominate males will still sing…"
[Source: http://yedda.com/questions/MALE_CANARIES_2737317566156/]

IF MALE & FEMALE
"… Canaries are generally bred in the spring. Males in top breeding condition will sing loudly and stomp back and forth on the perch while pouring forth their song. They may quickly throw their wings out. Hens will also engage in the throwing out of wings when in breeding condition. They often appear hyper and jump from perch to perch almost frantically. Hens will also carry nesting material (if available) and tear up the newspaper at the bottom of their cages if they can get to it. They may stuff whatever material they can find into seed cups in an effort to create a nest. Some hens will begin to lay eggs in seed cups or on the bottom of their cages.

Many canary breeders like to use divided cages to introduce a male and female. The hen is placed on one side with a little nesting material while the cock is placed on the opposite side with a plate full of greens and goodies. The nesting material encourages the hen to think of nesting, while the greens in the male's cage encourage the hen to beg the male for food.

Once the male begins to feed the hen or "kiss" her through the bars, you can remove the wire divider and introduce the nest with more nesting material. When the hen is ready, she will invite the male to breed by peeping like a chick and simultaneously raising her back end. Some canaries will breed right away, while others may only breed in privacy or not at all. Some pairs will constantly fight and prove to be incompatible. If the hen fails to begin building a nest within a week or two, she may not like the male you have paired her with or she may not be ready to breed. In this case, separate the pair and try again in a couple weeks …"
[Source: http://www.canaryplace.com/breeding.htm]
Sunday, July 04, 2010
Thanks to Dr. Hank and Kien, little Tweety gets a new friend today.
We will have to observe and see whether the 2 of them get along well in the next few few days to decide whether the new female will stay.
Below is an sms update from my assistant BK, with some pictures of the 2 birds in the Ladrang aviary.
Dear Rinpoche,

Dr Hank & Kien brought over a female canary to be a companion for our male one. We're trying to see if they get along.

The new female is VERY interested but our male is kind of ignoring her at the moment.

Kien will adopt the female canary if our male dislikes her.

Thank you,
BK
Please support us so that we can continue to bring you more Dharma:
If you are in the United States, please note that your offerings and contributions are tax deductible. ~ the tsemrinpoche.com blog team