Rescued a baby Conure Tonight…..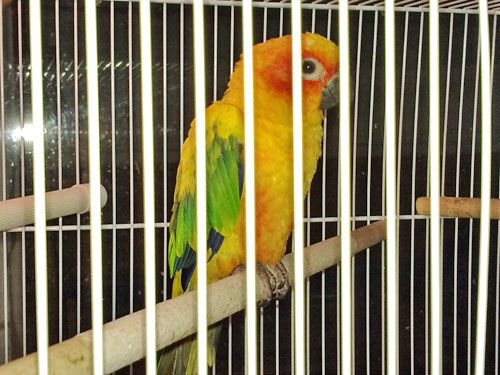 Monlam, Suming, Sengpiow, mumu and me went to two pet shops that are pretty big tonight. I don't go out much, very seldom in fact. When I do go, I like to go to the pet shops. But I avoid the dog sections, as seeing them breaks my heart.
At the Pet shop I was shocked at the callousness of the salespeople. They would carelessly scoop up the fish and not care, the fish would jump out onto the floor behind the tank! It is still accessable, yet they just leave it there to die!!! I had to make noise and say something. The sales person pretended he didn't know till i made noise. He was a bad actor… poor fishy.
As I was walking out, I saw a poor Conure alone stuffed into a small cage and seemingly bored silly. Pulling and playing with his own feathers as there was nothing else to do in his cage. They hung no toys or mirrors for him. It broke my heart to see him like that. I found out he is only four months old. Poor baby.
Conures are highly social and interactive birds so they need company. I procured him, brought him back, played some mozart and to calm him down. Now he is on my balcony with a cover over him. I will keep him near me for a few days to de-stress the poor thing then INTRODUCE HIM TO THE BIG AVIARY with plenty of sunshine, rain, air, toys, seeds, perches, trees surrounding and FIVE MORE CONURES WAITING TO BE HIS FRIEND AND PLAY WITH HIM. They are going to play and play and play. His life will be changed from now on. I will make sure of that…
Poor poor little thing.
I want him to have a healthy and happy life,
Tsem Rinpoche

* UPDATE:
8:oo am Sunday, March 21, 2010–The morning after we go the new Conure.
The newly arrived Sun Conure is on my 2nd floor balcony with his cage half covered by a towel to let him rest. The 5 conures I have in the aviary are screaming away. This new conure is happily screaming back because he heard them. They can't see eachother but they heard eachother. So they are communicating back and forth…very cute.
Very nice to see the new conure liven up, and call to his new friends to be.
I'll keep him here with me and let him adjust before moving him to the large aviary with his new friends. He is going to have a good life in the new place with us here at Tsem Ladrang..
Tsem Rinpoche (smiling)
Please support us so that we can continue to bring you more Dharma:
If you are in the United States, please note that your offerings and contributions are tax deductible. ~ the tsemrinpoche.com blog team