Mumu's Daddy Smokey, Mom Jessie and Sister Gal Gal!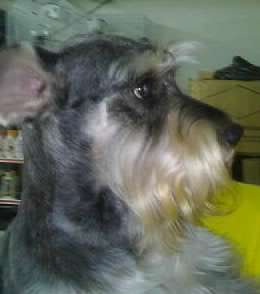 This adorable doggie above is Smokey..he is my Mumu's dad. The owner told me Smokey is very gentle, very sensitive and very well behaved. She told me she likes Mumu so much, but she has like 12 dogs already and cannot keep Mumu. When I took Mumu home from her for the first time, She cried and so did Mumu. It was amazing to see their bond although a short time. When I saw Mumu crying, I resolved to make up for his pain of seperation by loving him totally. All the way and to take care of him the best way I could.
Elize (in orange shirt) came to Tsem Ladrang to see Mumu. I got Mumu from her and she has both mumu's father Smokey and mom and sister gal gal!! Elize is a great dog lover. She loves her dogs alot. She came to see how Mumu is and loves Mumu alot. She is a very caring lady. Because of economic downturns, her pet shop not doing well. We want to go support her by getting our doggie supplies from her. Please do help. If your interested to know where…
Contact Elize at:
Wow Wow Pets
Number 9, Jalan Hujan Rahmat 2, Taman OUG 58200 Kuala Lumpur
telephone: 03-77813896
For more information you can contact Bengkooi: bengkooi@gmail.com
Well lucky for me, because I got Mumu. And Mumu is the spittin' image of his daddy. Mumu is super cute, very gentle natured, very well behaved and super sensitive and smart.
It is important to know the character of the parents, as the puppies will be similar I read and was told many times.
I have no regrets with my Mumu. I love him very much. As I type this, he is sleeping right next to me..
I have not started Kechara Animal Shelter yet. I don't have the land and I need the land so much. But I will start a shelter… I will!!! I need to raise the funds for this among my many other projects… And the animals will be taken care of so well in our Kechara Shelter I promise!
Tsem Rinpoche
Please support us so that we can continue to bring you more Dharma:
If you are in the United States, please note that your offerings and contributions are tax deductible. ~ the tsemrinpoche.com blog team