Huge Dzambala Retreat Starting April 23rd…get involved!!!!!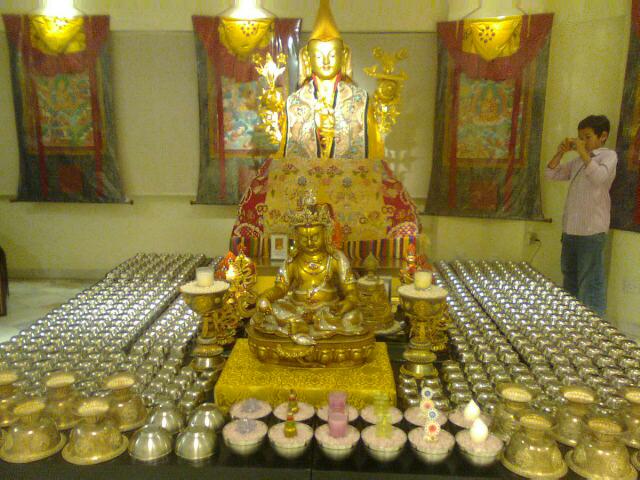 (By Tsem Rinpoche)
The main shrine in Kechara House (KH) with Lord Tsongkapa and the Dzambala in the front. Dzambala will help us purify the negative karma arising from miserliness that make our minds narrow, selfish, hard and our hands tight-fisted to share with others. The Paramita of giving can be achieved with Dzambala. 500 bowls of pure clean water are offered in front of Dzambala… this will be done daily during the powerful retreat to generate merits for the participants themselves and the arisal of Kechara World Peace Centre in the near future.
Retreat starts on April 23, 2010. I will confer a oral transmission of Dzambala's mantra that day and also Giving Refuge Ceremony. So those who take this ceremony becomes a Buddhist from that day onwards.
Wee Liang, Gim Lee, Tho and Eddie Tan worked hard to set up this altar for the retreat.
Eddie Tan will assist Girlie as chant master (umze) during retreat.
Up till today 105 people have signed up for this special retreat… and the roster is open for more. Some of you who are out of station… contact the below by email (www.kechara.com) to find out how you can participate from where you are and all the exciting details. You can participate also wherever you are in the world.
Friends from the USA will be flying in for the refuge and event. How dedicated.
Tsem Rinpoche
Below are retreat details from Liaison Yoke Fui and or committee heading the Kechara House dept:

Dear Retreat Participants:

Please be informed of the following:


A. Program/ Retreat Schedule

1) 18th April 2010, at KH 1, 11.30AM
Refuge briefing class for those that wish to take refuge from H.E. Tsem Rinpoche on 23/4/2010 and those that wish to renew their refuge vows.

2) 18th April 2010, at KH1, 2PM
Talk on the practice and iconography of Lord Dzambala. All registered participants are advised to attend as this will help you in the Retreat.

3) 23rd April 2010, at KH1
7.30PM – Arrival and attendance taking of all participants
7.45PM – Arrival of Rinpoche
8.00PM – Oral transmission & Refuge giving by Rinpoche
9.00PM – 1st session of Retreat begins

4) 24th April 2010, KH1
2nd Session of Retreat

5) Thereafter Retreat will be conducted at KH1 every Wednesday & Thursday until the required number of Mantra recitation & water offering is completed.


B. Motivation:

May wealth, sponsors and people of different expertise come forth to help in the project of Kechara World Peace Centre
May all obstacles be cleared
May there be HUGE STATUES of Vajrayogini, Lama Tsongkhapa and Dzambala at KWPC for the benefits of all


C. Required mantras and water offerings to be completed:

Engage in 500,000 Dzambala mantras cumulatively
Accumulate 100,000 water offerings to Dzambala
Minimum 54,000 prostrations


D. Notes:

Offerings can be put on altar and the individual water offerings made for Dzambala bathings by each person also count
Daily make 400 to 500 water offerings on altar
Make sure your breath and hands are clean
Make 3 prostrations before you make water offerings/ clear offerings
Ask permission from Dzambala for the honour to collect merits
Each 108 water offerings( part of the puja) is only equivalent to 50 water offerings for the target count (to cover for mistakes)
Each person to donate rm2 per day( more also can) that they participate. A bowl for this purpose will be placed at the altar
Before making the donation, make the motivation that in this and all future lives, may all have access to cleanliness. Then make offerings
Make offerings of 10 flower garlands to Dzambala each day (ppl should make donation for flowers)
Have 10 different people each day to make the flower offerings to Dzambala. And ask for Dzambala to make everything prosperous and grow
Make water offerings quietly without talking. Visualise, concentrate and breathe. It is best to recite Dzambala's mantra when making the offerings
Each person's retreat mantra, prostration & water offering count should be recorded at the reception
The donations are only a small amount to teach generosity towards dharma and the bigger purpose
Each person can buy Dzambala pendants, incense, etc to be placed on the altar during the ritual for great blessings. Then they can take it back as blessed to wear or give as gifts from KP dept. Very powerful to be blessed during retreat
Also accumulate 108,000 prostrations to Setrap and Dzambala combined. This is to purify the body so that when we do dharma work, there are no obstacles

Should you need further clarification ,please contact any of the following persons:

Yap Yoke Fui – 012 2232 996 (leafyap53@yahoo.com)
Phng Wee Liang – 012 2383 222 (wlphng@gmail.com)
Tan Gim Lee – 017 6206 193 (gimleetan@gmail.com)

Thank you, may you have a meaningful retreat.

Dzambala Retreat Sub Committee
Kechara House Buddhist Association Malaysia
Scenes From April 23rd, Where I Gave a Talk And Refuge to The Audience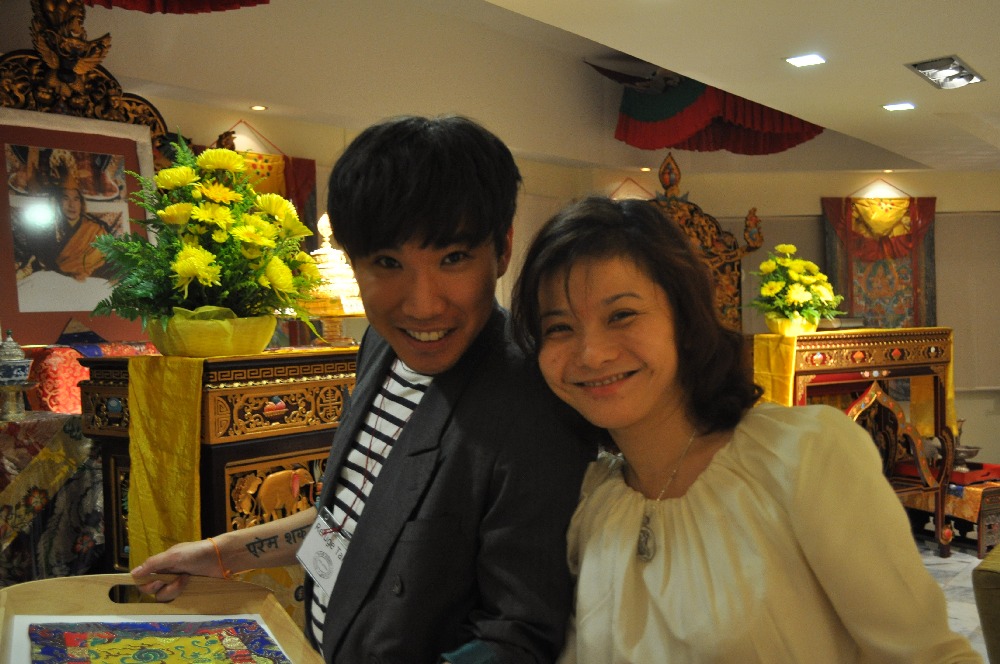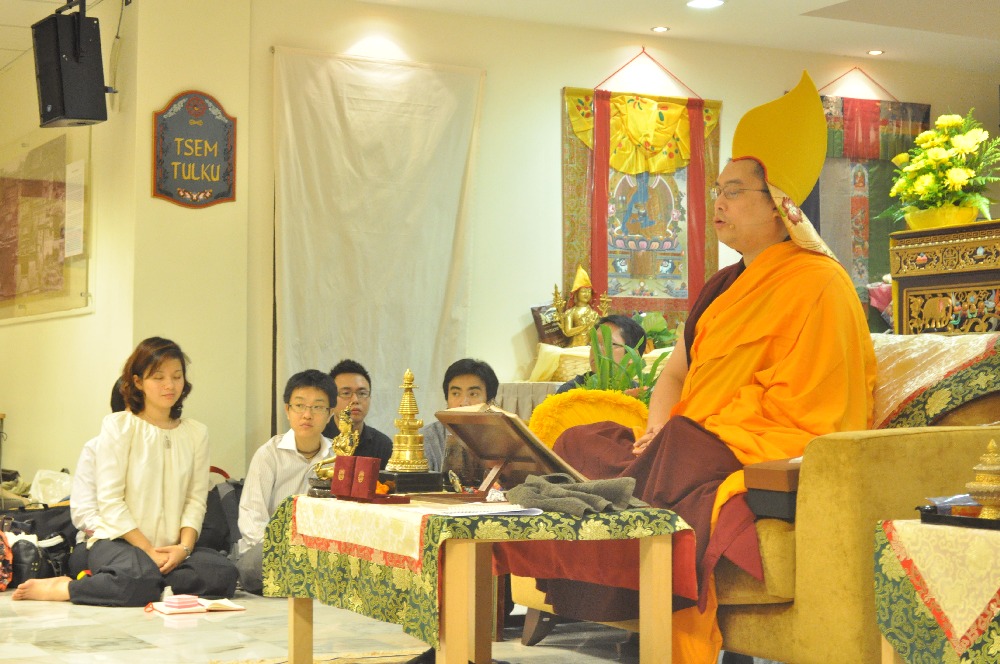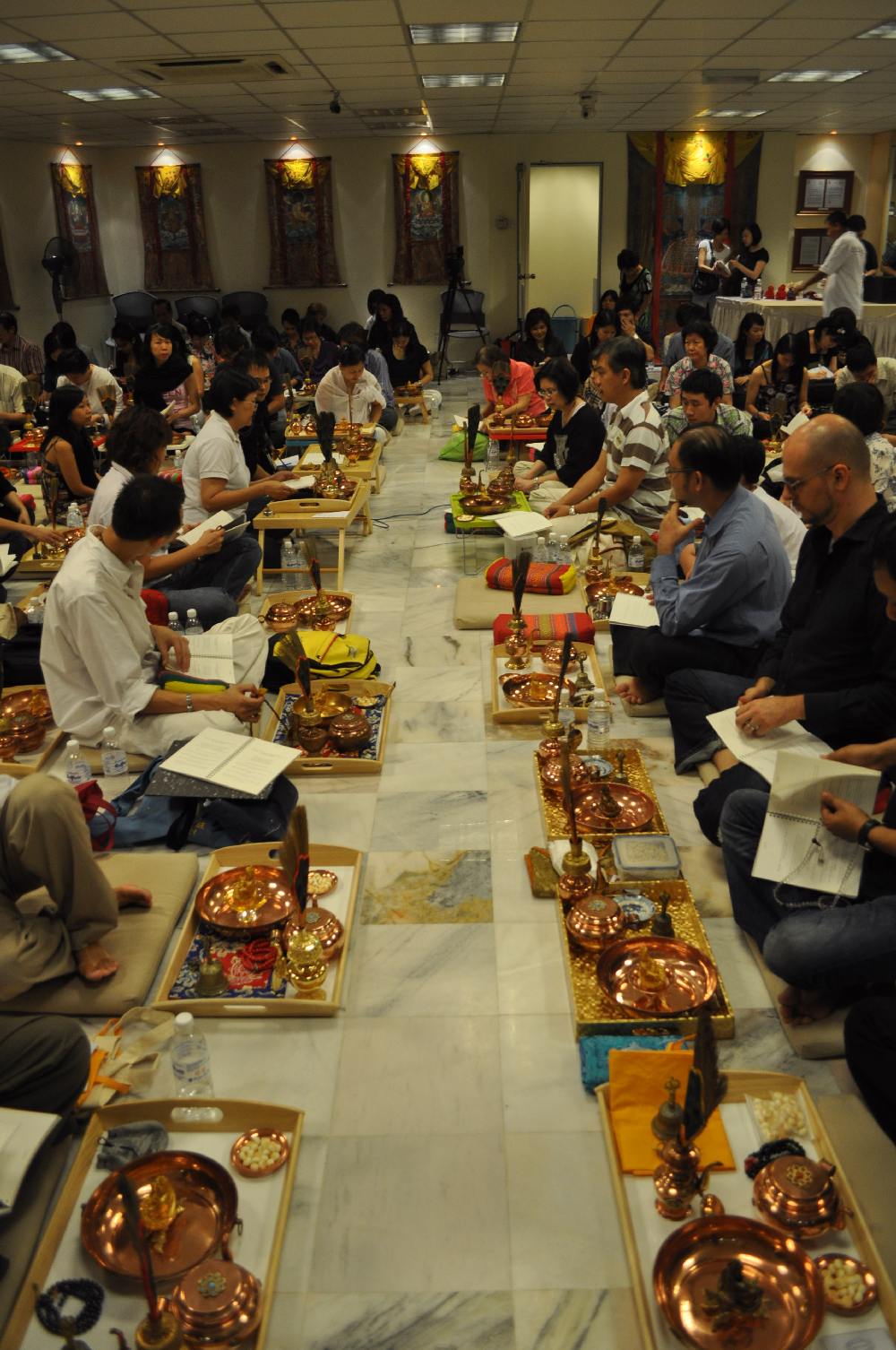 Tsem Rinpoche
---
Update on 8 May 2010 (Friday)
Final count on Dzambala Retreat:
Mantra: 605,532
Water offering: 102,660 bowls
Prostration: 63,298
Picture above sent by Yoke Fui, showing Dzambala retreat sub-com having supper and Yoke Fui passing my message to them, some of the retreatants are continuing with their prostration practice. Yoke Fui also mentioned that Setrap retreat will start after Wesak Day as Kechara House shall focus on promoting and preparing for Wesak Fair on May 22.
Please support us so that we can continue to bring you more Dharma:
If you are in the United States, please note that your offerings and contributions are tax deductible. ~ the tsemrinpoche.com blog team