A Text message from KB to share……
Today I got this wonderful MMS pictures (above and below) and text message from KB. I am going to reproduce what he sent:
Dear Rinpoche,

Raj Kumar and I fed monkeys at ttdi park. Soo cute they were waiting for us at the same place where we fed them yesterday. One lady asks me are you an NGO ppl? I answered her back not necessary. Everybody can feed animal. She said she feels very happy when ppl take care animals. She said will buy some fruits next time when she comes to park. Very nice of her.

Just as Rinpoche said, somebody have to start somewhere. Just like Rinpoche started to give food to homeless. Now KSK has took over and many many ppl joining Rinpoche's mission to take care of ppl and animals. I think this is real dharma.

Thank you,
KB
(above very lightly edited)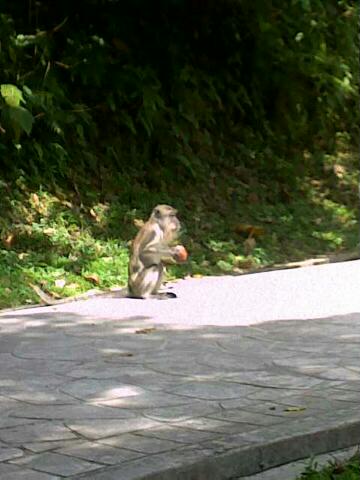 I THANK KB WHO IS PART OF THE LADRANG TEAM FOR SENDING ME SUCH A NICE SMS. IT WARMED MY HEART TO READ IT. KB HAS BEEN WITH ME OVER 5 YEARS AND IS A WONDERFUL YOUNG MAN. CARING, KIND, RESPONSIBLE AND CAN THINK THINGS THROUGH. VERY STEADY AND EVEN TEMPERED PERSON. I RESPECT HIM ALOT. He is going to Nepal this year to be married! Then return.
Raj Kumar is one of the best traditional tailors of Tibetan art such as thangkas, deity clothes, ritual brocades, etc that I have ever met from Kathmandu. He has been visiting us for three weeks plus now and returning to Kathmandu today. We will miss Raj Kumar. Raj Kumar and all of us have become close friends.
Raj Kumar's wife visited us just a few weeks ago also. We enjoyed her company and she went back earlier and Raj Kumar stayed on for a little while longer.
Please support us so that we can continue to bring you more Dharma:
If you are in the United States, please note that your offerings and contributions are tax deductible. ~ the tsemrinpoche.com blog team