Lew tirelessly giving out KSK leaflets by the escalator in One Utama
Dear Lew,
What a kind, generous and compassionate person you are deep inside of you. From external appearances, you just look like a normal guy. But I can see how your heart is soft and caring.
I am so happy to see helping the homeless. It is so commendable and makes me so happy to see you take the time to help the less fortunate.
Whoever we are, we have ups and downs in our lives. The people who care enough to do something are the real heroes to me.
In the end, have alot of money or not, is NOT THE KEY to feeling self worth, it is that we have contributed to others without an agenda. I am glad to see you doing this.
I send you my warm thanks, prayers and thanks for caring. Please never lessen your work for others, fight selfishness and care for others always, then your life and everyone's lives are worth something much more my dear Lew.
Tsem Rinpoche
Please take the caring time to see more of Kechara Soup Kitchen or KSK.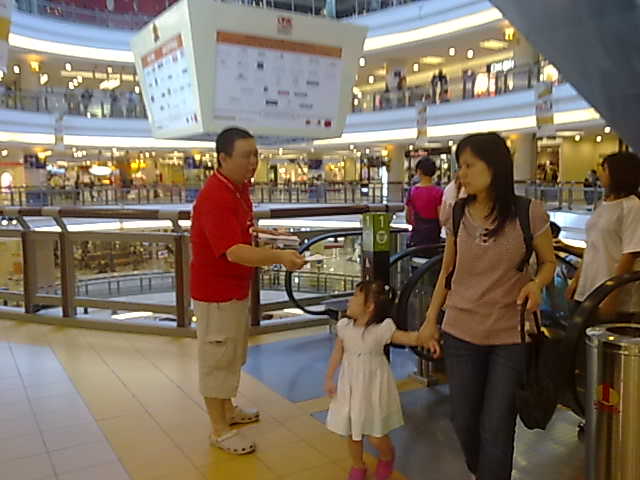 Kind Lew, without any thought of himself, tirelessly passes out information about the homeless in our city. He took off from his day off to do this so he can be of service to others. If we have more people like Lew, then the world would be better. Thank you KSK for having the dept for kind people like Lew to volunteer. Kechara Soup Kitchen is such a worthy cause. I am proud of our KSK dept.
I thank One Utama Shopping complex to lend us the space to benefit the homeless so much!!!
Jean Mei, Justin, Jun Yew (Jean Mei's friend who is a regular volunteer) and Lew (of eDivision) strategising how to approach passerby. Thinking together how to create awareness of the so many homeless people we have in our city. Look at these other wonderful people with Lew, they are young, kind and caring. This is the kind of young people we wish to have in society. People who care about others. People who selflessly take time from their attachments and self engrossed hangups to do something for others. I celebrate youth that care about others!!!!
Please support us so that we can continue to bring you more Dharma:
If you are in the United States, please note that your offerings and contributions are tax deductible. ~ the tsemrinpoche.com blog team