Elize & Donation Boxes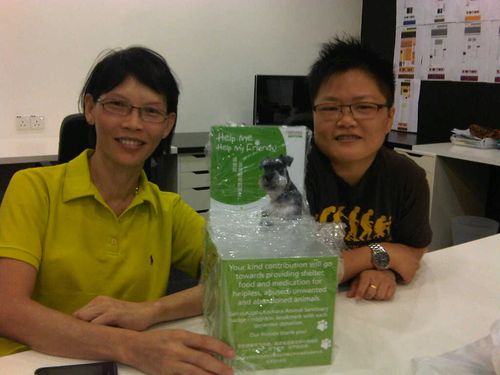 THANK YOU SO MUCH ELIZE, JOHNNY AND OSCAR!!!!!!! Thanks for helping us create awareness and gather help to continue our works!!
Everyone should put a kechara soup kitchen donation box to help the homeless. If your an animal lover, please put a Kechara Animal Sanctuary donation (KAS) box too. We need all the help we can get.
Go to Kechara.com to contact the depts for a donation box. Please help out. PLEASE DON'T WAIT AND HELP US OUT. WE WANT TO CONTINUE DOING CHARITIES.
Tsem Rinpoche
Dear Rinpoche,
Elize, johnny & her friend oscar came to visit e-div. She also collected the KAS donation box. Elize, johnny & vegetarian restaurant owner are jointly contributing 50 packets of cooked food to ksk weekly. And oscar (pictured) is contributing 5 packets of food too.
Tq, BK
Please support us so that we can continue to bring you more Dharma:
If you are in the United States, please note that your offerings and contributions are tax deductible. ~ the tsemrinpoche.com blog team