Inviting 4ft Long Life Lama Tsongkhapa
(By Tsem Rinpoche)
A few weeks ago…a beautiful event…another sacred Tsongkapa statue was invited to a home for blessings and worship.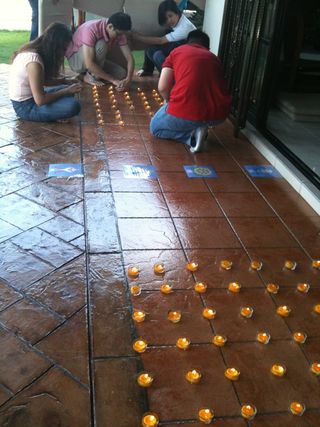 Dear Rinpoche,
We are now at Kwok Wai's dad hse to invite his Tsongkhapa. There are many of us here:
Henry, Chia, Albert, me n Mitra from outlet.
Paul, Pat, Becky, Louise n Vyonne frm KSA & KD.
Ling n Wee Liang from KH.
We are preparing to set up torma now.
Thanks, Wan.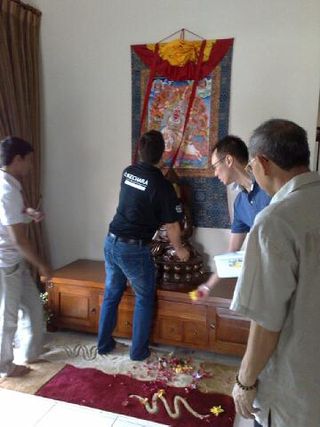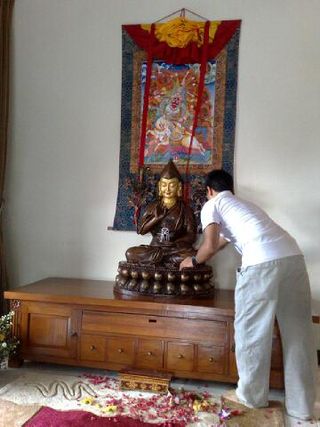 What a beautiful brass image painted in antique color and style from Kechara Paradise. The painting is all done in house in traditional style if you prefer. What a beautiful surprise gift to offer your family or someone special or maybe to yourself!!
I thought I 'd share the series of sms messages with pictures I recieved of this wonderful event.
So many individuals and families are inviting Lord Tsongkapa into their home and lives these days, I can hardly keep track. But I am very happy about that… They can see the tremendous benefit Tsongkapa's practice brings to their lives, their loved ones and the environment. Tsongkapa blesses the environment so powerfully. It makes a huge difference to have a Tsongkapa image in our homes. You can feel it immediately and over time the blessings increase. No doubt.
Tsongkapa's practice is most auspicious for this time and age filled with anxiety, mental pressure, too many challenges, depression, fear. As we do Tsongkapa's practice, we see our mind more focused, calm, accepting and MUCH MORE AT PEACE. With a peaceful and calm mind, so much more can be accomplished. So much more can be done.
Everyone should invite a holy Tsongkapa image to their homes and wear His sacred pendants.
Tsem Rinpoche
Please support us so that we can continue to bring you more Dharma:
If you are in the United States, please note that your offerings and contributions are tax deductible. ~ the tsemrinpoche.com blog team