ANOTHER FULL TIME DHARMA STAFF JOINS ONE OF THE KH DEPTS!!
Kechara Saraswati Arts dept or KSA is one of the 12 depts of Kechara House. KSA is located in SS2 but moving soon to a bigger premises!!! Yes!! They paint statues, restore or repaint statues, sew traditional Tibetan thangkas, prepare mantras to be placed inside hollow Buddha Statues, or fill statues with mantras,Sew Traditional clothing to offer to deity images. We have our own team of artists and tailors well trained.
Becky below is our newest member of KSA. She has joined to do dharma work full time. She has also moved into a dharma house to live with other dharma students as you see below in her pictures.
We have 6 Dharma Houses currently:
Jamyang House
Heruka House
Naropa House
Drakpa House
Tara House
VajraYogini House
These are places that students of Kechara House rent together to live with it's all self contained facilities..very fun i must say…just like when I was living in Thubten Dhargye Ling dharma centre in the USA. I rented a room in the centre with other dharma students.I loved it so much…. It is supportive and happy atmosphere to be with other dharma students. To live in the dharma and work together in the dharma. Very meaningful life. So I started the same thing here. What is better than living with a group of ppl that are working towards the same goal as you spiritually and to have them and each other as support.
Becky has moved into a room in Jamyang House and also set up a lovely simple shrine for her prayers.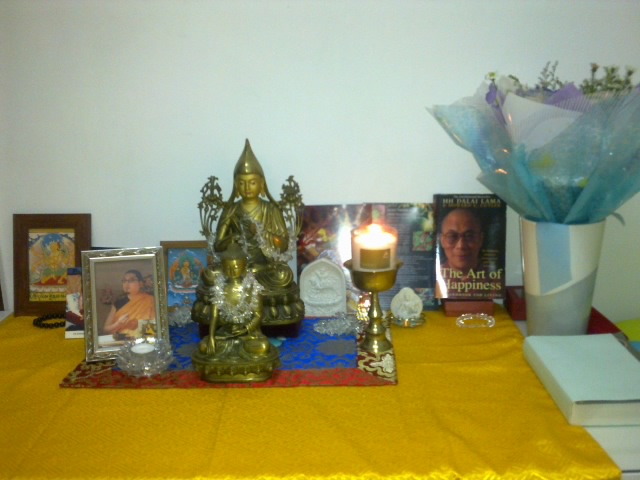 Many people think you can't work in the dharma and have a full time career. But we in Kechara House's 12 Depts already have over 95 full time dharma staff and that is not including volunteers. We are setting a new trend that YOU CAN HAVE A CAREER IN THE DHARMA. And there is nothing wrong and you have made the right choice!
Many of the full time staff are young people like Becky who have chosen to have an alternative life of benefitting others as a career. Good for her!! Young, strong, with a right direction in her life and also she becomes an inspiration for many others. Kudos to Becky! I want to tell Becky that I am very very very proud of her. I am so happy for her that she is joining us to help make KWPC A REALITY. She will have no regrets!!!
Becky now is part of our GROWING KECHARA FAMILY. She is now a KECHARIAN!!!!
She has made an incredible move and I am very happy for her and wish her the best.
Tsem Rinpoche
Please support us so that we can continue to bring you more Dharma:
If you are in the United States, please note that your offerings and contributions are tax deductible. ~ the tsemrinpoche.com blog team