Uncle Lai's Birthday
Dear Rinpoche,
June 16th. Today is Uncle Lai's birthday and he's helping to clean the main altar in ladrang. What a meritorious way to celebrate birthday! We've served Uncle Lai cake.
Happy birthday, Uncle Lai.
Tq,
Bonita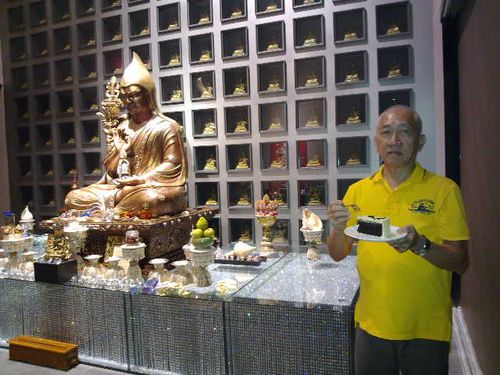 Uncle Lai is a very dedicated member of Kechara House and the proud father of our celebrity writer David Lai who works in Kechara Media and Publications Dept (KMP). He loves David, his son so much. Since David starting writing in KMP and teaching in Kechara, Uncle Lai looks at his son with great pride and affection. Beautiful. He mentioned he is so proud of is son for doing well and benefitting others.
Uncle Lai loves dharma teachings, pujas and cleaning up the gompa before or after an event. He finds cleaning very calming and soothing. Uncle Lai is very humble, gentle, straightforward and highly intelligent. He always has a smile or something nice to say to others. He is such good energy to be around. No dramas, or freaking out from him..heheh. He is very loyal and very steady person. He really just sticks to Kechara and gives his energy all the way for Kechara…What he says, he does with no excuses. Everyone in Kechara respects Uncle Lai so much. We love him very much. We really love Uncle Lai very much.
Here he is in the Tsem Ladrang with his birthday cake. May Uncle Lai live 1,000 years and please remember I care about you very much.
Tsem Rinpoche

Please support us so that we can continue to bring you more Dharma:
If you are in the United States, please note that your offerings and contributions are tax deductible. ~ the tsemrinpoche.com blog team