A Tsongkhapa Garden for Rachel
Alex and Ashlee have been my students for many years and they have been very instrumental in leading Manjushri Kids Class. Rachel is their daughter.
Young Rachel is an active member of Manjushri Kids Class and was a strong participant in Lamrim recitation, one the recent pujas done in Kechara House before the renovation of the new gompa started.
I was informed that Rachel recited in total 319 chapters of the Lamrim. She recited these chapters from Liberation in the Palm of Your Hand: A Concise Discourse on the Path to Enlightenment.
Day 23 – 100 times
Day 24 – 70 times
and the remainder chapter counts accumulated from Day 1, 3, 10, 12, 13, 16 & 22
It is very good to see that children can contribute to Dharma too if they wish to. I am very proud of her.
---
Below is the sms sent by Wendy who delivered my gift to Rachel:
Dear Rinpoche,

I have delivered the Tsongkapa Garden from Rinpoche to Rachel. Alex was around when I delivered it. Ashlee is away on business trip in Jakarta. The garden was placed on Rachel's altar in her bedroom together with her other tsa tsas and pendants.

Alex told me that yesterday, Rachel and him saw this Tsongkapa garden at KP Bangsar and was thinking using the idea of the garden to make a Tara Garden.

Rachel was very shy and did not say anything. When Alex asked her whether she liked the garden, she nodded her head. Below pix of Rachel and her Tsongkapa garden on her altar.


Thank you.
Wendy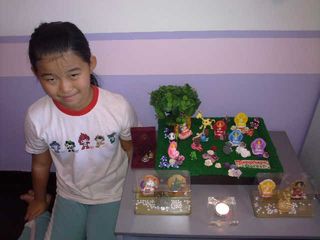 Rachel is very shy and intelligent. Seems to be attracted to the dharma very much. She is quiet but very alert. I appreciated her participating in our pujas recently. Remember she is only ten years old but she is so disciplined to participate in the pujas. No one forced her. Wow!!
Fantastic sweet little girl!
Tsem Rinpoche
(Shin, thanks for the post and write up above)
---
Dear Rinpoche,
These are the home made cup cakes offered by Rachel Tan (Alex's daughter) to Rinpoche together with a card.
Regards,
James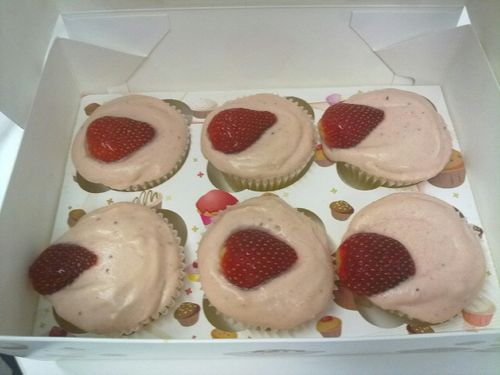 Please support us so that we can continue to bring you more Dharma:
If you are in the United States, please note that your offerings and contributions are tax deductible. ~ the tsemrinpoche.com blog team