Wai Meng joins the e-division of the Ladrang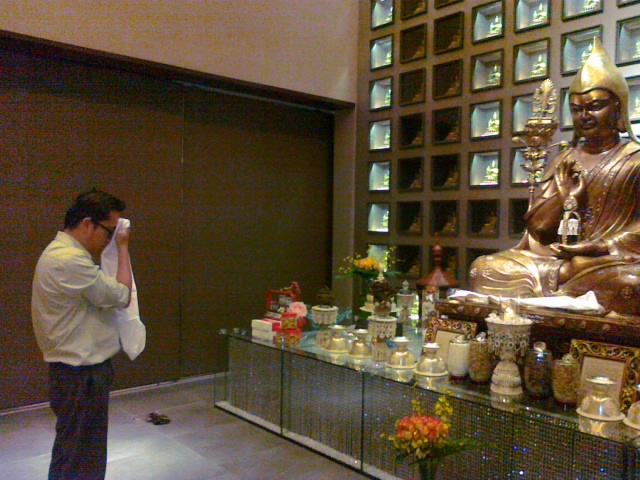 Wai Meng above making prayers and offering of khata at ladrang altar to start his first day of work full time in the dharma. Welcome aboard finally!!!
It is the best move Wai Meng has ever done in his life…
I met Wai Meng over 17 years ago. I gave a Manjushri empowerment in Kuala Lumpur and he attended. He has been a loyal student ever since and very helpful.
Wai Meng is soft spoken, a deep thinker, very intelligent, slightly eccentric (hehe..aren't we all) and extremely sincere in Dharma. He recently resigned from his well paid job at an IT company and joined to do dharma work full time. He is in our e-division which handles the websites, correspondences, twitter, facebook, etc etc etc…they have tons of work and they do it well.
Wai Meng is a responsible person and sometimes he gets bogged down with so much work and I can't blame him. But I want to tell Wai Meng that the WORK WE HAVE NOW IS NOTHING, PUT ON YOUR SEAT BELTS COS IT'S GOING TO BE A BUMPY RIDE AND THERE'S ALOOOOOOOT MORE WORK TO BE COMING ESPECIALLY WHEN KWPC COMES UP….so get ready…heheeh..seriously, just take it one day at a time and remember that all the work your doing and will do will CHANGE MANY PEOPLE'S LIVES…so enjoy and be proud of yourself. You will be fine.
Much care,
Tsem Rinpoche
Please support us so that we can continue to bring you more Dharma:
If you are in the United States, please note that your offerings and contributions are tax deductible. ~ the tsemrinpoche.com blog team