Inviting Lord Setrap To One's Abode….& links to teachings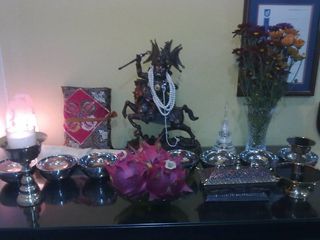 (By Tsem Rinpoche)
Beautiful 17 inches Setrap Antique style invited to the office and offerings done!!
Setrap is a fully enlightened Protector who has sworn to Shakyamuni to assist sincere dharma practitioners. He is the guardian of Kechara House and it's members. He is very popular these days here as many people have felt his effects. Many ppl see positive miraculous changes in their lives. There are MANY TRUE ACCOUNTS of how Setrap has intervened to help here. Many incredible touching stories.
We are coming out with a easy to read and learn comic book regarding Setrap's sacred origins and miracles soon. Kechara Media & Publications are working on it and it will be ready in a few months time. The comic book will have alot of appeal due to it's authentic accounts and easy to absorb information about Setrap. The Life story comic book of Lama Tsongkapa we have done here is very popular. So Setrap will continue in that series of educational comics. Look for it! KMP dept is doing great works!!
Two days ago, Kenny Wong has invited Setrap for his family into the office. As he spends alot of time there, it would be a wonderful place to have Setrap for him to worship. Kenny in time will see more and more benefits when he continues his Setrap Practice with full faith and conviction. We are all very happy for Kenny. Chia was a tremendous help in assisting to set up.
I request Kenny to be loyal, firm and continuous with Setrap's sacred protective practice. Setrap is one of Tibet's leading protectors that has his origins from India. So as Kenny and family trust Setrap more and more, many blessings and protection will be bestowed. Recitation of Setrap's mantra, kanshag, serkym offerings, and praise would be very very powerful.
The Great 5th Dalai Lama has composed a wonderful praise to Dharmaphala Setrap the swift One on a celestial Horse. That one would be a great prayer to recite daily to Setrap.
You can recite the Praise to Setrap composed by the 5th Dalai Lama here on kechara.com or tsemtulku.com.
See my talks on Setrap & I hope the talks will help you:
17 inches Lord Setrap Statue that many Kecharians have invited home from Kechara Paradise ( https://www.kechara.com/shop/ ). Very well made and can be painted to any style you like by Kechara Saraswati Arts Dept or KSA. I personally like it antique style or partially painted as you see above.
Tsem Rinpoche
Please support us so that we can continue to bring you more Dharma:
If you are in the United States, please note that your offerings and contributions are tax deductible. ~ the tsemrinpoche.com blog team