Thoughts
(By Tsem Rinpoche)
Fearlessness
August 23, 2009
In this region, wealth, face and family lineage have FAR MORE IMPORTANCE than belief in karma, next life and Bodhi mind. Problems arise from basically these 3 factors.
However, when we look at these from the widest scope of ultimate mind view, it pales so insignificantly because our lives are so short. Hence we trap ourselves, again and again. And time passes by quickly…
Isn't it tiresome when people always focus ON WHAT THEY DID? And that they hardly focus on WHAT OTHERS HAVE DONE?
When something goes WRONG, then they REPEAT OVER & OVER & OVER what they did & what difficulties they had in order to COVER. But they never think about HOW THEY DAMAGE OTHERS.
That's the problem, they never start focusing out.
It's good for people like that to write and read WHAT OTHERS HAVE DONE FOR THEM DAILY. To stop repeating and move on.
If you want to get places, you have to have FEARLESSNESS. What's fearlessness? Better to GO ALL THE WAY even if we might FAIL. It's better than DOING NOTHING and JUST FAILING. Because when you do nothing, you have to play so many games to hide your failure.
I hate it when we just do nothing and be comfortable with failure… because you hate yourself in the end for doing NOTHING AND THAT'S WHY YOU FAILED. You carry that your whole life.
Covering failure is the MAIN SOURCE FOR OUR EGO TO STAY STRONG. If we go all the way, the chance to win IS THERE!
Think! Failure from doing nothing or a chance to make it. Ego protection or ego diminishing. Pick…
Much care,
Tsem Rinpoche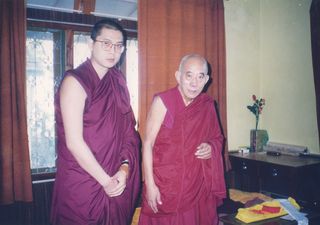 Kyabje Lati Rinpoche and myself. Kyabje Lati Rinpoche was the main Lama that asked me to go abroad to teach. That's how i came to Malaysia.
Please support us so that we can continue to bring you more Dharma:
If you are in the United States, please note that your offerings and contributions are tax deductible. ~ the tsemrinpoche.com blog team