Superstar Linda Lin Dai
As a kid, I have always liked the old Chinese movies from Hong Kong especially from Run Run Shaw Studios. It is during the time when Hong Kong was still under the colonial Yoke. Where Chinese people were proud of their long lasting culture, their achievements, their history and their rich contributions to this world. They wanted to produce movies that highlighted the rich cultural history of  themselves as a people and not be inundated with Hollywood. Hollywood was closed doors to Asians or anyone of color for that matter. The universal success of Run Run studios and it's stars sent a message to the world. You don't have to be what Hollywood portrays to be worth something.
There's thousands of spectacular pictures by Run Run Shaw. The actors and actresses very famous in the East lived glamorous lives with intrigue, love, pain, success, and early deaths like their Hollywood counterparts. One of my favorites is Lin Dai. I have posted some information on her for you to read. She was indeed a tragic personality whose beautiful films live in the hearts of millions. Her beauty as renowned as Liz Taylor or the Liz Taylor of the east and her acting superb. She made everything believable.
Here are some information about this screen goddess of Mandarin-language films.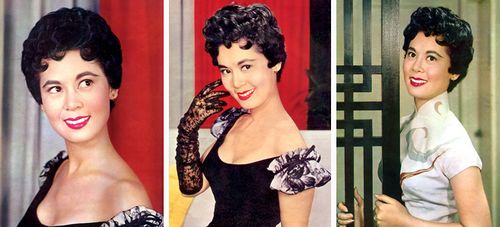 Linda Lin Dai was born as Cheng Yue-ru to a politician's family in Guangxi, China in 1934. Lin migrated to Hong Kong with her family in 1948. She joined Yung Hwa Film Company in 1952 after leaving the Great Wall Studio, where she joined a year earlier, and made her big-screen debut in Singing Under The Moon. The film made her an instant success.
For the next decade, Lin won the hearts of audiences with more than 40 films. Off the screen, she married tycoon Long Sheng-xun in 1961 at the age of 26. Although she worked for several different studios, Linda Lin Dai is closely associated with the Shaw Brothers, where she became a contract player in 1961.
Lin perfectly matched the vision Shaw Brothers had of itself as a studio and its ideal audience- sophisticated, cosmopolitan, erudite, elegant, modern, and decidedly bourgeois, or aspiring to be all those things.
Educated in Mandarin and English, Linda Lin Dai could by-pass the local Cantonese-speaking world of Hong Kong to speak to a transnational Chinese audience in America, Europe, Taiwan, and the Nanyang. She could play the classical Chinese beauty or the modern career woman. On screen she often played the heroine who sacrificed herself for the greater good.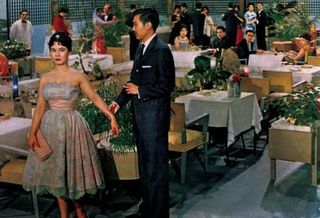 Lin won over the critics by winning an unprecedented four best actress awards at the Asian Film Festival for The Golden Lotus, Diau Charn, Les Belles and Love Without End during her career.
Sadly, she committed suicide in 1964, leaving behind two unfinished films, The Lotus Lamp and The Blue And The Black (1 and 2). In 1995, she was the only Mandarin movie star featured in the Hong Kong Movie Stars stamp collection released by the Hong Kong Post Office. It is an evident that she is still living in the hearts of many Chinese audiences even though she has passed away for almost forty years.
10 Top Movies By Linda Lin Dai Of Shaw Studios
Diau Charn (1958)
The Kingdom And The Beauty (1959)
Les Belles (1961)
Love Without End (1961)
Madam White Snake (1962)
Love Parade (1963)
Beyond The Great Wall (1964)
The Lotus Lamp (1965, Released Posthumously)
The Blue & The Black Part 1 (1965)
The Blue & The Black Part 2 (1966)
Above info extracted from:
IVL Les Belles DVD

http://hkmdb.com/db/people/view.mhtml?id=2126&display_set=eng
Movie clips:
Madame White Snake – (wonderful tale based on rich Chinese Mythology):
Or view the video on the server at:
https://video.tsemtulku.com/videos/v20495552BB6KzDNM.mp4
Beyond The Great Wall – (Historical re Chinese Princess given to Mongols to save from invasion)
Or view the video on the server at:
https://video.tsemtulku.com/videos/v2049553764P32JJY.mp4
Love Parade – (modern film highlighting the versatility of her acting)
Or view the video on the server at:
https://video.tsemtulku.com/videos/v204955483ppnFMx5.mp4
The Battle of Love – (Lin Dai's earlier movie)
Or view the video on the server at:
https://video.tsemtulku.com/videos/v20495966fh34FTSK.mp4
Lin Dai – (A short Tribute)
or http://www.youtube.com/watch?v=nUCgM0e0HPs&feature=related
Or view the video on the server at:
https://video.tsemtulku.com/videos/v20495493mCCMFn2c.mp4
Please search on youtube for many more wonderful films by Lin Dai and Shaw studios. Very well made. Many of the films are available on dvd also. I have most of Lin Dai's films.
The world is full of so many talented people. Growing up in US, I didn't realize as I saw everything threw the eyes of Hollywood. The people there have very little idea of the richness lying untapped for films in the Far East. This is what I am trying to convey in this post. The dragon is waking now….
Tsem Rinpoche
Please support us so that we can continue to bring you more Dharma:
If you are in the United States, please note that your offerings and contributions are tax deductible. ~ the tsemrinpoche.com blog team