His Eminence Kyabje Lati Rinpoche Enters Clear Light
I've received many teachings, audiences, divination results, and personal advice from this incredibly eminent master. He was one of the greatest living Buddhist treasures left in this century. He was tulku (reincarnated master) and also Kensur (Abbot Emeritus) of Gaden Shartse Monastery. He was the guru to thousands around the world with several books out. He was the pillar of Gaden Shartse Monastery. One of the reasons for the success of Gaden Shartse is Lati Rinpoche. He took birth to benefit others in Kham Tibet in 1922.
Two weeks ago approximately I had a very vivid dream of Lati Rinpoche. I woke up from the dream with a strong impression he will pass away soon or rather enter into clear light. I had Monlam call up the Monastery and had Heruka-Cakrasamvara Daju (self initiation) performed for Lati Rinpoche's wishes to come true. When a lama is going to pass or after he has passed away, a Daju is done. Heruka was Lati Rinpoche's main practice so it was appropriate.
Lati Rinpoche was the main Guru who insisted that I come to Malaysia. Lati Rinpoche called Gelek Rinpoche to help. Gelek Rinpoche has students in Malaysia. Gelek Rinpoche called his students in Malaysia so when I first arrived in 1992, I had people helping me here of which some were Gelek Rinpoche's students in the beginning.
During a meeting with monks, I 'debated' respectfully with Lati Rinpoche insisting I do not want to travel and go to Malaysia or any other country and that I was very happy in Gaden. He insisted I go. he said I should go and that I am qualified to go. I really did not want to leave the Monastery at all. He even agreed for the Oracle of Gaden to take trance of Gaden's Protector who also concurred with Lati Rinpoche that I must go..The Protectors always agrees with holy lamas… So I had to oblige. Hence I have been here ever since. The main contributing factor for me being here is Lati Rinpoche.
Today I woke with the HORRIBLE NEWS THAT Kyabje Lati Rinpoche (A Buddha) from Gaden Shartse has passed away April 12th, 2010. Lati Rinpoche as ususal woke up at 4AM this morning. Unfortunately this morning Rinpoche complained of stomach pain. Then he proceeded to do his meditations/prayers anyway. After his prayers he entered clear light and passed away in Dharamsala. Representatives from Gaden Monastery has left to escort his holy body back to Gaden. It is a 3 day 2 night train journey from Dharmsala to Gaden Monastery.
It is nearly impossible to find masters of his calibre. It is near impossible to replace him. I met him for the first time In Thubten Dhargye Ling Centre in Los Angeles California over 25 years back. As I type this, I am numb and in mourning. I am not shocked but had been dreading this since my dream around two weeks ago. In my dream he blessed me in a tantric manner and I hadn't dreamed of Lati Rinpoche before ever.
Gaden will be like a child whose lost an illustrious father. Kyabje Lati Rinpoche was a disciple of His Holiness Kyabje Trijang Rinpoche and His Holiness Kyabje Zong Rinpoche.
I will severely miss His Eminence Lati Rinpoche is an understatement.
I must carry on my work here and build KWPC. KWPC would benefit many, so if that is done, it will be a reflection of my guru devotion. Nice words, gifts, apologies, prostrations to your guru is not an indication of real guru devotion. Real devotion is how much time you spend benefiting others and doing work for others.
Lati Rinpoche has benefited me in many ways, I will speak more in how instrumental he was to me in my biography book.
May His Eminence's heartfelt wishes come true. May a swift incarnation appear to manifest the sun of Buddha's teachings again. May he again manifest Tsongkapa's unerring paths exemplified by his enlightened actions. May we be in his presence again soon.
With heavy heart and great sense of loss,
Tsem Rinpoche
His Eminence Venerable Kyabje Lati Rinpoche's Short Biography
His Eminence Venerable Kyabje Lati Rinpoche was born in the Kham region of Eastern Tibet in 1922. After the famous Gongkar Rinpoche (previous incarnation) identified and recognized Him as a reincarnation of a great practitioner, Rinpoche consequently embarked on the fulfillment of His destiny by joining the local monastery in Tibet – at the age of ten.
Rinpoche's Education
By fifteen years old, Rinpoche was enrolled in Gaden Shartse Norling College, located in central Tibet. It is the most prestigious and renowned school in Tibet, and it was at Gaden Shartse Norling College where Rinpoche pursued his study of Buddhist scriptures, and eventually, earning Him the highest honours among the foremost scholars of His day. At that time, Rinpoche's field of study included Pramana Vidya (Logic), Prajnaparamita (Perfection of Wisdom), Madhyamika (Middle Philosophy), Abidharma (Treasure of Knowledge), Vinaya(Spiritual Rules and Moral Law). In 1959, after nineteen years of intensive study and training, Rinpoche sat for the Geshe Lharmapa examination. This major examination was held in the summer palace of His Holiness the 14th Dalai Lama, located in the capital of Tibet, Lhasa. Candidates were various scholars and top students from the 3 main monasteries, and yet Rinpoche still managed to emerge 2nd overall. In the next year, H.E. was officially conferred as "Geshe Lharampa" – a qualification which is equivalent to the PH.D. degree in the Indian universities. In the same year, Rinpoche joined Gyuto Tantric College in Lhasawhere he undertook the study and intensive training of Tantra. During this period he also served as tutor to many young reincarnate masters and gave numerous public teachings.
Active Efforts in Propagating Dharma
Belonging to a very rare class of scholar, saint and practitioner who completed his training in an independent Tibet, Rinpoche continued to spread the Dharma by teachings at various monasteries and schools, after He followed His Holiness the XIV Dalai Lama into exile in 1959. In 1964, Rinpoche arrived in Dharamsala, and was subsequently appointed as Spiritual Assistant to His Holiness the 14th Dalai Lama – Rinpoche serves His Holiness faithfully till today.
In 1976, under His Holiness's suggestion, various universities in America invited Lati Rinpoche over, where H.E. gave illuminating dharma discourses to an appreciative public. In addition, Rinpoche taught at Namgyal Gomba (His Holiness's personal monastery), at the debating college, and has taught and guided many laypeople as well. In the same year, Rinpoche was appointed as the Abbot of the Shartse Norling College of Gaden Monastery, in South India. H.E. held this position for eight years – where besides looking after the administration, discipline and order of the Sangha, Rinpoche also personally taught extensively on all aspects of Buddhism. Rinpoche's contribution towards Gaden Shartse Norling College is widely recognized by all, and is deeply respected by many devotees all over the world.
Since retirement, Rinpoche dedicated His life mainly on dharma practice, as well as propagating the dharma, guiding people along the path of the dharma. On repeated requests from many countries in Europe and America, Rinpoche has travelled extensively benefitting dharma students in various parts of the world.
---
A Prayer to Heruka
For the renowned King of Vinaya and Master of Tantra,
Kyabje Kensur Lati Rinpoche,
I offer these candles representing Manjushri's brilliance to You
who have become One with Heruka Chakrasamvara.
I offer these to you who needs No Prayers
for where you may course in the sky.
You have gained mastery of your winds, channels,
and drops and have united the white and red seeds
at your central channel,
I make offerings to you to gain merits
for a cause for your Supreme Emanation to
not abandon us and emanate again innumerably.
You whose mind is stabilised by the realisation of death,
operate from Bodhicitta and abide in the sky like expanse of Dharmadhatu,
I request you to not withdraw your consciousness from this realm.
Although I have disappointed you again and again
with my unfilial guru devotion due to my excuses, laziness, delusions
and finding false pleasure in samsara, please do not withdraw.
I invoke your presence.
I request you to turn the Wheel of Sutra and especially Tantra.
I request you to preserve the Heruka-Vajrayogini Tantras.
I rejoice in your unimaginable deeds.
I confess my downfalls tearfully.
I make offerings of light representing lack of miserliness.
I bow down to you Heruka,
Supreme King defying those who operate from lust, hatred,
selfishness and wrong perception (I).
Great Master in Saffron robes named Lati Rinpoche
who is none other than Heruka,
although my writing and prayers are weak,
Your Enlightened mind do not withdraw.
In this life and future lives,
abide at the centre of my winds
and help me to realise the 11 Yogas of Your Supreme Consort,
Mother Vajrayogini.
Alone, overwhelmed and in need of your guidance, love and smiling visage,
Show me signs of success in carrying out your wishes.
I ask you to forgive my delusions and selfish actions
that have 'tortured' your compassion towards me.
Every time I commit offenses,
your mind bleeds for me and others like me.
I offer these lights to you Kyabje Kensur Lati Dorje Chang
to generate the merits that when the sun-like teachings of the Sage are clouded and setting, I may not be left behind.
You whose nature is Heruka and Mother Vajrayogini united,
Forgive me and bless me to transform now.
Composed by Tsem Tulku in conjunction with 1000 butterlamp offerings
April 13, 2010
Kuala Lumpur
We at Tsem Ladrang will be doing prayers daily to Kyabje Lati Rinpoche. We do not need to worry that he will take rebirth in order to benefit others, but we must make the causes to sit at his feet again. We need to make prayers, offerings and practices to ensure the merits that we will meet Him again. Hence I composed a short quick prayer not be seperated from Him for Kechara House and to accompany the lamps to be offered. Also pujas and prayers are carried out at Kechara House daily to generate the merits to meet Kyabje Lati Rinpoche again.
Tsem Rinpoche
The following description of his last moments is from the blog Life of Lopsided 8:
This morning when Rinpoche woke up, he did his usual prayers and told his personal assistant, Sopon-la, he wanted to take his bath. This was unusual as Rinpoche normally had his breakfast before his bath each morning. Prior to that, he had also circumambulated His Holiness the Dalai Lama's temple. (Below photo, Lati Rinpoche with his personal assistant for decades, Sopon-la). After his bath, Lati Rinpoche instructed Sopon-la to leave his room, and said: "it is time for me to go". With that, Rinpoche entered into clear light meditation.
Rinpoche's body is currently still warm and in the meditative state. This is a sign of an Enlightened being. We do not know how long Rinpoche will be in this state, can be 3 days, 7 days, 21 days etc… As and when his consciousness leaves him, Rinpoche's body will then be brought back to Mundgod, his monastery, for the fire puja (cremation). Arrangements are in the process to construct Rinpoche's stupa which is expected to house his relics when the time comes. About 10,000 lamas (Sangha) and many more students are expected in his monastery to attend his fire puja as well as to pay their last respect to Rinpoche.
Extracted April 13th, 2010 – http://zendirtzendust.com/2010/04/13/kensur-kyabje-lati-rinpoche-passes-at-88/
---
UPDATES: April 14, 2010
His Eminence Kyabje Lati Rinpoche's holy body arrives tomorrow April 15, 2010, 7pm at Hubli, South India from Dharamsala. Hubli is the nearest city from Gaden. Hubli is one hour away from Gaden by Taxi.
Then on next Monday, April 19th will be the official funeral ceremony, after the monastery checked the astrology.
HH the Dalai Lama was consulted and His Holiness advised that Kyabje Lati Rinpoche's body be transported from Dharamsala (N. India) to Gaden in South India. Traditionally by train Dharamsala would be 3 days and 3 nights to Hubli. It is a long journey. But in this case flight was used.
---
UPDATES: APRIL 16, 2010
When Kyabje Lati Rinpoche's holy body arrived in Hubli, there were a cavalcade of 25 cars to recieve and escort back to Gaden Monastery. Representatives of Gaden, Sera and Drepung escorted Rinpoche from Hubli to Gaden.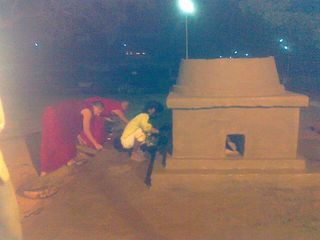 Rinpoche's holy body is now lying in wait at Lati Ladrang, Gaden Shartse. Many streams of sangha and lay people coming to pay respects. A largen outdoor stupa will be built on Gaden Grounds to house the relics of Rinpoche afterwards.
---
UPDATES: APRIL18,2010
I have requested Liaison Ruby and Liaison Henry to fly to Mundgod to attend the Funeral Ceremony of Kyabje Lati Rinpoche in Gaden. They are there now and the funeral is tomorrow April 19, 2010 7:00 AM Monday Morning. Henry and Ruby are my senior students and always ready to do any dharma work. Bless their hearts.
Lati Rinpoche's holy body is placed on his sitting throne in his Ladrang in Gaden. They have placed a yellow cloth over the body. Many people from around the world are flying in to pay respects. In Mundgod itself, hundreds of Tibetan Laity are paying respects by coming to Lati Ladrang.
As per tradition, hundreds of monks are at Lati Ladrang doing recitation all day and all night until the funeral. They take turns reciting holy prayers, scriptures and philosophical texts non-stop to generate merits for the Holy Lama to return quickly. Ruby and Henry on KH's/myself's behalf made offerings to each of the monks reciting today. We offered Indian rupees 50 to each monk. Tomorrow there will be around 300 monks and Henry and Ruby will be making offerings also to each monk.
His Eminence the Young Kyabje Zong Rinpoche will preside over the funeral and be the Master of Rituals.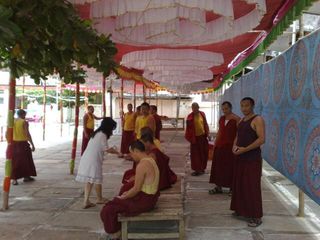 Around 30 monks worked days to build the funeral hearth to cremate Kyabje Lati Rinpoche's body. Ruby above in white making offerings to each monk in appreciation and thanks on our behalf.
The cremation hearth is built in Gaden Shartse's debate courtyard. They will place the body inside tomorrow, then seal the top and the cremation will begin.
His Eminence the grand Abbot Emeritus Kensur Jampa Yeshe 81 years old (Student of Lati Rinpoche) is very sad over the passing of Lati Rinpoche. He has spent many hours in prayer and mourning near the holy body of Lati Rinpoche. He has shed many tears over the passing of his guru according to the monks. Great Masters like Kensur Jampa Yeshe has great guru devotion hence their high attainments.
Great Guru equals Great disciple….
Since Kyabje Lati Rinpoche has temporarily left us, I pray H.E. Kensur Jampa Yeshe Rinpoche remains a thousand years to oversee the installation of the new incarnation of Kyabje Choktrul Lati Rinpoche and to guide and inspire us.
Great Masters like Kensur Jampa Yeshe are becoming more rare. If you were to compare me to Kensur Jampa Yeshe, it would be like a lit match stick next to the golden powerful light of the sun. I fold my hands to Kyabje Lati Rinpoche and Kensur Jampa Yeshe and put my head to their feets. I request them to bless my work so that I may please them to bring dharma to countless thousands.
Tsem Rinpoche, the forlorn and sad student.
---
UPDATES: APRIL 20, 2010 (TUESDAY), THE DAY AFTER THE FUNERAL
Liaisons Henry and Ruby as I type this has just landed in Kuala Lumpur International Airport back from attending Kyabje Lati Rinpoche's funeral and cremation and on their way home to rest.
They had a very good trip meaning to pay the proper respects to Kyabje Lati Rinpoche and make offerings to the sangha on behalf of myself and Kechara House. I thank them very much for doing a good job.
Some photos from the funeral and cremation Yesterday morning.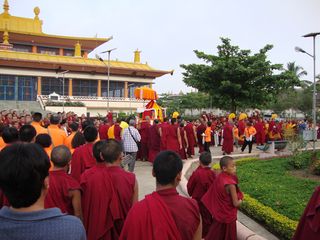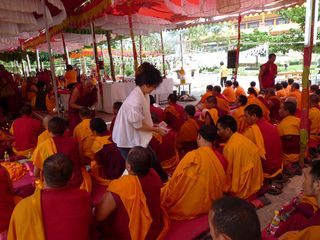 I asked Henry and Ruby to visit His Eminence Kensur Jampa Yeshe Rinpoche to make offerings on my behalf. They did so and here they are sitting for a picture with His Eminence after the audience and offerings. Absolutely beautiful.
Thank you Henry and Ruby….
Tsem Rinpoche
---
UPDATES: APRIL 25, 2010 AFTER THE CREMATION
After the cremation of the holy body of Lati Rinpoche, they are extracting the remains. See pictures below: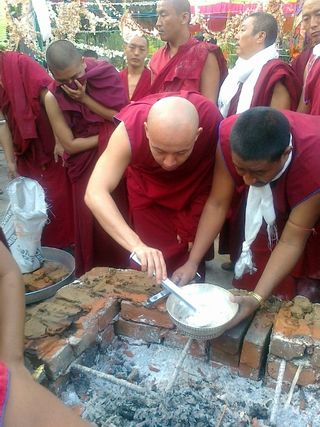 Lucky me will be getting a few pieces of the Kyabje Lati Rinpoche's bones to be put in a stupa here for my personal worship. Very holy relic indeed of a great master, vinaya holder, and elite Monk.
Tsem Rinpoche
His Holiness the Dalai Lama has composed a quick return prayer for His Eminence Kensur Lati Rinpoche. Everyone who has been blessed by H.E. Lati Rinpoche is encouraged to add the recitation of this prayer to their daily practice.
Prayer for the Quick Return of Kyabje Lati Rinpoche
O peerless savior and supreme Teacher, Shuddhodhana's son,
O the seventeen masters and adepts, Nagarjuna and Asanga, and so on,
O Dipamkara as well as sovereign father Tsongkhapa,
Gloriously appear here today to grant auspiciousness.
On the great path leading to the heart of Enlightenment.
You've traversed by means of the perfect threefold discipline,
And have enhanced ever higher the realizations of enlightened qualities –
O glorious Guru, we offer our supplications at your feet.
Pray return gloriously to propagate the teaching of Lobsang,
By tying well the sash of monastic disciplinary precepts,
And, generating the altruistic intention to free all beings,
Engage in the tantric yogas of the two stages.
Think of the unbearable pain of the sentient beings
Who're enveloped in the forces of five degenerations;
And to open wide the lotus grove of the Buddha's teaching,
May your reincarnation appear soon as a source of merit for us.
This was composed by the Buddhist monk, the Dalai Lama, Tenzin Gyatso, on the 5th day of the 3rd month in the seventeenth Rabjung cycle of the Tibetan calendar, namely, on 19th April, 2010.
UPDATES: 11 March 2011
Or view the video on the server at:
https://video.tsemtulku.com/videos/latirinpoche.mp4
His Eminence Kyabje Lati Rinpoche was a real living Buddha in so many ways. His death was a great loss to Gaden Shartse Monastery, Gaden, Sera Drepung, Gelug Lineage, Buddha dharma of Tibet and for Tibet on the whole. Kyabje Lati Rinpoche passed away in Dharamsala (North India). His body was taken from his apt. and respectfully escorted to Gyuto Tantric Monastery in Dharamsala. From Gyuto it was flown to Gaden Monastery in South India. In Gaden, the traditional funeral for a high lama was arranged. Everything was done according to tradition in order to create the causes for Kyabje Lati Rinpoche's incarnation to return to continue his unexcelled deeds.
Please watch the video and learn how a high lama's funeral is conducted.
Remember, the funeral is not performed for Lati Rinpoche's benefit, as he has complete control of where he takes rebirth. But it was for our benefit as a last act of respect, love and collection of merits so that we may meet Rinpoche again.
With great sadness,
Tsem Rinpoche

Please support us so that we can continue to bring you more Dharma:
If you are in the United States, please note that your offerings and contributions are tax deductible. ~ the tsemrinpoche.com blog team