Please Help Patches….
AN URGENT MESSAGE FROM MY FRIEND ADELYN:
Dearest friends,
A fortnight ago. tired, exhausted after 14 hours of non stop work, looking forward to a good night's sleep, I came upon a stray dog at 2.30am injured badly after a hit and run.
After an hour of debating how to get the dog to a vet hospital cos every movement caused him great pain, we managed (i.e after having to cajole and wake up some friends to get out of bed and help) to get him to hospital.
Being a Friday, we actually got his blood results and x-ray on Monday 9/4/10 and were recommended to take him to another vet cos both of the dog's hind legs were broken and he cannot walk at all.
Poor, poor thing whom we have now named Patches, has one of the sweetest disposition I have ever seen in a stray. No matter how much pain he feels, I have not heard a single growl from him much less a snarl! All he ever does is wag his tail at you.
Anyways, here we go on Tuesday transporting him to the vet in Taman Megah and prognosis was, yes, he needed surgery scheduled for that Thursday. By the way, did I mention he pooped in the car??? Not really his fault though, he did whine to be let out but Sorry, Patches, me no understand doggie language!
It's now the 25th and Patches is well on the road to recovery! The feeling of happiness when we see him hobble around is beyond words!!!
Now… comes the hard part…he is due to be released from the vet on Tuesday 27th April and we now desperately need someone to foster, care and give him the love and compassion he so desperately requires.
So, please, all of us out there full of compassion, someone, anyone???
P/S
My sincere thank you to the following for your kind donations towards Patches' vet bills which till date has amounted to approx.rm3450:-
Tracey Koh – rm 100
Susan/Sharon – rm 100
David – rm 20
Bryan – rm 10
Ethan – rm 10
Joe Ang – rm 30
Su Ming- rm 50
Jason – rm 20
Thierry/Andrew – rm 500
Datin Khoo and friends – rm 700
KAS fund from Henry – rm 1000
Fang – rm 50
Boathouse -rm 1000
Once again thank you all cos without your kind support Patches will still not be able to walk.
Adelyn Lim
adelyn2lim@yahoo.com
Dear all,

Sm will be installing carport ceiling fans in Adelyn's place today/ tomorrow because her carport is VERY HOT. So Patches will be comfortable for now while recovering. Also we are getting a big wooden dog house to put in carport, bowls, food, towels for patches.

I have spoken to Adelyn and she will keep the dog in her carport until Patches heals completely. Then we will find a home for him. Probably in one of the dharma houses till the animal sanctuary comes up. Looks like Patches will be the first incumbent of our animal sanctuary!!

Dear everyone, please help me get THIS ANIMAL SANCTUARY UP. I NEED LAND, FUNDS, AND YOU TO PHYSICALLY GET INVOLVED AND HELP. Don't think of all the things you cannot do and restrict yourself..just get out and do it please…life is running out!

If you wish to donate to Patches' care in the dharma house (when he moves) or Kechara Animal Sanctuary, contact Jp for now. Jp's handphone 012 207 3503 or email: jpthong@yahoo.com.

Thank you,
Tsem Rinpoche

P/S Adelyn, I am so happy you have saved Patches. I am so proud of you. I know you have a soft and kind heart. Open up even more my dear!!
---
UPDATE: APRIL 25, 2010 SUNDAY
We have bought a new doghouse, food, collar, bowls, blankets, etc for patches already.
We have also installed two wall fans in the carport where Patches will be staying so it will be much cooler. My team worked very fast to help Patches… See pics below:
May no animal ever suffer abuse, abandonment and pain….may they all be free from all sufferings…OM TAREE TUTAREE TUREE SOHA..
Tsem Rinpoche
---
UPDATE-APRIL 27, 2010- Patches returns from the vet!!! Nice pictures from Adelyn.
Dear Rinpoche,
Patches is well and comfortable in his new temporary home.
He just had his first 6 in 1 vaccination and I can only shower him after a couple of days so he is a wee bit smelly. Have wiped him down and looks to be settling in quite well
Once again Rinpoche, thank you so much for Your Eminence's care and concern.
With folded hands,
Adelyn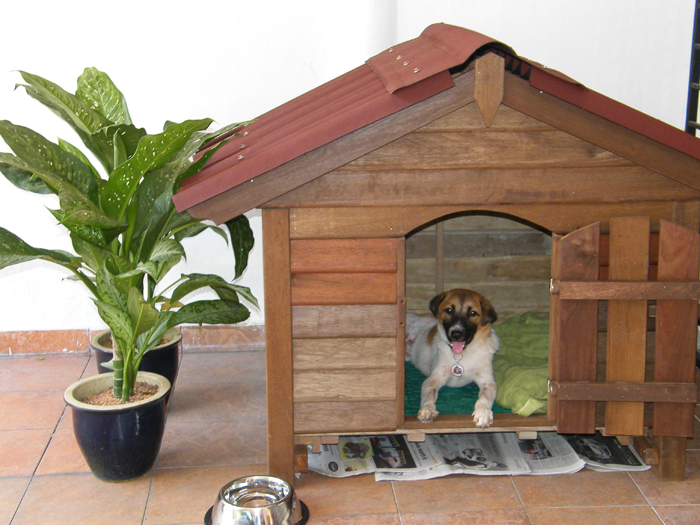 May all animals come under the care of Mother Tara whose compassion has unlimited bounds. May all animals never be maimed or killed or hurt ever.
Tsem Rinpoche
Please support us so that we can continue to bring you more Dharma:
If you are in the United States, please note that your offerings and contributions are tax deductible. ~ the tsemrinpoche.com blog team