8-inch Vajrayogini from Kechara Saraswati Arts Department (KSA)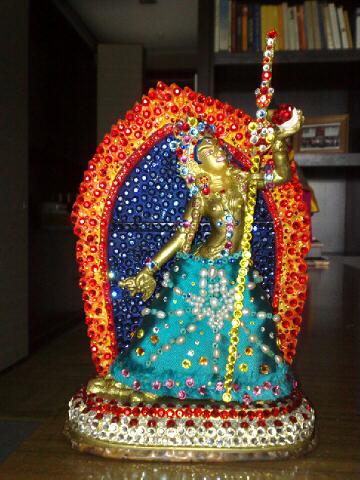 Kechara Saraswati Arts (KSA) dept is really spectacular. Look what they did for this Vajra Yogini statue I had them prepare!! I am ordering more!!
KSA painted her and also stuck crystals on the flames, background, crown, lotus, katanga (staff), skirt. She is 8 inches in height and look how beautiful! What a traditional piece of art….really!
KSA have been trained to paint statues in the traditional manner, sew thangkas, restore statues, repaint images, jewellery onto statues, even roll traditional mantras to insert into the holy sacred images before you place them on your shrine. You cannot find this service anywhere in this area. Yes they service the public. Give them a visit and meet our friendly people.
KSA is the first authentic Tibetan arts studio in southeast Asia in fact!!
This dept is really creative and talented. I am proud of them!! Good work everyone!!!
Tsem Rinpoche

Please support us so that we can continue to bring you more Dharma:
If you are in the United States, please note that your offerings and contributions are tax deductible. ~ the tsemrinpoche.com blog team