Something easy to do daily yet powerful…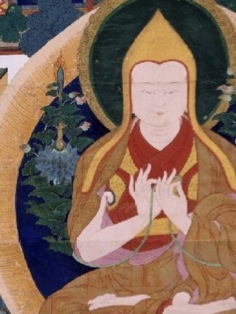 (By Tsem Rinpoche)
People have asked me thousands of times what practice should they do daily. They are busy, pressured for time and have heavy commitments. I understand. I sympathize that with so little time, they are sincere enough to connect with something higher daily. Perhaps for sanity's sake or perhaps from realizations that THERE IS MORE TO LIFE THAN WHAT WE GET TRAPPED IN.
Thousands of times I have replied to take the Gaden Hlagyema meditational practice of Lord Tsongkapa daily. Why? It is short, simple and complete.
Recite the healing migtseyma mantra with concentration 21 times a day or one rosary or any amount you are comfortable with. Do this daily. Daily without missing.
Believe, trust and let go of projections during your mantra time and absorb Tsongkapa's healing energy into you.
Let Him heal you of depression, self hatred, low self esteem, stress and fears. Do it daily to reinforce and make the positive energy grow. Do it well. Do it with full understanding that there are higher powers THAT CAN HELP US short and long term.
Lord Tsongkapa's practice requires no vows, no commitements, no 'dangerous' meditations, and it is gentle yet healing. All encompassing. It is short yet complete. It combines the energies of correct wisdom, unending compassion and skilfull activities of the Enlightened Lord Tsongkapa into your being. This energy is great to be tapped into. Try it. Trust it. Let go.
Don't stress yourself with complicated practices. It is not what you need at this time.
Reward yourself with daily 15 minutes or more of delicious, healing meditations on Lord Tsongkapa.
Commit to Tsongkapa. Take Him as your sacred personal space Buddha.
You will get results.
Much care,
Tsem Rinpoche
www.kechara.com
Please support us so that we can continue to bring you more Dharma:
If you are in the United States, please note that your offerings and contributions are tax deductible. ~ the tsemrinpoche.com blog team