His Holiness Kyabje Trijang Dorje Chang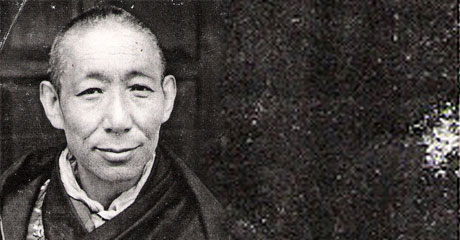 His Holiness Kyabje Trijang Rinpoche was the Junior Tutor to H.H. the 14th Dalai Lama
Coming from a devout family, Trijang Rinpoche's father Tserin Dondrub, descended from the uncle of the 7th Dalai Lama, Losang Kelsang Gyatso, and was knowledgeable in religion. His mother, Tsering Drolma, came from the village of Gungtang Nanggong.
Considered an emanation of Vajrayogini, Trijang Rinpoche's first incarnation was that of chariot driver Chandra. It was Chandra who escorted Buddha Shakyamuni out of the palace for the final time, to renounce his worldly position to become a Buddha. Chandra exchanged his clothes with Shakyamuni before bidding him goodbye, thus leaving him to begin his spiritual path.
Trijang Rinpoche's early life follows that of many other reincarnated great beings. Miracles were witnessed at the time of Trijang Rinpoche's birth in Gungtang in the winter of 1901 – it is said that an apricot tree flowered and bore 30 apricots at his birth even though it was deep winter. Before he could walk, he showed great interest in religious paintings, statues, and Tantric ritual implements; and would make as if he was reciting prayers.
News of his precocious actions reached Ngarampa Losang Tendar and Geshe Gendun Dragpa Chen. They were responsible for finding the reincarnation of Losang Tsultrim Palden, who was the Ganden Tripa and former Trijang Rinpoche. Upon hearing of the child, they travelled to his birth place of Gungtang – on seeing them, he yelled out: "Gendun Dragpa!" and later asked him to wash his feet. Gendun Dragpa used to wash the feet of Losang Tsultrim Palden when he had rheumatism. The child also correctly identified the former Trijang Rinpoche's private Buddha statue, rosary and bowl from among a selection. This and other signs led the search party to conclude that they had probably found the correct incarnation. Upon being given a list of names of several boys who had shown encouraging signs, the 13th Dalai Lama said:
It would be best to recognize the boy born to the Gungtang girl Tsering Drolma in the Iron Bull year as the reincarnation of the former occupant of the Ganden throne.
He was invited by the 13th Dalai Lama to the Lhasa Trijang residence in 1904. Although only 3 at the time, Trijang Rinpoche showed signs of swift learning, quickly and easily learning to read, study and comprehend what he was taught, from the alphabet onward.
In 1906, aged 5, he moved to the Trijang Residence at Chusang Ritroe, where he met Pabongka Rinpoche. It was from Pabongka Rinpoche whom he received his first teaching, Set of Initiations into Manjushri from the Secret Lineage of Tsongkhapa. Pabongka Rinpoche took great delight in caring for the young child. Their strong connection was to last a lifetime and he became Pabongka Rinpoche's closest disciple.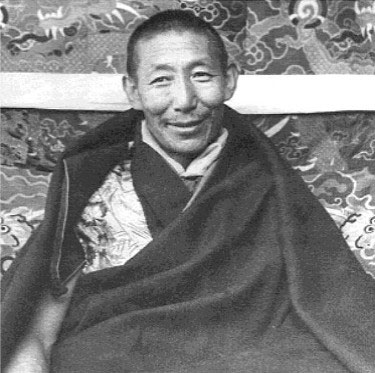 One year later, Trijang Rinpoche moved to Gepel Ling Monastery at Reteng. At this auspicious place, the birthplace of the Kadampa teachings, Trijang Rinpoche took the five lay Pratimoksha vows and the ten novice vows of a monk. He received the name Losang Yeshe Tenzin Gyatso Pelsangpo. More signs of his swift learning were shown – it was at Gepel Ling where he memorised and analysed the meaning of many Buddhist texts, including over half of Madhyamakavatara by Chandrakirti. Later that year he visited Ganden monastery, where he was received by the abbots of Shartse and Jangtse, whom he apparently recognised, along with the main temple, without introduction.
He spent the next 12 years studying the classical texts for the Geshe degree – Pramanavartika, Madhyamaka, Prajnaparamita, Vinaya and Abhidharmakosha – principally according to the textbooks by Panchen Sonam Dragpa. He also studied the collected works of Je Tsongkhapa, the 1st Dalai Lama, and the Panchen Lama Chokyi Gyaltsen.
Diligent and devoted, in Gaden, Trijang Rinpoche would debate all night outdoors in the bitter cold, even though it meant his hands would chap so badly that they would crack and bleed. He was the top student in his class. When he was 7 years old, Trijang Rinpoche received Kalachakra initiation from Serkong Rinpoche, as well as empowerments into Manjushri, Avalokiteshvara and Vajrapani. Later he received empowerments of Guhyasamaja, Yamantaka, Heruka and Vajrayogini. He also continued to receive instructions and initiations from Pabongka Rinpoche, including the Collected Works of Gyalwa Ensapa, the Collected Works of Panchen Chokyi Gyaltsen, and a Guru yoga of Je Tsongkhapa called Ganden Lha Gya Ma ("Hundreds of Deities of the Joyful Land").
Trijang Rinpoche continued to receive tantric empowerments. He received the Empowerment into the Six Ways to Revolve the Chakras of Heruka (including the full initiation costume of bone ornaments) as well as all the Action Tantra empowerments from Khyenrab Yonten Gyatso, the 88th Ganden Tripa, in 1915, aged 14. In 1916, aged 15, he studied the complete Tibetan grammar and from then on composed thousands of acrostic verses, such as:
Ah Friends! While the spittle drools from the Death Lord's smile, bleaching your head as white as falling snow, ould this tedious life yield aught but chaff? Dharma from my Guru is what I'll practice!
He found different ways to express his devotion, composing chants for spiritual practices and ceremonies. Trijang Rinpoche also composed scores for their music for use by Ganden Shartse monastery, some of which are still used today.
When he was 9 he contracted smallpox and did long-life retreat. The illness did not become serious.
Thus Trijang Rinpoche showed that he was a learned scholar and master debator. In 1919, when he was only 18, he debated before the Geshes of the three major Gelugpa monasteries for his final examination. His young age and the fact he had only been studying for a short time led the Geshes to wonder if he would be intellectually prepared for such rigorous examinations. There was no cause for concern however, and they "praised him to the skies" for the answers he gave. The 13th Dalai Lama awarded him third place, and he received the highest Geshe degree, the Lharampa.
Shortly afterward Trijang Rinpoche received the 253 ordination vows of a fully-ordained monk from the 13th Dalai Lama. He was admitted to the Upper Tantric College, Gyuto, in 1919, where he studied the Root Tantra of Heruka and its commentary by Je Tsongkhapa, Illuminating all Hidden Meanings (Tib. Be dön kun säl).
From the ages of 20 to 22, Trijang Rinpoche received many teachings and empowerments from his root Guru Je Pabongka, including the initiation into the sindhura mandala of Vajrayogini according to Naropa, the Heruka body mandala empowerment according to Ghantapa, teachings on Lama Chopa (Offering to the Spiritual Guide), Gelugpa Mahamudra, the Lamrim Chenmo (great stages of the path) by Je Tsongkhapa and Seven Points of Training the Mind by Geshe Chekhawa.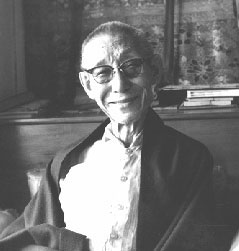 Trijang Rinpoche was in Gyuto for one year before he went to Chatreng in Kham province where he received more teachings. In his spare time, he engaged in meditative retreat on the deities of the teachings he received, including Yamantaka, Heruka Five Deities, Vajrayogini, Hayagriva and Avalokiteshvara. He also did his preliminary practices (Tib. ngon dro) of purifying the mind and accumulating merit in conjunction with Lama Chopa; and he meditated on Lamrim and Lojong (training the mind).
Quickly becoming renowned for his mastery of the texts, in1924, Geshe Yonten of Ganden Shartse College requested him to teach. Trijang Rinpoche was just 23 years old when he gave the oral transmission of the Collected Works of Je Tsongkhapa and His Main Disciples to about 200 monks, followed later by granting the empowerment of Vajrayogini according to Naropa to about 60 Lamas, incarnate Lamas and monks. At the request of Artog Tulku, Trijang Rinpoche then travelled to Sera Je Monastery. There, he gave empowerments of Heruka Five Deities and Hayagriva to about 200 people.
One year later, at the age of 24, Trijang Rinpoche taught Lamrim to 2,000 monks and lay people and gave Avalokiteshvara empowerment. He also taught extensively on the practice of Guru Puja (Lama Chopa). He then received an invitiation to give empowerments of Guhyasamaja, Avalokiteshvara and Vajrayogini at Gongkar Monastery.
For the next three years, Trijang Rinpoche travelled and taught extensively at many Gelugpa places of learning all over Tibet. At their request, he also taught at Sakyapa and Nyingmapa Centers. He became increasingly well known, and taught many thousands of monastics and lay people.
Travelling west to Jampa Ling monastery in Litang, Trijang Rinpoche gave Avalokiteshvara empowerment and teachings on Lamrim to about 3,000 monks, as well as most of the local people. In the foothills of Kambo, a place sacred to Chakrasamvara, he granted initiation and led a long retreat.
Trijang Rinpoche was 27 years old before he returned to Chatreng in 1928. There, he was invited by the Tantrists of Chagra Gang to give initiations into the Peaceful Form of Padmasambhava and the Six Forms of Padmasambhava According to the Old Concealed Texts. He also encouraged and helped them to repair the Chagra temple.
Trijang Rinpoche was tireless in his work and unending in his devotion. On his return to Lhasa later that year, he continued to visit monasteries to grant initiations and teachings, including the valleys and plains of Gyaltang. According to the author of Gangkar Rinpoche's secret biography, Gangkar Rinpoche at this time had a vision of Trijang Rinpoche as being the reincarnation of Padmasambhava; and he performed ceremonies in his honor and presented a large number of offerings, including a sacred Heruka statue.
When he reached Lhasa he had audiences with the 13th Dalai Lama and Pabongka Rinpoche. He made offerings of silver coins, grain and tea to all the monks of Ganden, and also set up a fund for them. The following year, aged 28, he also donated gifts to all those attending Monlam, the Great Prayer Festival; and made many offerings to the Tantric colleges.
During the next few years, until 1932, he received profound teachings from Pabongka Rinpoche, including the oral instructions of many secret Gelugpa lineages; and he also engaged in Tantric retreats. In 1932 he gave more extensive teachings at Ganden Shartse and Jangste monasteries.
In 1933, the 13th Dalai Lama died, and Trijang Rinpoche helped Ling Rinpoche and other great Lamas from Sera monastery and Namgyal monastery consecrate the body and the reliquary. Three years later, aged 35, Trijang Rinpoche granted Heruka empowerment to the monks of Ganden monastery before he embarked on a tour of the southern district of Tibet to make offerings and give teachings. He continued to receive instructions from his root Guru Pabongka Rinpoche and made extensive offerings to both colleges at Ganden.
In 1939, after attending Je Pabongkapa's teachings on Lamrim Chenmo at Ganden monastery, Trijang Rinpoche toured pilgrimage sites in India and Nepal where he made extensive offerings at each place. He then travelled to Dungkar Monastery in Dromo, where he gave teachings and empowerments on Heruka, Guhyasamaja, Yamantaka, Vajrayogini and Guru Puja. On his return, Trijang Rinpoche visited important sites in Tsang, including Tashi Lhunpo Monastery. In 1940 he taught the Guru Puja and Gelugpa Mahamudra to senior monks of Ganden Jangtse. In the following year, he continued to receive teachings from Je Pabongkapa.
As his Junior Tutor or root Guru, Trijang Rinpoche also gave extensive teachings to the 14th Dalai Lama. The majority of the Dalai Lama's lineages, teachings, commentaries and practices that he so kindly transmits these days are from Trijang Rinpoche who, in turn, received most of these from Kyabje Pabongka Rinpoche. Such is the kindness of our gurus that no matter who we are, we are able to pass the Dharma to others arising from great concern for their welfare.
Trijang Rinpoche went into exile in India where, from 1960 onward, he continued to teach and initiate the Dalai Lama and many other disciples. At newly-located monasteries in Buxa, Tantric colleges in Dalhousie and a Tibetan monastery in Varanasi, Trijang Rinpoche granted many teachings and empowerments, including the Vajrayogini empowerment in Dharamsala.
In 1967 he taught Hundreds of Deities of the Joyful Land (the Guru yoga of Je Tsongkhapa according to the Segyu lineage) to hundreds of students in Dharamsala, and in 1970 he gave similar teachings in Bodhgaya. In 1969, he gave the major empowerment of Heruka according to Luipa to around 1,000 people at the request of the Tantric colleges. Two years later, in the Fall of 1971, he visited Mysore in the south of India at the request of the monks of the three major monasteries who had settled in the Tibetan camp at Mundgod, and gave extensive teachings and initiations to the monks and to lay people, and ordained hundreds of young monks. On this trip, Trijang Rinpoche also made offerings to the Sangha and donated statues of Je Tsongkhapa and his Two Sons to the main temple of Ganden, along with thangkas.
In 1972 he gave Vajrayogini empowerment and teachings in Dharamsala to 800 monastics and lay people and in Bodhgaya. Later that year he taught at the Tibetan Studies Institute in Varanasi, and the following year he gave empowerments into Heruka and Vajrayogini to 700 people at the Tibetan monastery there.
During this time, Trijang Rinpoche exchanged teachings and initiations with Ling Rinpoche, the other main Guru of the Dalai Lama. In 1969 he taught Ling Rinpoche the Lamrim Chenmo, and in 1970 he granted him Yamantaka empowerment. In return, in 1970 he received from Ling Rinpoche the Action Tantra empowerment of Vairochana and also teachings on Lamrim Chenmo. In 1972 he gave Ling Rinpoche teachings on the Guru Puja and Yamantaka, and in return received a teaching on tormas (ritual offerings) to Yamantaka.
Although respected by Lamas in all Tibetan Buddhist schools, and even invited by them to give teachings and initiations, Trijang Rinpoche taught primarily from the Gelugpa tradition of Je Tsongkhapa. He was also the holder of the Ganden, or Geden, Oral Tradition that was passed to him in its entirety by his root Guru Pabongka Rinpoche. According to Geshe Helmut Gassner, the Dalai Lama's translator for 17 years and one of only two ordained Western Geshes:
The great master Pabongka was in the first half of the twentieth century the pivotal or key lineage holder of the Oral Geden Tradition. Many other teachers before him mastered certain aspects of the tradition's teachings, but it was Pabongka Rinpoche's particular merit to locate and find all these partial transmissions, to learn and realize them, and bring them together once again to pass them on through a single person. In his lifetime there was hardly a significant figure of the Gaden tradition who had not been Pabongka Rinpoche's disciple. Kyabje Trijang Rinpoche was the one capable of receiving and passing on the entirety of the Oral Gaden Tradition once again.
Such were his attainments and influence on the development of Tibet, both spiritual and secular, that even the current National Anthem used in Tibetan Settlements throughout India / Nepal today was composed by Trijang Rinpoche. Through his tireless work and countless teachings, ninety percent of the great lamas throughout the world today disseminating Dharma are either disciples of Trijang Rinpoche or of his students. It was through his commitment that the major practices and lineages of Kalachakra, Yamantaka, Lamrim, Mind Training, Guhyasamaja, Heruka and Vajrayogini remain pure. In this way, Trijang Rinpoche is the lineage guru for all these practices and many more too numerous to mention.
---
This is just a extremely brief biography of this illustrious master whose single-handed work to salvage the dharma in this degenerate age brings only tremendous faith, tears and respect from deep within me. Because Trijang Rinpoche existed, I believe the Buddhas exist and there is enlightenment. Trijang Rinpoche wrote an extensive autobiography of himself before he passed away. It is in Tibetan and untranslated. May one day we may have the merits to read through his sacred life to know that such a legendary being actually existed not so far in the past.
I fold my hands and bow my head eternally to the lotus feet of H.H. Trijang Rinpoche whose kindness is that of Atisha, Tsongkapa and Shakyamuni all combined into one.
Tsem Rinpoche.
Or view the video on the server at:
https://video.tsemtulku.com/videos/HHTrijangRinpocheTenshug.mp4
For more interesting information:
Please support us so that we can continue to bring you more Dharma:
If you are in the United States, please note that your offerings and contributions are tax deductible. ~ the tsemrinpoche.com blog team