I Visited the Largest Buddha Statue in Thailand!!!!
Finally I visited the largest Buddha statue in Thailand in 2011, please watch the video below. ~Tsem Rinpoche
H.E. Tsem Rinpoche Visits Wat Muang
Or view the video on the server at:
https://video.tsemtulku.com/videos/Thai01WatMuang.mp4
---
Dear friends around the world,
Patsy Lee sent me these beautiful photos of the largest Buddha statue in Thailand!! Wow. It is absolutely breathtaking. Even the pictures are taken in such a surreal manner.
Please take a good look and be blessed. Be inspired.
I love this so much. I love Thailand, it's form of Buddhism, the people, culture and country so much also. I love their King and respect him so much because he lives/acts for the people. He gave his whole life in the service of his people.. What a wonderful country. One of the best places I have ever stayed, visited and lived in. I really like Thailand very much.
Tsem Rinpoche
---
Wat Muang, Ang Thong
Ang Thong is one of the central provinces (changwat) of Thailand. The name means "golden bowl" which refer to Angthong as a central for prosperity as it has a lot of rice fields.
Wat Muang is located at Mu 6, Tambon Huataphan, approximately 8 kilometers from downtown. Go along Ang Thong Wiset Chai Chan route (Highway No. 3195) Km 29 for 1 kilometer, the temple will be on the left side.
There are several important attractions in the temple. The Wat boasts one of the largest statues of Buddha in Thailand – 95 meter (312 ft) tall – Phra Buddha Maha Nawamin. The ubosot of Wat Muang is surrounded by the biggest lotus petals in the world. Ground floor of Wihan Kaeo is a museum (open only on Saturday and Sunday during 9 am.5 pm.) exhibiting sacred objects, antiques, and figures of renowned monks from all over the country.
The upper floor of the museum houses the first and largest silver holy Buddha image of the country, which was constructed in commemoration of the 50th anniversary of His Majesty the Kings throne ascendancy. Within the temple compound, there are figures of heaven and hell, Thai god paradise, Chinese god paradise, and a huge statue of Kuan Yin (Avalokiteshvara) female goddess. Besides, there are figures narrating the history of Thai-Burmese battle in Wiset Chai Chan.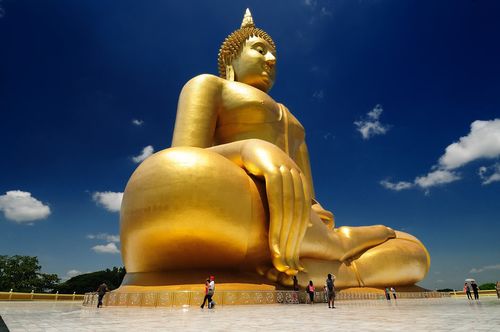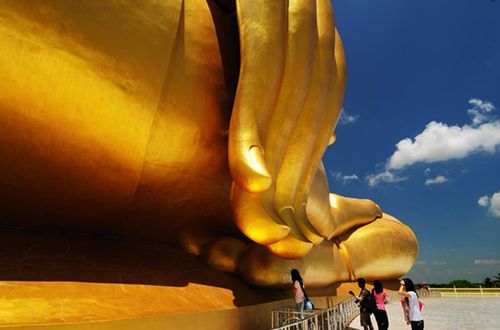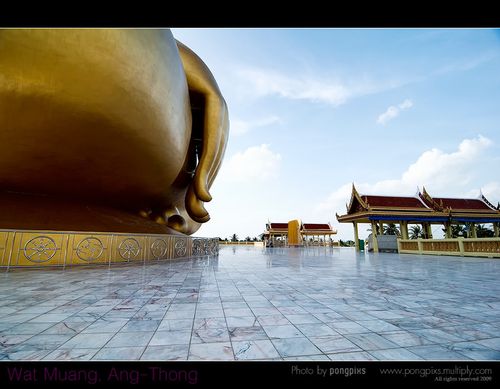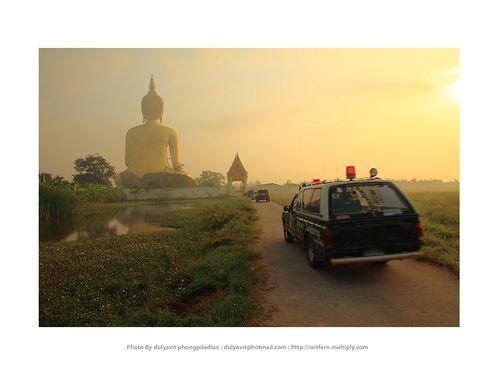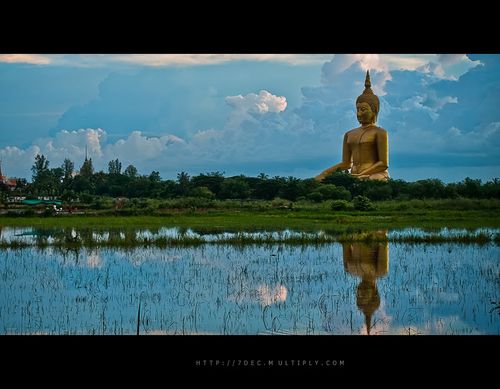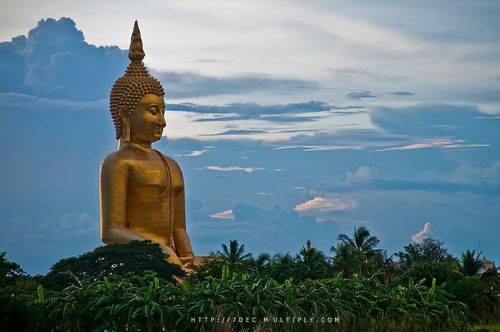 I was also sent a link to Wayne's Dhamma Blog that has more pictures from the wat. So these pictures were extracted from someone's Dhamma blog. I want to share it. I don't know who Wayne is, but I thank him for posting these. I am reblogging here to share.
left: Temple of Guan Yin
right: Thousand-arm Guan Yin (or Avalokita in Tibetan)
left: Gold Ubosot (temple) with Chinese Dragon guardians and many lotus sculptures outside.
right: Silver Ubosot where the monks perform their daily chantings
left: The inside of the silver Ubosot is filled with mirrors creating an effect of infinite space
right: The undecaying body of Ajarn Kasem, the previous abbot.What a holy monk, as his sacred body does not decompose in the hot Thai heat. Thousands go to his body to make prayers and get blessings. Wonderful! The power of the sangha.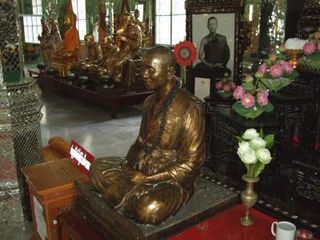 The previous abbot, Arjan Kasem's bucha and photo portrait.

Phra Malai (monk) preaching to the hell-beings on Uposatha days.
left: Barbed tree where sinners who commit sexual misconduct are forced to climb up and down by the torturers and their hell-hounds.
right: A sinner who cheats others being hanged by her limbs and mercilessly slashed by her torturer.
left: Sinners who are addicted to alcohol and other intoxicants are force to drink boiling metal liquid by the torturers.
right: Sinners who constantly lied, abused or slandered others have their tongues hooked in hell, or are forced through the meat grinder.
left: Those who killed, murdered or slaughtered other beings are themselves slaughtered alive by the torturers in hell. They die and keep coming back to life to go through the same torments again and again due to the force of their own evil karma.
right: Thieves and robbers are impaled and sawed up in hell.
left: The ungrateful sinners who repay kindness with evil re thrown into the wok of boiling oil to be fried alive.
right: The Hall of hell where King Yama and his judges decide on the appropriate punishments for the sinners, in accordance to the unwholesome deeds that they have committed. Every good or evil karma done shows up in the judges' record books without fail.
left: Tall statues of male and female hungry ghosts, who have to suffer constant hunger and thirst.
right: A statue of Phra Sivali, the symbol of great merit. Indeed merit is the thing that sustains all beings; for without merit beings are doomed to suffer endlessly in the wheel of Samsara. The Hell Park serves to reminds us to avoid evil and make as much merit as we can when we are alive. Once we die and fall into the lower realms, it will be too late to repent.
You can watch a short clip of the surroundings of the large Buddha Phra Buddha Maha Nawamin by clicking the video below:
Or view the video on the server at:
https://video.tsemtulku.com/videos/v20496309TwNMAwSf.mp4
What a wonderful place to visit on our next break or holiday!! I recommend people to go definitely. You must visit Thailand and it's many places of interest at least once in your life. It's not be missed..trust me!!!!
Tsem Rinpoche
*********
BELOW IS EXTRA INFORMATION FROM WAN WHO OF COURSE IS FROM THAILAND: 
wan (wasukamol@yahoo.com) has left you a comment:
Thank you rinpoche for sharing about this big Buddha statue. I'm looking forward to see big Lama Lama Tsongkhapa statue at KWPC. I would like to share some information about this big Buddha statue which i read from Wat Muang website in Thai language, This big Buddha Shayamuni statue, its hight 95 metres and width is 63.05 metres. Phar Arjan Kasem and his students started build from 2 May 1991 and completed on 16 February 2007, it took 16 years to complete. Estimate fund used about 104,261,089.65 baht or about 10 million ringgit, all funds came from donation. U might view more photos from Wat Muang website gallery as http://www.watmuang.com/gallery1.php.
Please support us so that we can continue to bring you more Dharma:
If you are in the United States, please note that your offerings and contributions are tax deductible. ~ the tsemrinpoche.com blog team